From the mesmerising colour pallete of the Northern Territory to the fascinating natural formations of Western Australia, both states have their highlights. But which one comes out on top?
Now that you've decided you want to go on a holiday, you have to answer one of the hardest questions of all; where should you go? If you're struggling with your decision, we don't blame you. Australia is full of breathtaking landscapes, extraordinary national parks, and heaven-on-earth beaches and both the Northern Territory and Western Australia are no different.
Walking along the plunging cliffs of Kings Canyon or reconnecting with country on our tours in the Northern Territory are guaranteed to make your travel-loving heart happy but so will strolling along the vineyards of the Margaret River region and cooling off underneath cascading waterfalls in Western Australia. We see the dilemma.
But if you don't fancy flipping a coin to determine the destination of your next adventure, we've put together a comprehensive guide to make your decision of the Northern Territory vs Western Australia a bit easier.
Beaches
You may automatically think that Western Australia has the title of 'best beaches' in the bag but the Northern Territory's 11,000km coastline tells us otherwise. While you do have to be aware of two dangerous animals that call the water their home (saltwater crocodiles and jellyfish), there are plenty of Northern Territory beaches you can enjoy. From wandering the Mindil Beach Sunset Markets, browsing through stalls selling authentic Aboriginal artwork and handmade jewellery, to sunning it up on the sandy shores of local favourite Wagait Beach, there is plenty of water-based fun to be had all over the territory.
CATCH SOME SUN ON OUR EAST ARNHEM LAND ADVENTURE
It should come as no surprise that Western Australia is known for its remarkable beaches. From the dreamy and clear waters of Esperance to the red ochre cliffs and white sandy shores of Cable Beach in Broome, this state is hard to beat because you're so spoilt for choice. There's Cottesloe Beach (about 14km from Perth's city centre) with its picturesque scenery and perfect-for-snorkelling water. There's also Turquoise Bay in Exmouth where, you guessed it, the waters are a beautiful greeny-blue colour, and how could we forget about Mandalay Beach in Walpole with its fascinating shipwreck that can be seen at low tide. Basically, you can't go wrong.
EXPLORE THESE BEACHES ON OUR CAPE LEVEQUE & THE KIMBERLEY COAST TOUR
The verdict:
While the Northern Territory offers plenty of beaches you can spend hours on, the beaches in Western Australia are simply something else. With so much diversity, colour, and tropical-like feel, we have to crown Western Australia as the 'best beach' winner.
National parks
With a whopping 24 national parks and a further 73 nature reserves, conservation areas, marine parks, and historical reserves, the Northern Territory is your one-stop-shop for all things breathtaking and extraordinary in the great outdoors. From one of Australia's most iconic and beloved attractions in Uluru Kata Tjuta National Park to the sparkling water holes and deep gorges of Kakadu National Park, Mother Nature has done some of her best work in the Northern Territory's national parks and it's hard to see how any other state beats this one.
CHECK OUT ULURU FOR YOURSELF ON OUR ULURU & KINGS CANYON ADVENTURE
It might seem that the Northern Territory's a shoo-in for this category, but Western Australia isn't going down without a fight. In fact, some of the state's best and most jaw-dropping natural discoveries can be found in its national parks. Take Karijini National Park for example. This outdoor playground is full of unspoiled and scenic natural formations at every turn, from its cascading waterfalls to its sparkling swimming holes. And let's not forget about the Bungle Bungles located in Purnululu National Park. 20 million years in the making, these magical and majestic domes will take up all of your camera's film (rightly so).
ADVENTURE THROUGH NATIONAL PARKS ON OUR PREMIUM KIMBERLEY & BUNGLE BUNGLES TOUR
The verdict:
How do we even begin to crown the winner for this category? While Western Australia has the mountainous ranges of Karijini National Park, as well as the beehive-shaped domes of Purnululu National Park, the Northern Territory has Uluru. And that's enough. Simply being in this magnificent monolith's presence is a once-in-a-lifetime experience you won't get anywhere else. For this reason, the win goes to the Northern Territory.
Aboriginal culture & experiences
When you're travelling by yourself it can be hard to organize cultural activities and First Nations experiences but when embarking on a tour, and especially a tour with us, these things will already be taken care of.
The Northern Territory is full of significant places that help the traditional custodians of the land connect with country and their culture. Grasp the opportunity to witness a traditional Welcome to Country smoking ceremony in Bawaka Homeland as part of our East Arnhem Land Adventure and adventure through Kakadu National Park on a Guluyambi River Cruise where you'll be joined by an Aboriginal guide who tell you stories of the landscape and the animals that live there.
CONNECT WITH COUNTRY ON OUR KAKADU, KATHERINE & LITCHFIELD ADVENTURE
Equally, our Western Australian tours also promise culturally rich encounters with First Nations peoples from setting out on a walking tour of Derby with a local Aboriginal artist and poet on our Premium Kimberly & Bungle Bungles tour to settling down for an unforgettable Didgeridoo Dreaming Night Tour in Monkey Mia on our West Coast & Ningaloo Reef adventure.
EXPERIENCE ABORIGINAL CULTURE FOR YOURSELF ON OUR WEST COAST & NINGALOO REEF ADVENTURE
The verdict:
This one's incredibly tough to call with both states offering insightful and captivating cultural experiences you'll never forget. With so many stories to listen to and so much history to learn about, regardless of which state you're in, you'll get your own chance to connect with country and our country's First Nations peoples so this one's a draw.
Cities
Just because you might not automatically associate the Northern Territory as the perfect destination for a city getaway, doesn't mean it isn't one. While it's known for its natural playgrounds more than its concrete jungles, this state still knows how to offer a city adventure from the outback feel of Alice Springs to the diverse culture and epic arts scene of Darwin. Whether you want to explore the outback and enjoy a drink or two at a local watering hole afterward or take a dip in the Darwin City Lagoon before visiting the Museum and Art Gallery of the Northern Territory, these cities turn up the heat in the best way possible.
DISCOVER DARWIN ON OUR TOP END EXPLORER TOUR
While other Australian cities like Sydney and Melbourne may get more worldwide attention, the Western Australian capital of Perth is just as good when it comes to the culture, arts, and foodie scenes. Apart from its gorgeous sandy beaches and rich history, Perth is home to local markets, thirst-quenching wineries, scenic parks, and flowering gardens all of which are waiting for you to explore.
EXPLORE THESE CITIES ON OUR BROOME TO PERTH OVERLAND ADVENTURE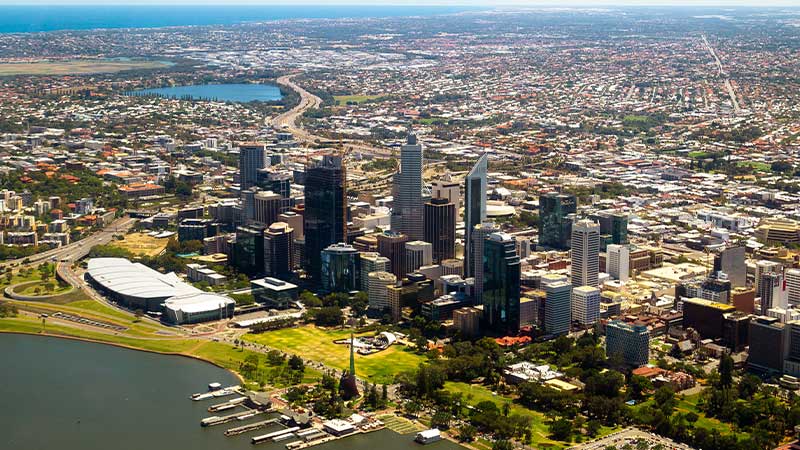 The verdict:
Each state presents a compelling case to be the one with the 'best cities' but we have to go with Western Australia (only just though). We simply can't go past Perth with its magical scenery and rich, cultural vibe.
However overall, when it comes to the question of Northern Territory vs Western Australia, the answer is a difficult one. There's no one clear winner with each state offering different landscapes and unique experiences. To the Northern Territory and to Western Australia, we take off our wide-brimmed, cork-strung hats to you both.
SETTLE THE NORTHERN TERRITORY VS WESTERN AUSTRALIA DEBATE FOR YOURSELF ON OUR TOURS
Feeling inspired?