The way from Kayakoy to Oludeniz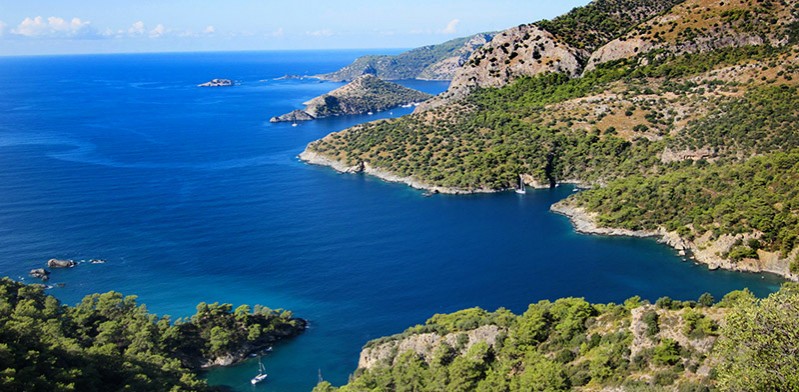 Trekking along the rugged coastline of Turkey is an experience for the mind, body and spirit.
Few walks are as uplifting as wandering to Oludeniz and walking part of the Lycian Way, as Summer Davis explains…
"Peeping out from the hills like blank faces, the abandoned houses of Kayakoy, Turkey, are a sad reminder of the 1923 ethnic swap, which forced Turkish Christians and Greek Muslims to trade places. This small village was abandoned shortly after, when its new inhabitants fled in search of more arable land. The gray building skeletons and faded paint on the church walls could distract an explorer for hours, as one tries to imagine the people of the town's past. But these shells are just the beginning – a façade for the vibrant life lying ahead on the other side of the hill.
A path at the crest of the once ghost town twists and turns with the azure Aegean Sea at times about 1000 metres below. The hike is gentle and weaves in and out of forest and along the rugged coast. Luscious lagoons of jade and turquoise leave lasting impressions on the way to the leading lady of Turkey's lagoons. At the final descent into Oludeniz, hikers are greeted with a breathtaking view of an arching peninsula of white sand beach cutting through crystal waters and verdant vegetation, the town's trademark panorama.
The sea sparkles and swells along with the frequent gentle thud of paragliders landing from the 2400m mountains above. Open-air restaurants line the boardwalk, bustling with music, diners and salespeople hawking hamburgers, drinks and other daily specialties. Paragliding and day cruises are on offer at every kiosk and the soft, sandy beach beckons to tired hikers. Just one and a half hours later, mysterious and quiet Kayakoy appears all but forgotten, again."
Photo: Turkey by Pamela Anderson