Swimming with dinosaurs in the Galapagos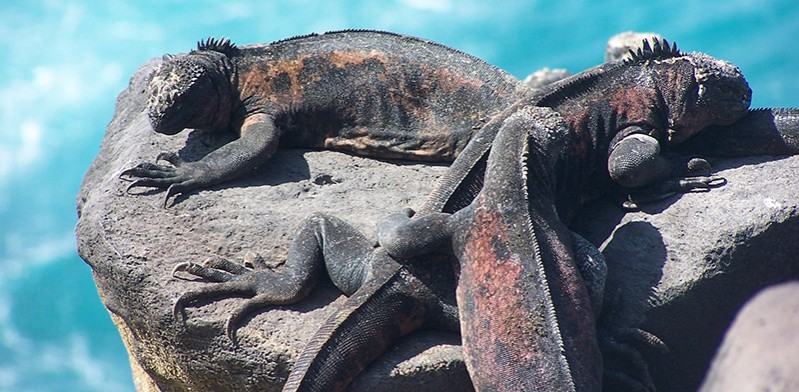 The Galapagos Islands have long been a destination for the most adventurous and curious of travellers.
Today, the most common way for people to see the incredible wildlife of this Ecuadorian province is by boat, much like Charles Darwin did. However, for Intrepid travellers looking for more in-depth Galapagos tours, you really need to stay on the islands themselves to fully appreciate the incredible creatures for which the islands are famous.
Visiting the islands last year, I had the opportunity to get closer than I ever thought possible to animals I had only ever seen on the Discovery Channel. Every morning I would get up with the sun to swim in the clear waters off Isabella Island and without fail, the sea lions would body-surf the waves alongside me.
A kayaking trip provided an opportunity to see the famous Blue Footed Boobies and hiking in the volcanic landscape of the Cordillera Negra there were too many different species of birds for me to count! Our naturalist guide knew them all and could mimic their different call signs.
The Galapagos Islands are famous for the majestic giant tortoises, that were once hunted but are now protected by the National Park. Our group donned rubber boots and followed a local farmer through his fields in search of two he had seen earlier that day. So as not to startle the tortoise, we were told to turn the flash off our cameras and we remained several metres away from the remarkable animal, just watching it slowly move through the grass and eating its lunch of greens and guavas. Seeing a giant tortoise in the wild is an experience I will remember forever.
The marine life in the Galapagos is what many divers travel thousands of kilometres to see. Not having my PADI, I opted for a snorkelling excursion and I certainly wasn't disappointed. Beautifully coloured fish, stingrays emerging from the sea floor and sea lions brushing past you as they dart around playing in the water, all make this a snorkelling experience like no other.
However, seeing the dinosaur-like Marine Iguanas swimming across a lagoon in front of you helps to elevate this experience to something other worldly. One after the other, their tales swooshing a path across the water and their ridged heads held above it, the Iguanas head towards a blackened rock to bathe in the sun's final few hours.
Seeing this topped off my Galapagos experience. The footage that my friend captured on her underwater camera has allowed me revisit this incredible memory time and time again. Trouble is it also keeps reminding me how much I want to re-live my Galapagos travel!
Photo by Paul Foundation.