Mouthwatering Muslim Quarter of Xi'an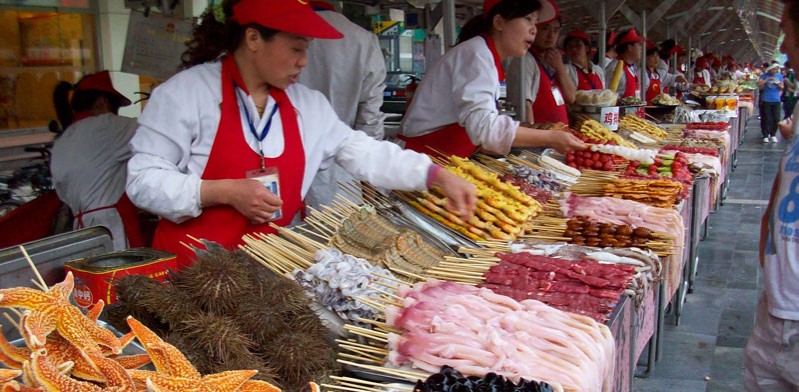 Take a walk and see where your nose and stomach leads you. That's exactly what Jaime Ryan did and it's a great strategy whilst on holiday in China, where in the evening many streets transform into bustling food markets and wafts of garlic and ginger fill the night air…
"My favourite travel food experience was in China, while travelling from Beijing to Hong Kong. We had just arrived in Xi'an and decided to go out for a walk to find some dinner. It turned out that we didn't have to wander very far and luckily we'd already worked up an appetite, because close to where we were staying was the Muslim Quarter and a lively night market.
We were hoping to eat from a street stall and ended up in this amazing district of curb-side eateries. We found the most wonderful array of food, it was so hard to choose.
Eventually we were seated at the side of the main thoroughfare on some tiny mismatched chairs, with a wooden plank-on-legs for a table. Quickly the tastiest lamb and fried herb bread began to fill our plates. Dozens of thin skewers straight from the flames, spiced to amaze – this was the most delicious meal I have ever eaten!
Our plates were continuously refilled until we finally had to politely decline more servings. Washed down with the local brew and with entertainment provided by a friendly sheng player, this was one of the most memorable evenings of my whole 2-month holiday!"
Discover the world's culinary hot spots on Intrepid's tasty new Food Adventure Holidays!
* Xi'an photo by Greg Rasanen  – Intrepid Holiday Photography Competition