The moment you are in Morocco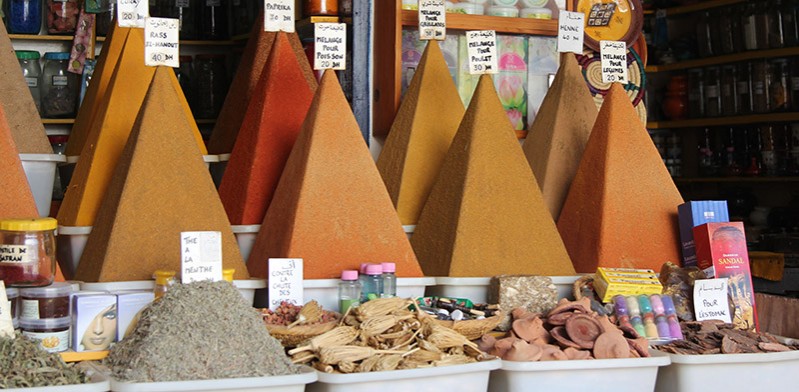 Having caught a red eye flight to Marrakech, Karl Thurlow arrived a little fatigued.
Not an ideal start to his Morocco adventure, but he didn't need to worry, because the senses kicked in as soon as he walked through customs and stepped foot in this enchanting country…
"Riding shotgun in the taxi enroute to Djemaa-el-Fna, the square in the heart of old town Marrakech, my eyes grew large and a healthy smile dawned on my face…oh how good it felt to be back travelling in a foreign land, even if we had just dodged a camel and horse roaming the road. It's exactly these kind of unexpected sights I love to see and they weren't confined to the highways.
I was dropped off in the middle of Djemaa-el-Fna amidst a harmony of sounds from snake charmers to musicians, dried fruit sellers to fresh juice bars, all vying for business on just another day in old town Marrakech.
I dumped my bags at the hotel where I met up with a couple of other people who were to join the trip and we eagerly headed back to the square and into the souqs to see what was on offer in this colourful city. We were soon lost in a maze of allyways selling everything from traditional clothing to tajine cooking pots, and fragrant spices to natural viagra. "Mister, come look, you want to visit my herb store?" We declined, as although it was only 11am we were ready for our first couscous or tajine meal. We should have kept that to ourselves as 'Uncle Hussein', as he was affectionately named from that moment, proceeded to direct me and my new travel buddies to his friend's restaurant with promises of fine food and great views of the old town.
The restaurant didn't disappoint on either count and we managed to while away a couple of hours over a 4-course meal. You can only imagine the surprise on our faces when we descended from the roof terrace to find Uncle Hussein still waiting for us, encouraging us to now go and visit his herb shop. We indulged and learnt about the differing natural remedies for blocked sinuses, migraine, upset stomach and a number cures for varying 'personal' complaints, but alas we were just beginning our trip so didn't want to load up on souvenirs just yet.
We thought we had seen it all, but then dusk set over Marrakech and the activity in the square shifted a gear as the night stalls came to life and the smells of fresh market food hit the air. Musicians played, people gathered, dancers performed and the sights and sounds summed up why Marrakech is one of those must-see cities. A city that excites, a city full of life, a city that draws you in and allows you to escape from your own world and feel like you've just stepped back in time.
This was all on day one! We had hiking and biking in the Atlas Mountains to look forward to, but for now we just rode the wave of the frenetic buzz that is Djemaa-el-Fna in old town Marrakech."
* photo by Catherine Jubb, Marrakech spice store, Morocco.