It's Singapore to a tea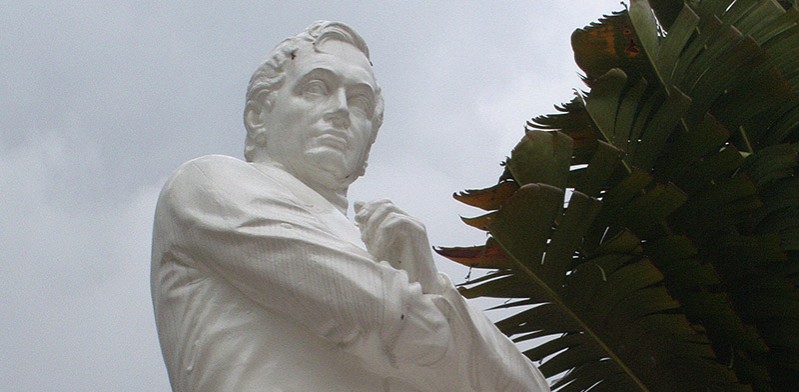 A visit to Singapore would not be complete without experiencing High Tea or sampling a Singapore Sling at the Raffles Hotel. Opened in 1887 in an old bungalow known as the Beach House, the Raffles Hotel was named after Sir Stamford Raffles, the founder of modern Singapore.
Over the years it has evolved into one of the worlds most beloved luxury hotels and played host to a swag of celebrities, writers, and royalty. So, Intrepid's Chotie Moloney decided it was just the place for a travel treat…
"After a busy day that included hours of walking around Chinatown and its famous street market, a session of torturous foot reflexology (at least they finished off with a refreshing cup of herbal tea and cool facewasher!), a traditional bumboat tour on Singapore river and a little retail therapy, my first impression of this legendary hotel was delightful!
As I walked up Beach Road filled with anticipation, I was not disappointed as I headed toward the main entrance of the hotel. The heady aroma of sweet frangipani filled my nostrils as I looked up and was welcomed by a Sik in all his finery; the official greeter to all who enter the hotel.
High ceilings, chandeliers, antiques galore and welcome air-condtioned comfort – this was the place for me for sure! It was now 4.50pm and I knew I was running late for High Tea or Tiffin as it's known in these parts. The Tiffin Room Manager greeted me warmly and showed me to a table; beautifully adorned with crisp white linen, full silver tea service and a waiter ready to pull out my chair. For S$65 (approx AU$50 or US$50) you can sample all the delights of the Champagne High Tea buffet, and it's so popular that you should book in advance. It starts at 3.30pm and goes for a couple of hours, so get their early. Dress code is smart casual. As I only had about half an hour left, I was quick to work.
My first plate was filled with savory and spicy treats – curry puffs, samosa, salmon quiche, salmon and mustard finger sandwiches (an unusual combination and a bit strong for me to be honest) all washed down with 2 pots of tea. My mother has always said when you are really parched, tea is the answer – she is right!
The second plate was for sweets – a pot pourri of little sponge cakes intricately decorated with flowers all brightly coloured, cookies and a serving of butterscotch pudding with caramel and chocolate sauce. Needless to say, a very satisfying experience on many levels – wonderful food in an opulent setting with excellent service. Waiters swarm around you poised to take your seat you after each visit to the buffet table, refill your pot of tea or coffee, wisk away any used plates and replenish your ice water glass. As I recovered from the heat and humidity of the outdoors, the waiter proceeded to tell me 'this is the hottest time of year ma'am' – although you would never know it from the comfort of the Tiffin Room.
At 5.30pm, as the waiters cleared the tables for the dinner crowd appearing soon, I finished my tea and walked outside to the courtyard and relaxed. As night fell, groups of tourists made their way outside for photos – the large ornate Victorian fountain and huge palms create a very dramatic setting and a lovely way to unwind from this busy day… or at least for another hour until I was off on the next adventure, a visit to the Night Safari!"
Tour Singapore with Intrepid on trips like these great small group adventures:
South East Asia Discovery – 22 days
Singapore to Bangkok – 15 days
To find out more about travelling with Intrepid and for your chance to WIN a trip in every edition, subscribe to Intrepid Express, our free e-newsletter. Plus you can become a fan of our Facebook page and follow us on Twitter!
* photo of Sir Stamford Raffles statue by Adrianne Yzerman – Intrepid Photography Competition