Intrepid Jane is ice bound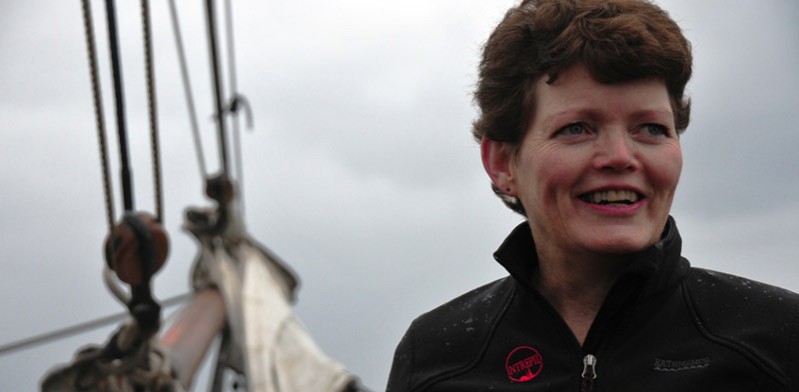 Why would a warmth-loving Aussie girl want to pass up her summer, spend two months in mostly freezing temperatures and sail on some of the roughest waters in the world?
These questions and more are what we posed to Intrepid's Jane Crouch, who will be joining the Shackleton Epic – a big adventure that includes a re-enactment of Sir Ernest Shackleton's perilous Antarctic voyage of nearly a century ago…
Q: Congratulations Jane – why did you want to do this?
A: Lots of reasons: there's no activity that excites me more than participating in a challenging expedition with a purpose in a wilderness environment. I've had a long interest in Antarctica, inspired by several friends who have worked there. Some years back I flew over Antarctica and was entranced, but frustrated to not land! Shackleton's achievements are incredibly inspirational. And to go on a magnificent tall ship, the TS Pelican where 'everyone is valued as an individual', sounds fabulous. All the ingredients are there for an amazing voyage of discovery.
Q: What are the top things on your packing list?
A: Warm gear of course, including waterproofing for a range of electronic gadgetry. Plus I'll be prepared with some favourite recipes to cook for 40, sea sickness prevention methods and will be packing supplies of good dark chocolate!
Q: What do you admire about Shackleton and his leadership style?
A: Shackleton had a rare combination of qualities that made him a true leader, evidenced during the most challenging of experiences. His understanding of human nature and the need to maintain order, the value of team work, the essential attributes of maintaining humour and optimism all contributed to his success. He was never going to let any of his 27 men die!
Q: Jane, you're amongst the, dare we say, less youthful members of our Intrepid staff. Do you think you're up for the rigours of this adventure?
A: Yep, I've been around awhile – but I think that brings advantages. I've worked in outdoor education, climbed lots of mountains – both physically and metaphorically, and I've led more than 70 Intrepid trips, so I think I know what my body and mind is capable of. But I'm not fooling myself that this won't be testing. Off to the gym the next 2 months to work on my strength, especially for hauling in the sails which can be mighty heavy. I'm taking weekend swims in cold waters to try and toughen up my resilience in the cold, and I'm reading Shackleton's Way hoping to gain some wisdom of his leadership and survival skills that will hold me in good stead when times get tough.
Q: You'll be trailing the 'Alexandra Shackleton' 'life boat, while adventurer Tim Jarvis and his 5 crew sail/paddle the boat from Elephant Island to South Georgia. Might that part be a bit slow and boring?
A: Not in the least – there will be lots to do – running a square-rigger tall ship, learning new seafaring skills and navigation, ship cleaning, maintenance and food preparation. And then the nature all around us – being on the watch for wildlife like the biggest whales on Earth, seals, dolphins, sooty albatross and for ice-bergs – I'm sure they'll be breathtaking. Plus amongst the crew on board will be an extraordinary level of experience – there will be illustrated talks on the history, wildlife, oceanography and glaciology of the region. There'll be plenty of learning and fun! I rather fancy learning some good sea shanties and how to talk like a pirate – arrggghh! Some quiet time to read may be a special treat too, which is too rare in my 'regular' life.
Q: How true to Shackleton's original 1914-16 expedition will this adventure be?
A: For Tim Jarvis and his 5 men – very true. The 'Alexandra Shackleton' is almost an exact replica of the original 'James Caird' lifeboat that Sir Ernest and his men sailed 100 years ago. Tim and his men are going to wear the same kind of wool clothing, eat a similar basic diet and sleep in reindeer skin sleeping bags. There'll be no fancy modern fibres in their clothing, nor electronic communication methods on their boat. They will have some advantages of knowing that if their situation gets really life threatening, that we folk on the TS Pelican will come to their rescue. Fortunately for me, I get to sleep in a warm cabin for the 56 days, the food sounds fabulous and we're not taking huskies – so we don't have to kill and eat them!
Q: How can people follow this incredible journey?
A: Hop on the Shackleton Epic website, read all about it and get very excited like me!