Finding a great future in Turkey
In its strategic east-meets-west location, Istanbul has attracted migrants and travellers for centuries.
Within the Fener and Balat districts, where the population is mostly rural immigrants, is a fabulous organisation receiving support through The Intrepid Foundation, and turning around the lives of young people from disadvantaged backgrounds.
Mavi Kalem was established in 2000 in response to the terrible earthquakes that hit Istanbul that year. There was an immediate need for a social welfare program in the poorer areas of Fener and Balat, where the population is mostly rural immigrants from eastern Turkey. The people are isolated from their natural communities, have low levels of education, and have limited incomes from menial employment. For the children, life is hard and school is given a low priority. Mavi Kalem's Coordinator, Gamze Karadag tells us more:
"Zeynep is a young lady who came to Mavi Kalem in 2003, when she was 14. Her father was not part of her life, and her mother worked hard at house cleaning and whatever daily jobs she could find, to support Zeynep and her sister's education. Life was a struggle. Zeynep started volunteering at Mavi Kalem doing office work after school, and helped introduce the Mavi Kalem team to other people in the neighbourhood. This position helped to develop her skills and grow her confidence. Then over time she officially became part of the Mavi Kalem staff and volunteered to help with the after school Children's Education Program through the remainder of her high school years.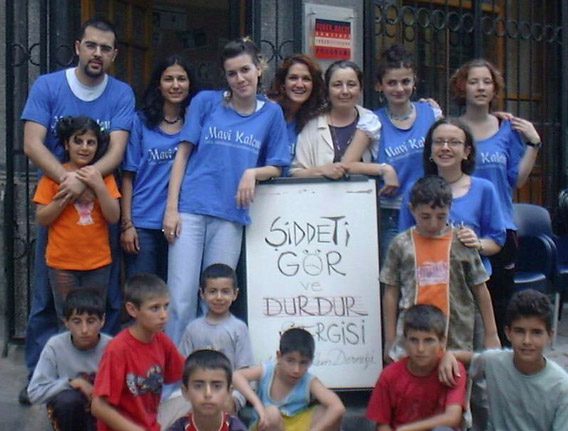 So impressed by Zeynep's commitment, Mavi Kalem found funds to pay for Zeynep to attend preparatory courses for the university entry exam, and some of the older university student volunteers at Mavi Kalem helped her study and prepare. Zeynep was accepted into and successfully completed a textile engineering degree. 11 years on since we first met Zeynep, she is progressing well in her chosen career. And she is still very much one of the Mavi Kalem family, volunteering at social activities in Fener-Balat and supporting the younger ones to find their path to a successful future, just like she has."
You can help young people attend Mavi Kalem's Children's Education Programme through The Intrepid Foundation. All donations to The Intrepid Foundation will be matched by Intrepid Travel up to AU$400,000 in each financial year and a maximum of AU$5,000 per donor in each financial year.
Intrepid also supports Mavi Kalem through Project SAMA. Learn more about this gender equality initiative and how you can be involved.
Istanbul rates highly amongst Intrepid travellers' favourite cities and deservedly so. Intrepid has four terrific Urban Adventures in Istanbul to choose from, as well as longer tours of Turkey beginning or ending in this fabulous city.
Photos: credit Mavi Kalem.
Lower photo – Zeynep is in the back row, second from the right.