About Africa's people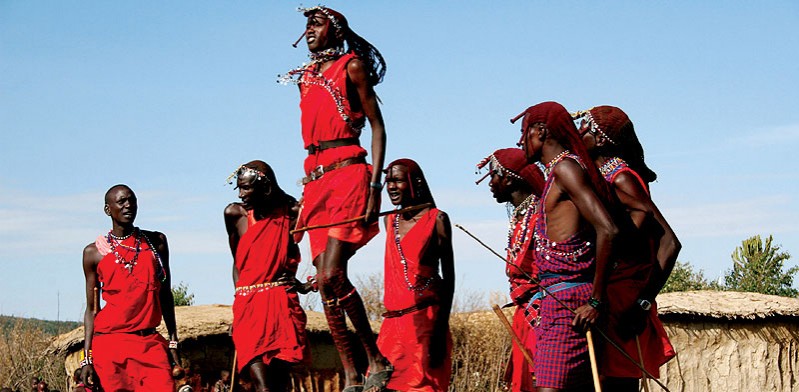 Meeting the proud Maasai people and learning more about their traditional village life in Kenya was all part of the amazing Africa experience for Intrepid's Dyan Mckie…
"I can understand why most travellers are inspired to visit Africa to see the unbelievable animals. I too was extremely excited to see white and black rhinos, giraffes running across the road and a Masai Mara lion, who decided to check us out from only two feet away. Plus I will never forget the cheetah who stalked a gazelle, but made a last-minute decision to leave it alone only yards from our 4WD! The animals are primarily why people go to Africa, but with some surprise, my Africa journey was more about the people.
Spending time in a traditional Maasai village and learning about their marriage and educational beliefs and burial rituals was fascinating and opened my eyes to a whole new understanding. But what makes this village visit uniquely special is that there are not hoards of tourists jumping out of their 4WDs and taking invasive photos with the Maasai warriors. This is a real village and a real experience, where they welcome Intrepid travellers into their lives without the need to buy anything. Having to drive off the main road to reach the village helps prevent it becoming a touristy village and my time here was another aspect of my African adventure that I will not forget.
In Africa the children made me smile everyday, the people were proud and friendly, and of course the animals were absolutely amazing!"
Tour Kenya with Intrepid on trips like these great small group adventures:
Kenya Wildlife Safari – 8 days ex Nairobi
Maasai Heartlands – 15 days ex Nairobi
To find out more about travelling with Intrepid and for your chance to WIN a trip in every edition, subscribe to Intrepid Express, our free e-newsletter. Plus you can become a fan of our Facebook page and follow us on Twitter!
* photo by Emma Boast – Intrepid Photography Competition