Ancient wonders, dramatic natural landscapes and outstanding local hospitality – you'll experience it all as you travel from Cairo to Madaba. When you travel across Egypt and Jordan, you'll wander the bustling bazaars, gaze at the mighty pyramids of Giza and explore the red sands and luna vistas of Wadi Rum. Everything about these remarkable countries makes for a truly memorable adventure.
Our Cairo to Madaba Tours
Take an adventure holiday through Egypt and Jordan. Visit Cairo, the Pyramids of Giza,...
Take an epic adventure through Egypt and Jordan, seeing two Wonders of the World, the...
Cairo to Madaba Tours Reviews
Read more about travel in Egypt and Jordan
Aug 14, 2023
---
The pyramids or Petra? Petra or the pyramids? It's a tough choice but one that...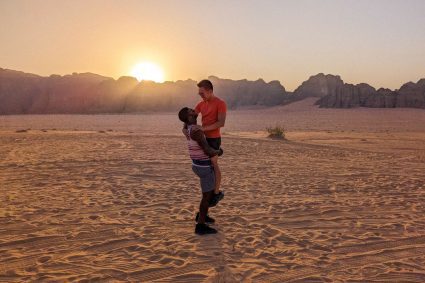 Oct 30, 2023
---
Can a group trip ever be romantic? Barry Hoy heads to Jordan with his partner to...