Save 25% off the adventure of a lifetime.
With a great range of deals on the 2021/22 Antarctica season, there's never been a better time to lock in a trip to the Great White Continent. You could be spotting penguins waddle across icy plains, searching for whales in the crystal waters or even setting foot on the continent itself, for less.
25% off Category 4 and above (excl. 4A) on the following voyages:
Best of Antarctica from Punta Arenas GQMDP/PPDAP 02 November 2021
Best of Antarctica GQMDE/PPDAE 11 November 2021, 20 November 2021, 11 December 2021, 29 December 2021
Antarctic Eclipse GQMEA/PPDEA 29 November 2021
Christmas in Antarctica GQMAC/PPCIA 20 December 2021
Antarctica, South Georgia and Falklands Explorer GQMWS/PPWOS 07 January 2022
Journey to the Antarctic Circle GQMJC/PPJAC 26 January 2022
Antarctic Whale Journey GQMWJ/PPAWJ 07 Feb 2022
WWF Giants of Antarctica GQWWF/PPWWF 16 February 2022
WWF Journey to the Circle and Giants of Antarctica GQCWF/PPCWF 25 February 2022
Antarctica, South Georgia and Falklands Odyssey GQMSG/PPSGD 09 March 2022
Offers available on new bookings only made and deposited between 01 June 2021 and 31 July 2021, for travel from 01st November 2021 to 31 March 2022 on selected departures on the Ocean Endeavour only. This offer is not valid if you have held a confirmed booking on any Ocean Endeavour trip for the 2021/22 season in the last 3 months. Cannot be combined with any other discount. Discounts apply to voyage fare only and are not applicable on land tours, additional on-board activities, additional hotel accommodation or transfers, flights, travel insurance and does not apply to group bookings. Pricing is per person and compulsory single supplements may apply for certain cabin types. Category 1, 2, 3 & 4A cabins are not part of this promotion. Cabins are limited and offers may be withdrawn or amended at any time. A deposit is required at time of booking with full payment due at 95 days prior to departure. All other booking terms and conditions apply as per the Intrepid website.
Deposit amounts:
For voyages 12 days or less in duration
USD1000 / EUR850 / GBP800 / AUD1450 / NZD1550 / CHF900 / CAD1350 / ZAR16,650
For voyages 13 days or more in duration
USD2000 / EUR1700 /GBP1600 / AUD2900 / NZD3100 / CHF1800 / CAD2700 / ZAR33,300
Download your free Antarctica Guidebook
Our Antarctica Guidebook is designed to give you a taste of what an adventure to the world's southern polar region will be like, from the wildlife you might see, to the places you might go and even what to pack for the journey.
Get a taste of Antarctica
Tips, advice and inspiration
Mar 02, 2023
---
Listen to Intrepid ambassador Sarah Davidson's podcast, Seize the Yay, to hear all...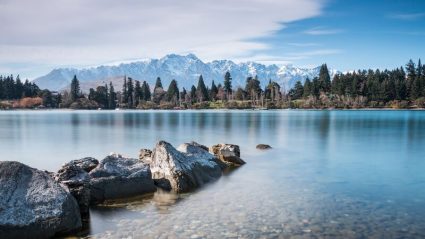 Aug 17, 2022
---
From hiking in Patagonia to spotting newborn wildlife in Uganda, here's where you...
Oct 26, 2020
---
Find out where to travel while giving back to local communities.