It's one of the great tragedies that the spice-filled splendour of Indian and Sri Lankan cuisine, which draws inspiration from dozens of ethnic subcultures and centuries of history, has been sold to the western world as simply 'One butter chicken, one lamb Rogan Josh and three garlic naan.' But not on this trip. Taste fresh paratha bread fried in ghee, tamarind chutney and vegetable pickle, onion bhaji from a Delhi street stall, home-cooked Rajasthan curry and real Sri Lankan tea, picked straight from the plantation. Butter chicken will never be the same again. 
Our food trips in India and Sri Lanka
Reviews
Giles Goulden
You guys take the hard work out of organisation, meaning we can turn up with a small amount of preparation but ready to enjoy the experiences you offer.
Review submitted 12 Aug 2018
Trudy Okely
What a great trip! This trip of Sri Lanka was varied and well paced. Hotel quality was a surprise - very clean and comfy. We saw all the highlights including Lion Rock, took 2x safaris, beaches and a great train trip with beautiful countryside. But what made this trip fantastic was our guide and cooking experiences. The in- home cooking was wonderful - beautiful families with hygienic kitchens and fresh food. Our guide Thilantha was 11/10 - past chef experience and the most organised man I have meet, he made the trip even more special. His knowledge on every subject was outstanding. Thila provided us with receipes for the food we cooked so we can practice our new cooking skills at home. (you don't need to be a foodie to do this tour / you can participate or just watch and then enjoy the food cooked) Bus was of a high standard and most meals were included (and the ones that weren't were very cheap). I highly recommend this trip - Sri Lankan is a safe, friendly and beautiful country and the cooking experiences will never be forgotten. Thanks Thilantha- we absolutely loved it all!
Review submitted 11 Aug 2018
Gary Okely
Intrepid's Real Food Adventure provides a very authentic look at what life is really like in Sr Lanka. Our Tour Leader, Thilantha, was outstanding and really engaged us in every aspect of what was on offer. The highlights were the home cooking experiences, Sigiriya, the excursion to Kaudulla National Park and Mirissa.
Review submitted 11 Aug 2018
Stories from the kitchen
India and Sri Lanka recipes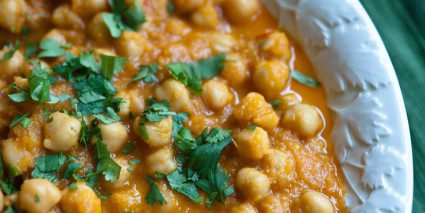 Mar 04, 2015
---
Chana Bhatura is one of northern India's favourite comfort foods. It's basically a...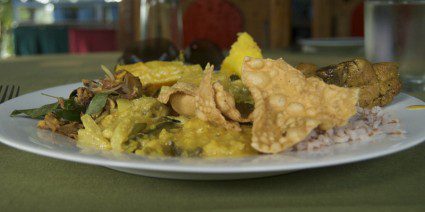 Nov 19, 2014
---
Rice and curry is the king of Sri Lankan cuisine. There's a slew of variations...