How to get to Bruny Island 
Getting to Bruny Island is extremely straightforward and relatively easy as there's only one way to do it and that's catching the ferry from Kettering (a 33-minute drive from Hobart's city centre) to the northern tip of Bruny Island at Roberts Point. 
Catching a ferry to Bruny Island
Catching the ferry is the only way to get to Bruny Island but thankfully there are frequent daily services throughout the whole year, making it extremely easy to access the island. You don't even need to pre-book tickets as they're available to purchase upon arrival at the ferry terminal, however, you must arrive at least 20 minutes before departure to ensure your vehicle can be loaded in an efficient and timely manner. You won't need to pay extra fees for each passenger inside the vehicle, just the cost to transport the vehicle itself. 
Tickets per vehicle cost around AUD$34 but this can increase depending on the type and size of vehicle you have, and all fares include a return trip, whenever that may be (it doesn't have to be on the same date you first boarded the ferry). If you're not travelling with a vehicle, you can still board the ferry free of charge. 
Each trip across the sea passage takes around 20 minutes so you don't need to factor in too much travel time in your itinerary. 
To purchase tickets and learn more about the Bruny Island ferry service, please visit the SeaLink website. 
How to get around Bruny Island 
Since there is no public transport, ride-share services or taxi services on the island, taking your car with you on the ferry is pretty much the only way to get around and explore. The roads around Bruny Island are well maintained and easy to navigate with clear signs featuring bold lettering so you shouldn't have any trouble finding your way, however, there's only one petrol station on the island (located at the Adventure Bay General Store) so make sure you have a full tank before you set off. 
If you're after a bit of exercise while you're sightseeing, you can also cycle around the island with bikes and e-bikes available for hire from Cycle Bruny Island. 
Read more about Tasmania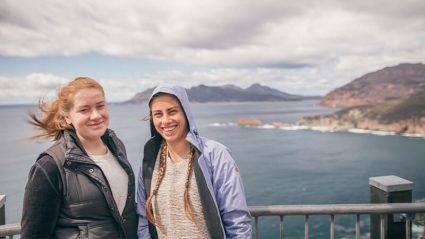 Dec 18, 2021
---
Discover the beauty of Freycinet National Park on these fantastic walking tracks.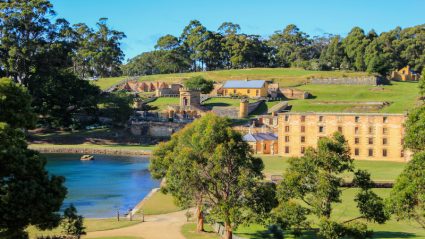 Jun 25, 2021
---
Get your culture on with these cool cultural activities in Australia and New...