Stunning landscapes, delectable produce, and fascinating wildlife – this special island has it all.
If Tasmania is known as one of the purest and most pristine places on Earth, then Bruny Island is the perfect epitome. Not only is it bursting with natural beauty, but it's also home to incredibly diverse marine wildlife such as fairy penguins and fur seals, as well as land animals such as white wallabies and swift parrots. From sipping a glass of champagne while trying the island's famous oysters to wandering around the lighthouse at South Bruny National Park, our Bruny Island tours are bound to show you a whole new breathtaking side of Australia. 
Our Bruny Island tours
Bruny Island highlights
Explore South Bruny National Park
Let your imagination run wild among the wild seascapes and tall, luscious forests of South Bruny National Park. Beloved for its diverse coastal scenery and captivating landscapes (not to mention its famous Cape Bruny Lighthouse), a couple of hours spent wandering through the park is guaranteed to produce memories you'll look back on for years to come. 
Wander the Cloudy Bay landscape
Another must-visit location on Bruny Island is Cloudy Bay – a stunning, beachy setting that's ideal for long walks, surfing, and humpback whale spotting. Situated in South Bruny National Park, this bay feels as if it's in the middle of nowhere with minimal signs of human civilization, making it the perfect place to go if you need to relax your body and unwind your mind. 
Walk up to Truganini Lookout at The Neck
There are few sights on Bruny Island that are as spectacular as the view from Truganini Lookout. Located at The Neck (the isthmus connecting north Bruny Island with the south), this lookout features 180 steps and is named after a local aboriginal woman and one of the last native speakers of the Tasmanian languages, Truganini. While it can be a bit of a hike to get up there, the effort is worth it every time thanks to the 360° views at the top.   
Dine on local oysters, cheese, and wine
After all that island exploring, you're bound to work up a healthy appetite. Thankfully, Bruny Island is one of the best places to be when you're craving some delicious local produce. Whether you fancy nibbling on fresh oysters, sitting underneath leafy eucalyptus trees as you sample some of Tasmania's best cheeses, or sipping on cool climate wines at a family-run vineyard, it's safe to say your tastebuds will be satisfied on Bruny Island. 
Bruny Island tour reviews
Bruny Island FAQs
Read more about Tasmania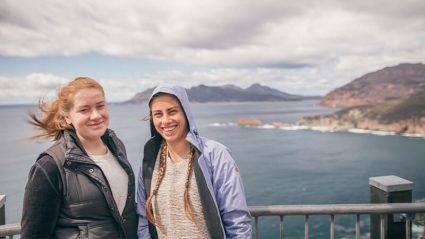 Dec 18, 2021
---
Discover the beauty of Freycinet National Park on these fantastic walking tracks.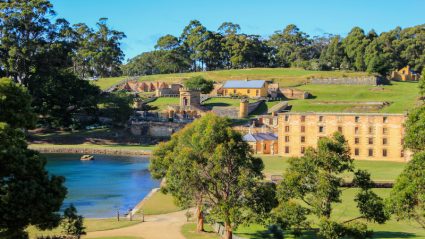 Jun 25, 2021
---
Get your culture on with these cool cultural activities in Australia and New...