Bruny Island weather 
While it might seem like Bruny Island would share its weather patterns with nearby Hobart, in actual fact, the climates can be quite different as Bruny Island enjoys mild summers and cold winters with plenty of sunshine and frequent rainfall during the spring season.
Summer on Bruny Island
Its warmest month is January with an average of 17°C, however, the temperatures can climb to a nice 23°C or drop down to a brisk 12°C. January also sees plenty of sunshine hours with around 12 hours expected per day, giving you plenty of time to enjoy the island's breathtaking natural surroundings. With that sunlight though comes a high UV Index rating of 12 so make sure you're properly protected against the sun - by wearing sunscreen and a hat - before spending the day outside. 
Autumn on Bruny Island 
If you're set on swimming at the beaches on Bruny Island, try to travel in March as that's when the sea water's at its warmest. The warmest the water will ever get is 15°C, and while that might not seem high, you'll be able to feel the difference if you go swimming in September when the water temperature sits at a low 11°C. However, it is recommended you go swimming with a swimsuit on regardless of the month in order to protect your body from the cold water. 
Spring on Bruny Island
Spring sees the most rainfall compared to the other seasons with the months of September, October, and November recording monthly day averages of 16.8, 16.9, and 15.3 respectively. This likely means that you'll experience rainy weather if you're travelling during this season, however, rainfall is often brief so chances are you won't be out of action for too long. 
What's winter like on Bruny Island? 
Unsurprisingly, the winter temperatures on Bruny Island are cold and often biting with wind speeds of up to 26km/h expected throughout the season. The coldest month is July with an average temperature of 9°C but it can also rise to 13°C or lower to 5°C so make sure you pack heaps of layers, as well as wind and waterproof clothing, to keep your body warm when exploring the island's natural attractions. 
July is also the month that experiences the least amount of sunshine hours at 4.9 per day, meaning that, when it's not raining, the sun is usually stuck behind the clouds for most of the day. If you're intent on travelling during winter but want to avoid the rain as much as possible, June is the best month to go as it's only expected to rain 12.9 days out of the month, the lowest average compared to July (14.7 days per month) and August (16.5 days per month). 
Average temperatures on Bruny Island 
| | | |
| --- | --- | --- |
| MONTH |  AVERAGE HIGH  |  AVERAGE LOW  |
|  March to May  | 18°C/64°F | 9°C/48°F |
|  June to August  | 13°C/55°F | 5°C/41°F |
|  September to November  | 17°C/62°F | 8°C/46°F |
|  December to February  | 22°C/71°F | 12°C/53°F |
Read more about Tasmania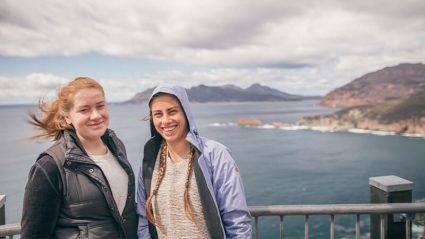 Dec 18, 2021
---
Discover the beauty of Freycinet National Park on these fantastic walking tracks.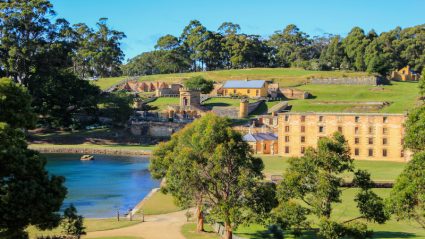 Jun 25, 2021
---
Get your culture on with these cool cultural activities in Australia and New...