Sometimes, when I tell my friends about the next trip I'm planning as a vegetarian, they say, "What are you going to eat?" Well, I'm going to devour the many tasty veg dishes I stumble across. Although there are a lot of countries that revolve around meat and fish, some countries are vegetarian powerhouses that seem made for the vegetarian traveler.
These countries ensure that your vegetarian diet doesn't have to be a challenge or an obstacle to a good trip. So long as you know a little about the local food scene and culinary culture of where you're visiting, you'll feel right at home. How to feel that way? Check out this list of seven countries we recommend. 
India
What other country could top this list? While it's commonly known that Hindus don't eat beef, around 400 million Indians maintain a vegetarian diet, which means there's A LOT of options. In fact, some veg-dominated menus in India have a 'non-veg' section, rather than a veg section like in meat-heavy countries. Many of these spicy, legume-based, vegetarian dishes have been perfected over hundreds and thousands of years.
An astounding variety of vegetarian curries stretch from coast to coast, tip to tip in India. Each region has famed dishes. India isn't all about curries either: there are biriyanis, dosas, stuffed paratha, and sambar. And the foods that fit perfectly in your hands: samosas, pakoras, kati rolls, aloo tikki, onion bhaji, vada, pani puri, and all sorts of different chaats, all exploding with flavor. If there's thing that comes to mind when I think of Indian cuisine, it's diversity.  
READ MORE: A FOODIE'S GUIDE TO SOUTH INDIA
An easy way to sample a variety of dishes at the same time is to order a 'thali', a set lunch. Some thalis have a few different items, while some will have 20! Expect rice, naan (or a similar bread), curd (to take off some of the heat), daal (the lentil staple), two or three or more veg masalas (curry-like dishes), pickle, and a dessert (such as the gulab jamon, a syrupy dough ball).
Tip: Much of India's best food is found on the street. I often ate street food for breakfast, lunch and dinner and for all the snacks in between. Take precautions when eating street food, but don't miss it because it's life-changing.
Trip recommendation: Explore markets, try cooking classes and more on this trip dedicated to Indian food.
Vietnam
Unless you're in rural areas, it's no sweat finding traditional, vegetarian food in Vietnam. Ubiquitous, mind-bogglingly tasty, the Vietnamese are doing it really, really right. Due to religious principles and dietary restrictions, mainly for Buddhists, there are a ton of vegetarian joints found throughout the country. The word 'chay' means vegetarian, so keep a look out for it on menus and signs.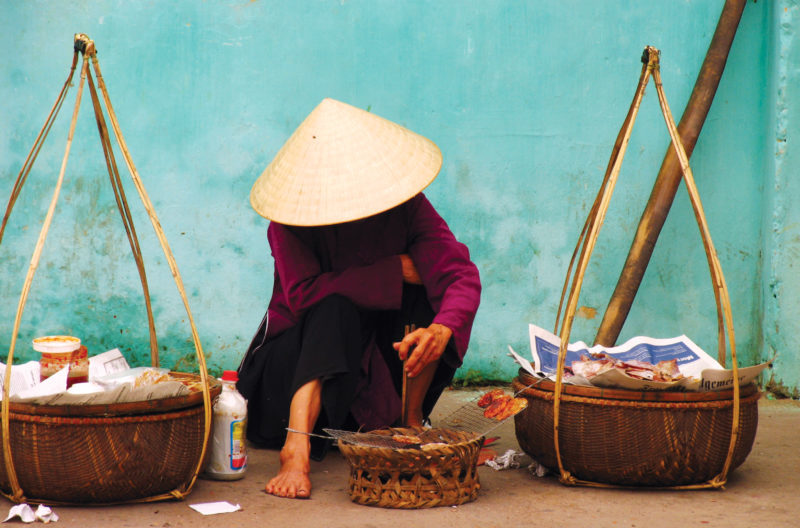 The quintessential dish to try in Vietnam is pho. It's typically made with meat, but you shouldn't have a problem finding a vegetarian one. That's pho sure. However, you may want to inquire about the broth, because sometimes that's not considered.
READ MORE: 5 DISHES YOU HAVE TO TRY IN VIETNAM
Wrap your lips around as many bahn mi as you can get. The French baguette, filled with egg (or tofu), cheese, cilantro, chili, cucumber and pickled carrot is the bomb. If you like tofu, you're in luck. If you don't, you probably will after spending time in Vietnam. The most tofu, and the best tofu, I've eaten was here. Tofu soups, sandwiches, chili tofu, fried tofu, tofu any way you want it.
Tip: Go to an all-you-can-eat vegetarian buffet. I found them throughout Vietnam, and I always left full, happy, and licking my lips. Expect a variety of tofu dishes, morning glory, soup, rice, and an assortment of vegetable dishes. Also: use hot sauce. All the time. Each restaurant will likely have their own chili paste, as well as bottles of chili sauce.
Trip recommendation: Enjoy one of the world's freshest cuisines on this 12-day food tour of Vietnam.
Israel
Being a vegetarian in Israel is a breeze, especially if you love dips, spreads, and salads. Israeli cuisine is influenced by Mediterranean, Middle Eastern, and Levantine ingredients and flavors, among others, which has created a rich and diverse food culture. Some foodies claim Tel Aviv to be the best city in the world for vegetarians. Israel produces a significant percentage of its own food, which means there's an abundance of fresh, local fruits, nuts, seeds and vegetables all the time.
A great place to start: hummus. This delicious anytime-anywhere dip is ubiquitous throughout the country, accompanying many dishes, or served along with other similarly appetizing spreads. Don't overlook other popular dips, such as eggplant-based baba ganoush.
And then there's falafel, probably the other most widely-known Israeli dish. Ground-up chick peas and spices, made into bite-sized balls and fried. Put them in a wrap with some other goodies, and you'll never look back.
Tip: Start your day on a good note by having shakshuka. This dish of poached eggs in a tomato sauce with onions, peppers, chili and a variety of spices is a national favorite. Late sleeper? No worries, this dish is perfect for lunch or dinner, too.
Trip recommendation: Discover the delicious dishes of Israel and the Palestinian Territories on this 10-day trip.
Italy
Pizzas, pasta, lasagne, soups, salads, antipasti, risottos (the list could go on and on), Italy is known worldwide for its cuisine, much of which is vegetarian. Every region has its own distinct, traditional dishes which have been crafted over millennia. Many of these dishes aren't great for vegans, but if you love cheese and eggs, you're in.
There's no easy way to navigate Italy's vast, heavenly food culture, but the good thing is you can basically start anywhere and continue on forever.
READ MORE: A REGIONAL GUIDE TO 7 UNIQUE ITALIAN DISHES
Consider starting off with the timeless classic, caprese salad – tomato, real mozzarella, basil, salt, olive oil. So simple, yet so unimaginably delectable. Next, seek out an authentic Italian pizza, not what you're used to having at 3 am on 'pizza corner'. If you're having trouble, just have a look around to see what locals are eating and remember, "When in Rome, do as the Romans do."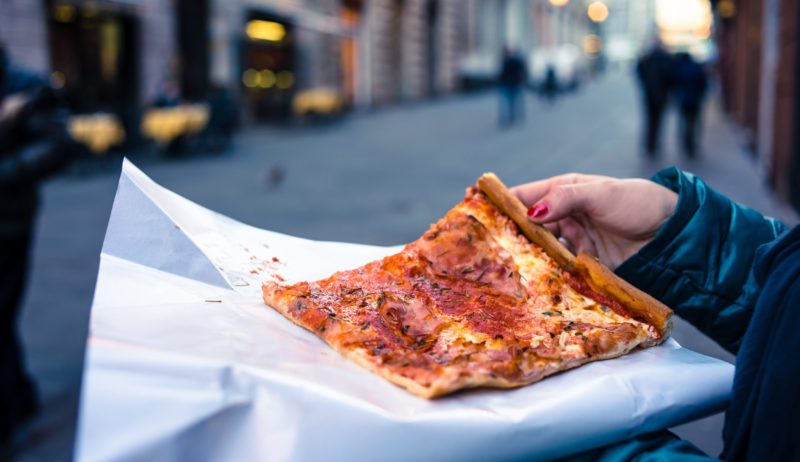 Tip: Head to Turin. In 2016, Turin's mayor announced plans to turn the city into Italy's first vegetarian city. Rejoice!
Trip recommendation: Indulge in the tasty cuisine of South Italy on this 7-day food tour.
Ethiopia
For two days each week, Wednesday and Friday, all Christians and Muslims in Ethiopia stick to a vegetarian diet, which they refer to as fasting. It's still easy to find vegetarian fare outside of those days, however.
The best place and pretty much only place to start your vegetarian food journey is with 'injera'. The national dish, injera is a unique, spongy, sour-tasting flatbread made from teff flour, which most meals are served atop.
READ MORE: THE 8 HEALTHIEST COUNTRIES IN THE WORLD
Ethiopian vegetarian cuisine mostly consists of stews made from lentils, or vegetables and spices. One of the most popular dishes is shiro – pureed chickpeas in berbere spice. Berbere is a distinct, spicy, bright red blend of spices. Cabbage, carrots, greens, and lentils are often used to create other curry-like stews and salads.
Tip: The best way choosing a meal, especially if you're not sure what you want or if you want a bit of everything, is to order the bayenetu, a vegan platter. Served atop of teff, of course.
Trip recommendation: Explore the mountains, rivers, castles and islands of Ethiopia on this 13-day trip.
Sri Lanka
Similar to India, Sri Lanka has a rich food history that caters to vegetarianism. I ate like a king, every meal, every day in Sri Lanka. The main feature of Sri Lankan cuisine is 'rice and curry' – yes, just as it sounds. Some of the 'curries' are more like salads. Every restaurant differs in how many curries are offered, which are served with a heaping pile of rice.
Dishes are usually accompanied by sambol, a spicy chili-based paste, as well as pol sambol, a shredded coconut, lime and chili dish – pure brilliance.
READ MORE: 8 PHYSICAL ACTIVITIES YOU HAVE TO DO IN SRI LANKA
Kottu is another Sri Lankan staple. Kottu is chopped up pieces of roti, mixed with vegetables, eggs, and cheese which creates a spicy, starchy stir fry. You can hear the Kottu vendors chopping up the roti from blocks away, which adds to the experience. And don't miss out on the numerous fresh juices from the abundant local fruit. Sri Lankan food is spicy! 
Tip: 'Short eats' do not come up short. These street-side snacks, known as short eats, are great when you're on the go. Similar to samosas, shorts eats are often vegetable-filled pastries, or roti filled with spicy vegetables. And cheap!
Trip recommendation: Indulge in dreamy curries, deserts and more on this 12-day food tour of Sri Lanka.
Romania
This is one country that probably doesn't come to mind when you're thinking of the best destinations for vegetarians. I thought that before I went, but I was wrong.
While it wasn't always easy, and some restaurants had few options, I was mostly surprised at the wide variety of veg options in Romania. In my opinion, it's definitely the best choice for vegetarian food out of all the Balkan countries.
SUBSCRIBE TO INTREPID'S NEWSLETTER FOR COMPETITIONS, GIVEAWAYS, TRAVEL INSPO & MORE
Mamaliga is a Romanian polenta-like dish made from yellow maize flour and served with sour cream and/or cheese. It's a staple and often served as a side. I love, love, love it. Varieties of bean soups are found throughout the country. Similarly, I had the best bean dip, spread atop toast, in Sibiu. Ciorba is a Romanian sour soup – it's often made with meat, but it's not uncommon to find a vegetarian version.
Lentil soups and blended spinach soups are also common. Make sure you try zacusa, which is a roasted eggplant and pepper dip. I was lucky to find some cafeteria-like restaurants. They had lots of veg options, such as different soups, polenta, bean dishes, stuffed zucchini and bell peppers, and more.
Tip: Travel during Lent and you'll have no problem finding tasty Romanian veg fare.
Trip recommendation: See the sights of Romania (Transylvania included) on this 10-day trip.
—
The world is full of mouthwatering vegetarian food. You just have to know where to go and how to find it. So next time a friend asks, "what are you going to eat there!?" you'll be able to fill them in about all the scrumptious possibilities.
And if you're looking for a no-hassle, foodie adventure, look no further than Intrepid's trips dedicated to cuisine. As Erica Kritikides, Intrepid's Brand & Product Manager reassures, if you're veggie you don't need to panic:
"With our Real Food Adventures, we endeavour to cater to a whole raft of different dietary requirements (and, believe me, we see them all!). We advise all our travellers to let us know about their dietary requirements well in advance, so we can advise them on a country-by-country basis about any issues they may face either broadly, or with specific food inclusions that cannot be modified.
And if you're still having trouble finding vegan and vegetarian restaurants, use HappyCow.com, a great online vegetarian restaurant locator. I've used it successfully in a number of countries.
Taste buds tempted? Check out our range of Real Food Adventures for the always-hungry foodie.
—
Image credits: All c/o Intrepid Travel (except Ethiopia and Sri Lanka food photos c/o iStock)
Feeling inspired?