Locals call it 'God's own country' for a reason. With a year-round tropical climate, awe-inspiring views and fresher than fresh produce, it's not hard to see why. In the state of Kerala you can eat like a deity every single day.
When most people picture Indian cuisine, they conjure up images of vast meaty curries, piping hot tandoori ovens and endless trays Naans or Rotis. Not to mention a level of spice that's off the Scoville scale, which is more than most tourists can handle (myself included).
Down south this couldn't be further from reality, where the baking heat gives way to a gentle sea breeze and lush vegetation. With it comes subtly brilliant flavours and injections of coconut, cardamom, banana and fresh mangoes into every dish. Flavours that make Southern Indian food among the best in the world.
Whether you're feasting on sustainably caught fish or gorging on the region's speciality breakfast foods for every meal, Kerala is a food paradise. And a scenic one too. Here's how to explore South India right, and how to keep your taste buds happy whilst doing so.
Fresh fish in Fort Kochi
You'll hear a lot of talk about the famous 'Chinese fishing nets' in Fort Kochi harbor. Their impressive design and dreamlike slow rhythm against the tide has made them something of a bustling tourist attraction, but for the fishermen and gastronomic tourists alike, it's the catch of the day that really counts.
Fish sellers will let you take your pick of their bounty, and from there any restaurant in town will prepare it right away. It's always fun to watch your dinner travel from sea to plate, but an auto-rickshaw driver warned me that the prime catches are always delivered to Fort Kochi's many restaurants first. You'll hardly be spoilt for choice with brightly painted signs offering lobsters, mussels and prawns that are caught just a short walk away from their doors.
LOVE SOUTH INDIAN FOOD? CHECK OUT INTREPID'S 12-DAY FOOD TRIP THERE!
Fort Kochi has countless options for fine dining, but an authentic home cooked meal is always best. So my pick would be Oceanos, where an unassuming decor leads to a banquet of fish meals, technicolor chutneys and rices served on vivid green banana leaves instead of plates. With a light flavoring of ginger, garlic and a shock of lime, the legendary Kerala fish fry really is hard to beat.
For a more scenic view try the Fort House Restaurant, where you can eat unforgettable ocean produce on a pier that stretches out into the Arabian Sea. If you're vegetarian, try the hot and sour eggplant curry, usually presented lovingly in a little terracotta pot.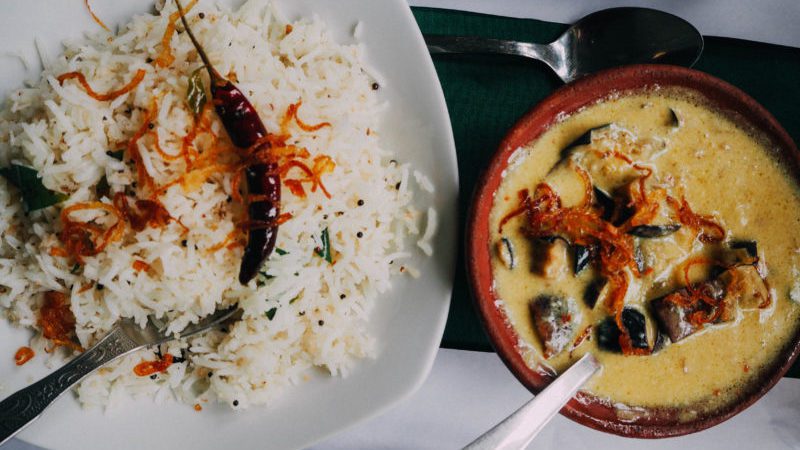 Keeping it seasonal
Like everywhere else in India, the local diet is dramatically controlled by what's in season. So if you're a real foodie or have your heart set on picking fresh produce, take this into consideration when planning which month to visit in.
Come in March, April or May and you won't be able to move for ripe mango overload. That means mango fish curries and succulent raw mangoes that fall apart upon the first bite. In peak season, no meal is complete without a refreshing mango Lassi.
Alternatively, take a trip down in the monsoon time (our summer) and it's the season for Jackfruit, which has become recognized as something of a superfood in the past few years. A deeply rich source of nutrients, some even claim it has the exact consistency of pulled pork when cooked. It tastes great in tacos too.
READ MORE: 4 MUST-HAVE EXPERIENCES IN SOUTH INDIA, ACCORDING TO AN INTREPID LEADER
Breakfast for dinner
Forget that fatty breakfast of bacon and eggs; down in Kerala it's more of a wholesome experience. Instead of pancakes, try a Dosa. Similar in consistency to a crepe but often spanning as long as your arm, they can be eaten plain or with a filling such as 'masala' (commonly spicy potatoes).
Served with fresh coconut chutney, no Dosa would be complete without Sambar – a delicious lentil and tamarind based broth. You won't find any maple syrup here.
Another breakfast staple is the perfectly round and impossibly delicate Idli, a light early morning cake that melts effortlessly into your mouth. Also look out for Appam, small pancakes that are a little more manageable than ordering a giant Dosa all for yourself. An Appam and crab masala is to die for.
SUBSCRIBE TO INTREPID'S NEWSLETTER FOR TRAVEL DEALS, GIVEAWAYS, STORIES & TIPS
Over the hotel buffet table, a group of North Indian tourists confided in me that they were eating so called "breakfast foods" for their morning meal, lunch and dinner. Come to Kerala and you'll soon see why.
The great southern Thali
A complete feast in every sense, the illustrious Thali contains everything at once on a single platter – or traditionally on a banana leaf when eaten in South India. Typically this means every single taste will be catered for, resulting in a sensory hit of sweet, sour, salt, bitterness and dry spice. The science behind a lunchtime Thali is that it will provide complete balance, nutrition and will prevent any cravings. It also tastes amazing.
The very best Thali I've ever eaten was at Saravana Bharvan, which you could call a kind of Indian chain restaurant. But in a country where even McDonald's has a regional spin (honestly try the Maharaja Mac or McPaneer burger), nothing is ever standardized.
Saravana Bharvan is one of the world's largest vegetarian chains, found predominantly in India but with single offshoot locations in places like New York and London, aimed at India expatriates missing a taste of home. Their menu is considered South Indian cuisine, but varies dramatically depending on where you go. Their Delhi branch regularly has queues spilling out the door, but the best place to sample it is in its spiritual home of South India, or specifically in Chennai in the state of Tamil Nadu. Opt for the Royal Thali, and for the small sum of 150 rupees ($2.24) you will get around eight dishes, rice, a deep fried Pappadom or Puri, chutneys and free refills of Sambar. Heaven.

The purest tea you'll ever drink
Before your trip it's worth knowing that Kerala is essentially a dry state, and while you can drink the occasional beer or toddy – a locally brewed coconut wine – it's best to do it like the locals and lay off the booze.
Thankfully, the state is home to the highest tea-growing region in the world. During my time in Munnar, a small town dedicated to tea picking and processing, I was repeatedly told that the higher the plant, the purer the taste. You can find tea plantations and small factories all along the Western Ghats, where it's difficult not to be lured in by their sweet, inviting aroma.
Take your pick of the finest black tea, green tea or if you want to try something different, try the cardamom variety for a soft and cleansing flavor.
If Kerala truly is 'God's own country', then tea is surely its amber nectar.
Has this story whet your appetite for a trip to South India? Check out Intrepid's South India Real Food Adventure.
—
All images c/o Ellie Pashley. Feature image c/o Intrepid Travel.
Feeling inspired?