From sultry forests that spread into Myanmar to the icy steppes of Inner Mongolia, China borders 14 other countries, more than any other nation. It has four times the population of the USA, and your shoes were probably made there. It is, in other words, so much more than just a famous wall.
Sure, the Great Wall really is a site to behold, but it's not the only adventure to be had in China. Here are 7 epic, wall-free experiences you can have in 'The Middle Kingdom.'
Eating Chongqing hotpot, the spiciest dish known to man
Well, the spiciest dish known to this man, anyway. Most people who haven't visited China – and even some who have – have never heard of Chongqing, but it's actually the biggest city in China by population! With almost 50 million people calling this city home, it's larger than most European countries.
Without question, the most epic experience in Chongqing is their most famous dish: hot pot. The concept is simple. You take a big, bubbling pot of oil. Into it, you pour as many red chilis as it can take. Then, dump in a few scoops Sichuan pepper – these harmless looking peppercorns tingle the tongue and eventually numb your whole mouth. Finally, dip in your favorite meat, vegetables and intestines, and enjoy being incinerated from the inside out. (It's probably worth mentioning that it is delicious, too.)
My favorite Chongqing hot pot house is referred to simply as the one on '花市路' Hua Shi Lu – Flower Market Street. It's a bit hard to find, but everyone seems to know it, so ask a local for directions. I went there first in 2014 and then again last year, and from the chili-stained ceiling to the sweating, red-faced locals, it's an authentic experience at every level.
RELATED: VISIT CHONGQING, SHANGHAI AND MORE ON THIS EPIC 21-DAY CHINA TOUR
Wandering the former French Concession in Shanghai
Far from the grimy streets of Chongqing, Shanghai is a shining city on the sea. The 'French Concession' was governed by France from just after the Second Opium War in the mid 19th century until the Second World War, when power over the besieged city was handed over to Japan.
Today, the former French Concession is very much run by China. Chinese flags are hung from all street lamps on National Day, and the futuristic Shanghai Library is frequently draped in bright red propaganda posters, adorned with the communist hammer and sickle. And yet, it still retains a distinct feel from the rest of the city.
Tree-lined avenues wind past boutique fashion stores, elegant cafes and high end international bars and restaurants. Don't know where to start? Hop the metro to Shanghai Library, and then wander along Huaihai Road, hang a left at Wulumuqi where live crabs scuffle in their tanks, and then turn left again onto the charming Wuyuan Road.
RELATED: 6 SURREAL LANDSCAPES TO EXPLORE IN CHINA
Circumnavigating Barkhor Square in Lhasa in the company of monks and pilgrims
Monks wander in resplendent orange and yellow robes, donkeys clop along the streets, and devout Buddhists fling themselves feverishly on the ground. Add in the crisp mountain air and the effects of the altitude, and you'll feel like you have arrived somewhere truly extraordinary.
Barkhor Square wraps itself around the famous Jokhang Temple in the Tibetan (as oppose to Han Chinese) part of Lhasa, in China's Tibetan Autonomous Region. Devotees take a spiritual path around the square, with everyone journeying in the same direction. Like a whirlpool, it's easy to find yourself swept away, walking in step with monks and pilgrims.
Much of Tibet is difficult to visit for foreigners – you need a permit and have to travel in group, under the watchful eyes of a government-approved guide. But once you arrive in Lhasa (you can go with Intrepid!), you'll find yourself more or less free to wander the streets at your own pace. Just beware of the food: Yak meat can be tough on the teeth!
RELATED: 6 OF HOLLYWOOD'S FAVORITE CHINESE FILM LOCATIONS
Riding a boat across West Lake in Hangzhou
It's about time nature got itself on this list. West Lake or 'Xi Hu' in Hangzhou is exactly what you'd hope for in an Asian lake: calm, tranquil, pagodas rising out of the water, wooden boats lazily drifting across the surface.
A UNESCO world heritage site, West Lake is very much on the map, and can sometimes feel cramped with visitors. The good news is that the lake is huge, and if you're feeling fit and prepared to walk the entire circumference, there are plenty of spots where the crowds thin, and you can enjoy the lake as it should be.
Catch one of the many boats into middle the lake and explore the 'Three Pools Mirroring the Moon'. These three pagodas, which sit in the middle of the lake, were built by the legendary poet Su Shi in the 11th century. If you've been to China, chances are you've already seen them, because they're on the back on the 1 RMB note!
VIDEO: THIS IS WHAT IT LOOKS LIKE TO EAT YOUR WAY THROUGH CHINA
Swimming in Sanya on Hainan Island
Feeling cold? Trust us, and head south. Off the coast of Guangzhou and closer to Vietnam, Laos and Thailand than the capital, Beijing, Hainan is arguably the largest Chinese island – that is, if you don't count Taiwan (which China very much does!).
The capital city on the island is Haikou. Though gritty and not particularly charming by day, by night it asserts itself as one of China's weirdest and most hedonistic clubbing scenes. But most visitors are right to head to Sanya, on the southern end of the island, where the real fun begins.
The sea is warm, the seafood is fresh, and there's even a beautiful lookout point, Luhuitou Park. Meaning 'the deer who turned its head,' the park is themed around the myth of a hunter who chased a deer until it transformed into a beautiful woman. Of course, they fell in love, and lived happily ever after.
A large statue of the deer stands at the top of the lookout point and is lit up at night. Beware cuddling couples and the local monkeys, they bite! (The monkeys, that is.)
Live out a Marxist nightmare/ fantasy in Nanjie
Ready for something a bit… different? Back on the mainland, you'll find Nanjie Cun, China's last Maoist commune. A small town in the province of Henan, the central square is dominated by a white marble statue of Mao Zedong. On each corner are enormous portraits of communist heroes: Karl Marx, Joseph Stalin, Friedrich Engels and Vladimir Lenin.
You enter the city by driving under a gigantic artificial rainbow. There's just one hotel, near the main square. It's a bit dusty, there are cigarette burns in the sheets, and from within you can still hear the shrill propaganda music blaring out of the main square. You'd be forgiven for thinking you're in North Korea!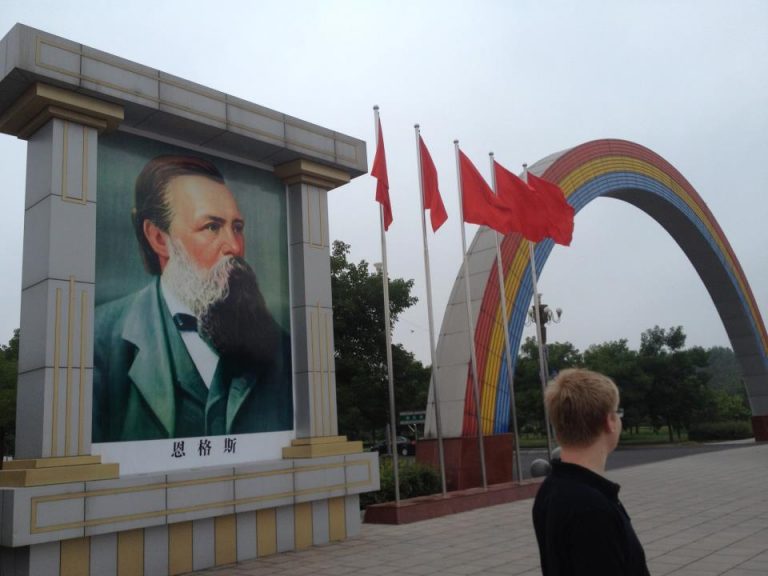 It's not the most picturesque or pleasant part of China, but it is undeniably fascinating. I visited in 2012 as part of a two-week journey in the country. We just stayed one night – you wouldn't want to there much longer!
Witnessing one of thousands of Mahjong games on the streets on Chengdu
Most people come to Chengdu, the capital of Sichuan Province, for the pandas. The 'Chengdu Research Base of Giant Panda Breeding' is well worth the trip. But there's far more to Chengdu than just these animals. In stark contrast with the energetic cities of Shanghai and Beijing, Chengdu is famous for taking things at its own pace. Wander the streets and stroll through People's Park, and you'll see the locals passing time in traditional ways. Old men practice calligraphy with water on the pavement, women dance in groups, some people get their ears cleaned. Others play Mahjong.
Played in groups of four with an elaborate collection of painted tiles, Mahjong originated in China during the Qing Dynasty. Chengdu's zeal for the game is well-known – some people joke that you can see the tiles from the air as your plane approaches the airport!
Want to tick off some of these epic experiences? Check out our wide range of China tours.

Image Credits (top to bottom): Rebecca Shapiro, iStock, Nathan James Thomas, Rebecca Shapiro, iStock, Nathan James Thomas
Feeling inspired?