They may be a few ways you can travel from the 'City of Angels' to the 'City by the Bay' but there's none as satisfying or as breathtaking as packing up the car, turning on some tunes, and hittin' California's coastline for a road trip you'll never forget.
We all know California is undeniably spoilt when it comes to beauty. From extraordinary national parks full of interesting rock formations and sparkling lakes (here's looking at you Yosemite) to bustling and vibrant cities brimming with culture and concrete adventures, California pretty much has it all.
If you want to see it all, embarking on a LA to San Francisco road trip is definitely the way to go. While there are a few different routes you can take to get between the two destinations depending on what you want to see (including hopping on our Real LA to San Francisco tour), there's no doubt you'll have the best time regardless of which way you drive. In fact, we're kind of jealous.
To make sure you're squeezing as much out of your journey as possible, we've taken the different routes into consideration to put together a list of the fascinating spots you can stop at along the way. So, whether you're set on driving down the coast or thinking of heading inland, kick your LA to San Francisco road trip up a notch at these spectacular settings.
Driving down the coast
1. Los Angeles
Exploring the multicultural city of LA is the perfect way to start your Californian road trip. From taking a stroll along the Hollywood walk of fame to acting like a kid at Disneyland, this star-studded city offers the best in glitz, glamour, and adventure. Whether you feel like searching the food markets in downtown LA for the best birria tacos or wandering around a museum or two, make sure you leave enough time in your itinerary to properly do this city the justice it deserves.
EXPLORE THIS CITY ON OUR REAL LA TO SAN FRANCISCO TRIP
2. Santa Monica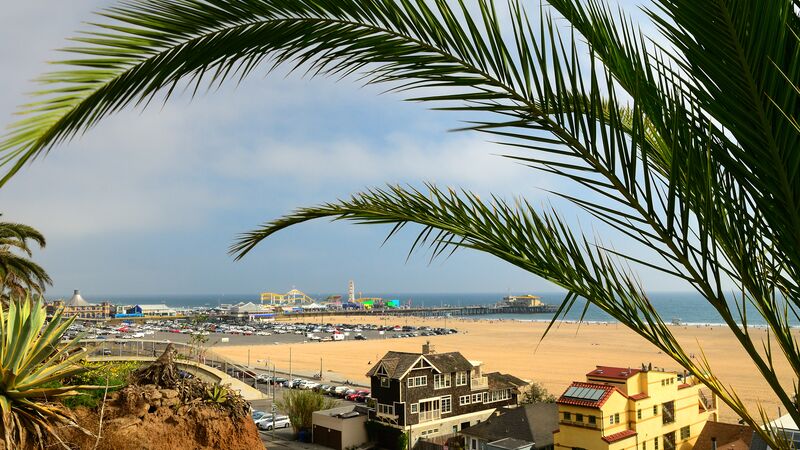 Continue your California coast fun with a quick stop at Santa Monica. Not only is this scenic destination home to a beach you could lay out for hours on, but it's also an attraction for kids (and adults) of all ages thanks to its amusement park, Pacific Park. Located at the end of the pier, this beloved park has been in operation since 1996 and offers adrenaline lovers the chance to take turns on rides such as the Pacific Wheel, the West Coaster, and the Seaside Swing.
But that's not all this charming area has to offer. From world-class shopping and mouth-watering restaurants to street performance watching and skating down "The Strand", Santa Monica is a stop on your LA to San Francisco road trip that simply can't be missed.
3. Santa Barbara
While this list is packed with California's best coastal towns, Santa Barbara might just top 'em all. From its golden beaches lined with palm trees to its secluded forest trails perfect for finding peace in the great outdoors, this charming destination is a perfect example of some of Mother Nature's most impressive work. But that's not all.
Featuring Mediterranean-style architecture (think thick plaster walls and clay-tiled roofs) that'll have you feeling like you're walking through the streets of your favorite European cities, Santa Barbara is the perfect mix of history and culture.
4. Hearst Castle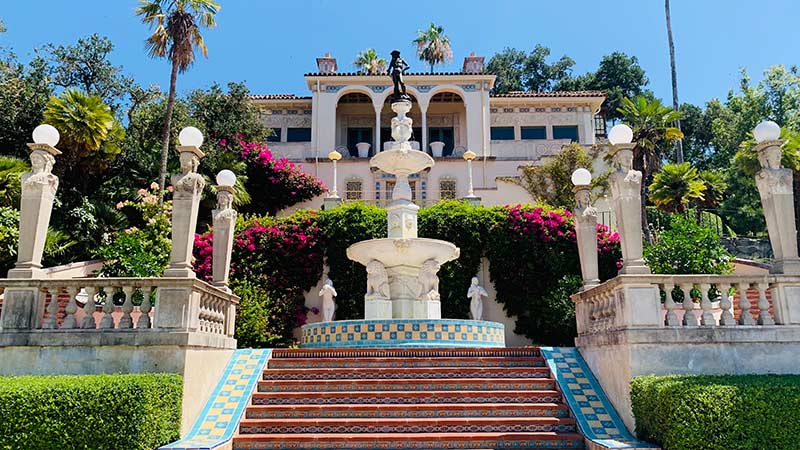 If you're getting a little sick of admiring beach landscape after beach landscape, then stopping at Hearst Castle in California's Big Sur region is for you. Set upon sprawling and perfectly manicured grounds, this epic castle features Moorish-style architecture and has become a celebration of both art and culture since its construction over a century ago.
While it used to be a private residence in the early 1900s, this magnificent hilltop structure is now a state park so you can stretch your legs and enjoy its enchanting exhibitions and wander around its grand halls and intricately decorated rooms.
5. Elephant Seal Vista Point
Don't get us wrong, this list is full of gorgeous coastal areas you could easily spend more than a couple of hours in but if there's one that's a little different then it's San Simeon's Elephant Seal Vista Point. Why? Because of the elephant seals you'll see there.
Seeing these incredible animals up close and in their element as they sun themselves on the surrounding beach might just be the cherry on top of your once-in-a-lifetime road trip and we're not even exaggerating.
The best time to see these marine mammals are in late January, April, October so we're not saying you should plan your whole adventure around the chance to see these elephant seals but we're also not not saying that if you know what we mean.
6. Monterey
California is the home of trendy coastal towns and Monterey is no exception. From the staggeringly beautiful panorama of Big Sur to the charming and storybook city center, this county needs to be seen to be believed. While there's a whole heap of things to do including a visit to the world-renowned Monterey Bay Aquarium and a wander along the historic Cannery Row, it's simply being in this region and soaking up nature's beauty that makes this stop a special one.
7. Santa Cruz
While this might be the third 'Santa' on this last, it's definitely not the last (or least beautiful) and a couple of hours wandering its charming downtown district is enough to see why. Featuring a laidback, coastal vibe that'll have you wanting to rent a surfboard and hit the waves, this town's natural landscapes really set it apart from its impressive redwood forests to the miles and miles of golden sandy beach at its doorstep.
Home to the four 'S's (sun, sand, surf, and sea lions), you'll never get bored in a place like Santa Cruz. Talk about California dreamin'.
8. Half Moon Bay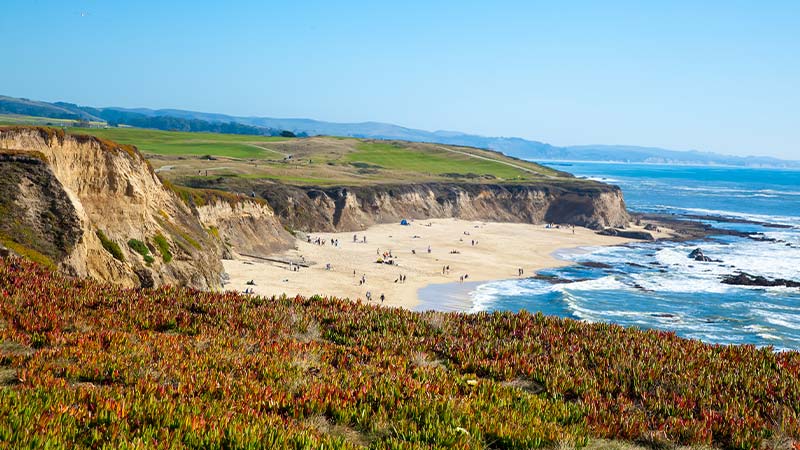 At this point on your journey down the Pacific Coast Highway, you might be itching to set your sights on your final destination but before you arrive, there's another coastal town that deserves a bit of your time. Half Moon Bay not only has one of the most magical and enchanting names ever, but its proximity to the calming sounds of the Pacific Ocean makes it one of the more peaceful spots on this list.
Whether you want to spend your time eating some fresh and exquisite local seafood, hiking along seaside trails, laying out on the beach, or exploring ancient redwood forests, Half Moon Bay definitely won't disappoint.
9. San Francisco
Loved for being a vibrant and multicultural city full of amazing sights and historical attractions, San Francisco is the perfect last destination on your Californian road trip. Whether you feel like taking a photo of the iconic Golden Gate Bridge for the 'gram, walking through the eerie Alcatraz Prison, or looking out over the zigzagging Lombard Street, this beautiful and fascinating city is a traveler's dream.
The national parks
While California's dramatic and rugged coastline is breathtaking, the beauty doesn't stop when you head away from it. Joshua Tree National Park is truly spectacular. From its abundance of spiky plants and extraordinary cacti to its uniquely shaped rock formations and desert animals, this park has a little something for everyone to be impressed by.
Nestled between Colorado and the Mojave Desert, this beloved park is filled with walking trails for all fitness levels and more scenic spots than you could possibly take a selfie at. Whether you're looking forward to enjoying the peace and quiet of nature or trying to spot a tortoise or two, Joshua Tree National Park is a small but necessary detour on your LA to San Francisco road trip.
EXPLORE THIS NATIONAL PARK ON OUR WILD WESTERN USA TRIP
If you've seen enough coastal towns to last you a lifetime and prefer to wander through forests or hike up mountains instead then making your way to the Mojave National Preserve should be high on your LA to San Francisco road trip priority list. While it's technically out of the way (and will add travel time onto your journey), this mesmerizing spot simply can't be missed thanks to its outdoor-playground status.
Somewhat underrated when it comes to the other popular Californian national parks, Mojave National Preserve features extinct volcanoes, rugged mountain ranges, abandoned ghost towns, and other breathtaking landscapes that have been naturally shaped over centuries. Perfect for hiking, four-wheel driving, animal-spotting, and bird-watching, this park is a nature lover's paradise.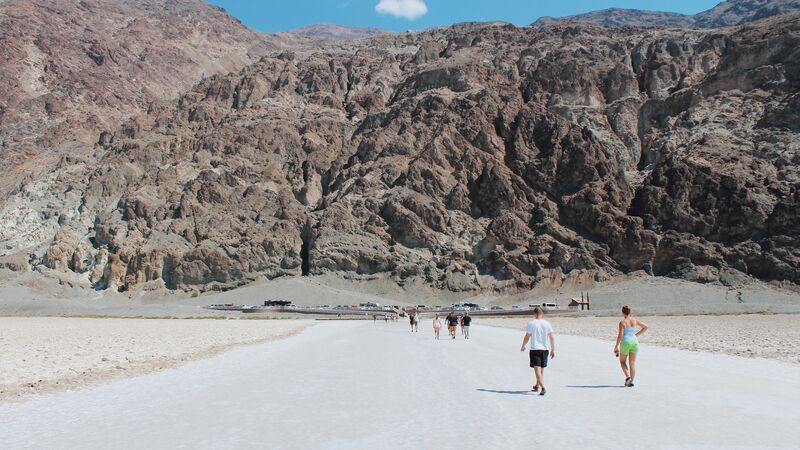 If you're taking an alternative route from Los Angeles to San Francisco, then Death Valley National Park has to be on the list of must-stop-at-places. Extreme in every way from the eye-watering heat to its captivating geological features, exploring this park isn't for the faint of heart. Once home to the Timbisha Shoshone tribe, this park presents a lesson in both history and nature that you'll never come close to learning in a classroom.
While it's recognized as one of the hottest places on earth, there are still plenty of plants and animals from desert succulents to bighorn sheep that are waiting to be discovered. So, lace up your hiking boots, slap on some sunscreen, and prepare yourself for an experience like no other.
While Kings Canyon National Park may have similar terrain to that of its neighbor Yosemite, it's the fact that it's home to the United States' deepest canyon that really sets this beloved destination apart. With a depth of more than a mile and a half, this impressive canyon promises one of the most unforgettable views in all of California. It's a big call we know, but an accurate one.
However, this park isn't just known for its depth, but its height as well. Home to skyscraping sequoia trees that'll have you looking up all afternoon, Kings Canyon is a haven for outdoor enthusiasts and promises a great outdoor adventure fir for everyone with activities including horseback riding and hiking trails suitable for all levels.
If you're looking to cross something off your travel bucket list during your road trip, then head on over to Yosemite National Park. While its pronunciation might be hard to figure out (yow-seh-muh-tee), the park itself is easy to explore with dramatic mountain ranges, sparkling lakes, giant sequoia tree forests, and peaceful alpine valleys simply waiting for you to stumble upon.
We know this beloved national park is off the beaten track when it comes to typical LA to San Francisco road trip routes, but when there's a spot this special, sometimes you have to go the extra mile. Especially when there are hidden trails and challenging hikes to discover for views that'll take your breath away.
Regardless of which route you take or what places you stop at, your adventure from Los Angeles to San Francisco is guaranteed to be a memorable one.
EXPERIENCE THESE PLACES ON OUR LOS ANGELES TO SAN FRANCISCO TOURS
Feeling inspired?