Sandwiches, donuts, and tacos, oh my!
You might be forgiven for thinking that LA is all about fame and fortune, but in fact, Los Angeles is less about spotting a star than it is about the delicious and culturally diverse food options available everywhere you look. From the gooey stickiness of an iconic strawberry donut to some pork ribs smothered in mozzarella, we've put together a list of the foods you must try in LA that are guaranteed to not only ignite your inner foodie but have you going back for seconds (and then thirds).
1. French dipped sandwich, Philippe's in Downtown Los Angeles
This savory delight is an absolute must due to its unique flavor and the fact that it was originally created as an accident. Yep, you read that right. In 1918, a French chef accidentally dropped the roll he was making into some cooked beef drippings and was going to make a new one, but the customer was in a hurry. In short, the customer took the sandwich, ate it, enjoyed it, and came back the next day for another! Traditionally made with roast beef on a French roll, this sandwich is the most popular thing at Philippe's with the deli selling up to 3,000 of them a day.
If you're looking for the best authentic Mexican food in Los Angeles then look no further. The crispiness, the mess, and most importantly the flavor are what sets these tacos apart. Heralding from the state of Jalisco in Mexico, birria is a traditional stew that combines flavors such as beef, garlic, and thyme, however when introduced into LA, birria was made into a taco. As it turns out, taking the juicy, tender birria meat and placing it in a fat-dipped tortilla before throwing it on the griddle to pan fry, was a genius move and both locals and tourists alike can't get enough of them. To take them to bucket-list status, birria tacos are served with the consommé from the stew, which you can dip your tacos into for a whole new, tastebud-tingling experience.
3. Ice cream sandwich, Mashti Malone's in Hollywood
When you think of which country has the best ice cream, you don't immediately think of Persia but when it comes to ice cream in LA, you should always think of Mashti Malone's. Located in Hollywood, this quaint ice creamery specializes in offering Persian ice cream in an array of unique flavors such as cucumber and lavender and is characterized by its creaminess and stretchiness. If you want the full experience, order the ice cream sandwich; saffron rosewater ice cream, sandwiched in between crispy wafers and rolled in salty pistachios. Have we died and gone to ice cream heaven?
4. Strawberry donuts, The Donut Man in Glendora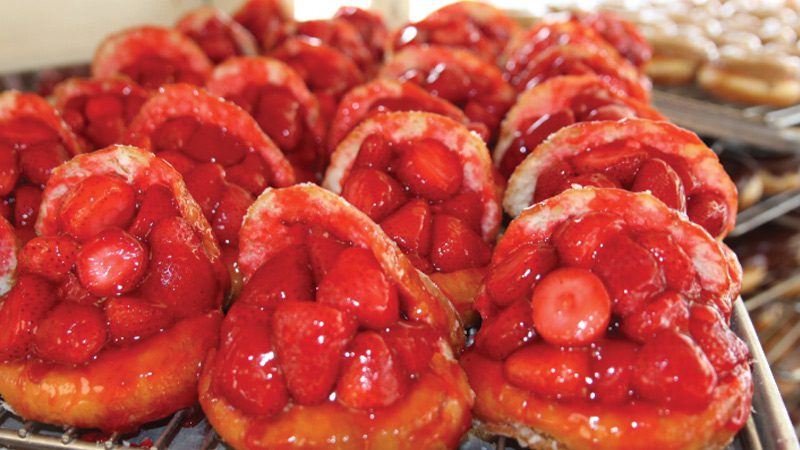 Let's be real for a second, these aren't dainty donuts, but they sure look and taste good. Attracting people from all over California, these strawberry donuts were first created in 1974 to showcase local produce and consist of fluffy and crispy donuts, filled with fresh strawberries that are then topped with homemade strawberry jelly. But make sure you plan ahead as these delights are only available from February to September making them almost as hard to come by as a golden ticket to Willy Wonka's chocolate factory. No wonder it's up there when it comes to being one of the foods you must try in LA.
5. Pizza, Elio's Wood Fire Pizza in Echo Park
Cooking pizzas out of an old Chevy Silverado, Elio's Wood Fire Pizza offers up a taste of Italy right in the heart of Los Angeles. Positioned in the same parking lot in Echo Park every night, this mobile pizzeria serves up light and chewy pizza with all your favorite toppings including cheese, sausage, peppers, and more. Perfectly blistered in the way only the best wood fire pizzas are, these savory slices are not only worthy of being at the top of the food you must try in LA but are also one of its best-kept secrets.
The very best in artisanal ice cream, Wanderlust Creamery offers ice cream flavors inspired by the owner's travels around the world, the places that still need to be explored, and childhood memories. With signature flavors such as sticky rice + mango and passion-fruit cocoa, and special monthly flavors such as butter mochi inspired from Hawaii, your palette and your sense of wanderlust, will never be disappointed.
7. Japanese egg sandwich, Konbi in Echo Park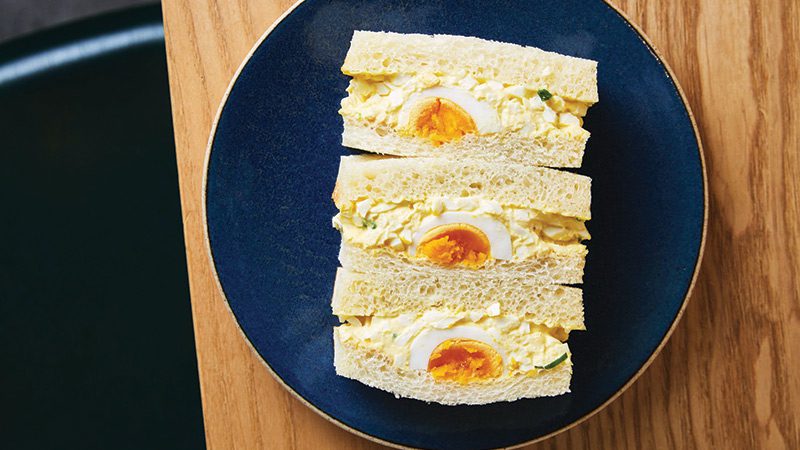 Japanese-style sandwiches have undoubtedly taken the foodie world by storm and those from Japanese café Konbi are no different. Named restaurant of the year in 2019 by food publication Bon Appetit, this tastebud-delighting spot specializes in three different flavors: the omelet sandwich, the pork and eggplant katsu sandwiches, and the most popular one, the egg salad sandwich. Perfectly Instagram-able, these sandwiches taste even better than they look and that's really saying something.
8. Breakfast burrito, Lowkey Burritos in Los Angeles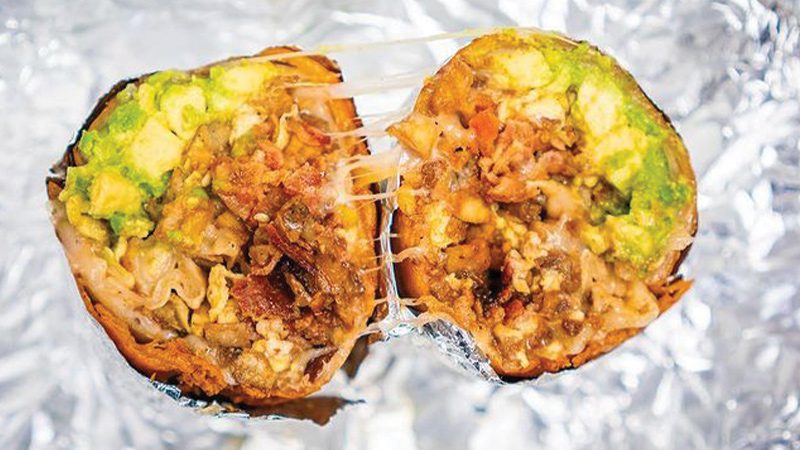 Breakfast is the most important meal of the day, but thanks to the breakfast burritos from Lowkey Burritos in Los Angeles, they can also be the tastiest too! Operating out of a pop-up food truck that travels all around LA, Lowkey Burritos shot to fame by posting a breakfast burrito on their Instagram page that went viral for how juicy and delicious it looked. Serving burritos in their signature crusty, cheesy blanket, this must-try breakfast option makes for the perfect wake-up call.
9. Cheesy Pork Ribs, Mister Bossam in Koreatown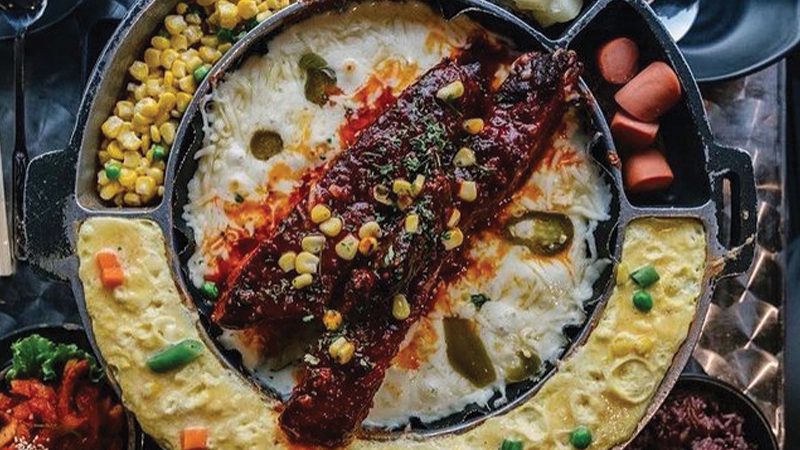 Everyone knows that if you want the best Korean food in Los Angeles then you go to Mister Bossam's, and if you want to taste their specialty dish for yourself, you order the cheesy pork ribs. Ideal for sharing with a group of people, this flavorful dish is finished table-side so you have time to appreciate the full experience (and to stare at the tender pork and melted mozzarella cheese before you start eating it). Priding themselves on offering comfort food the Korean way, this popular spot should not be overlooked. Seriously.
10. Waffle sandwich, Bruxie in Santa Monica
If fried chicken and waffles are your thing then Bruxie in Santa Monica is definitely your kind of place. A must-visit for their massive variety of waffle sandwiches, this spot will get your tastebuds up and dancing at the thought of devouring some of the best Southern food in Los Angeles. With choices that include breakfast sandwiches as well as gourmet and dessert options, this saliva-inducing fast-food restaurant really has it all.
Feeling inspired?