So you've decided on South East Asia. And you've narrowed it down to Cambodia and Thailand. But now you're torn…
Both countries boast tropical year-round weather, picture-perfect beaches, fantastic cuisines and alluring cities that'll keep bringing you back for more. That being said, Thailand and Cambodia are pretty different in some ways, too. While I'm sure you'll have an incredible trip no matter which country you choose, annual leave is precious, so we've broken down some of the top considerations to (hopefully) make the decision a tad easier. Ready?
Cuisine
Firstly, and perhaps most importantly, let's talk about food. You'll find Thai restaurants worldwide, and there's a reason for that. Who can resist the contrasting textures of pad Thai or the fragrant aromas of tom yum? Not me! But Thai food is much more than the classics you know and love. Each region has its own cooking styles and flavours, from khao niaow (sticky rice) and som tum (papaya salad) in the north to pla thot khamin (deep-friend turmeric fish) and khao yam (rainbow rice salad) in the south.
Read more: Foodie? Here's why you should travel to Thailand
But the thing that makes Thai cuisine so great is its sizzling street food scene. Whether exploring the narrow laneways of Bangkok's China Town or strolling the beachfront in Phuket, you'll see woks of noodles being tossed in the air or vendors grilling prawns or meat skewers. Sitting on a tiny stool at a street food market is a highlight of any Thailand trip.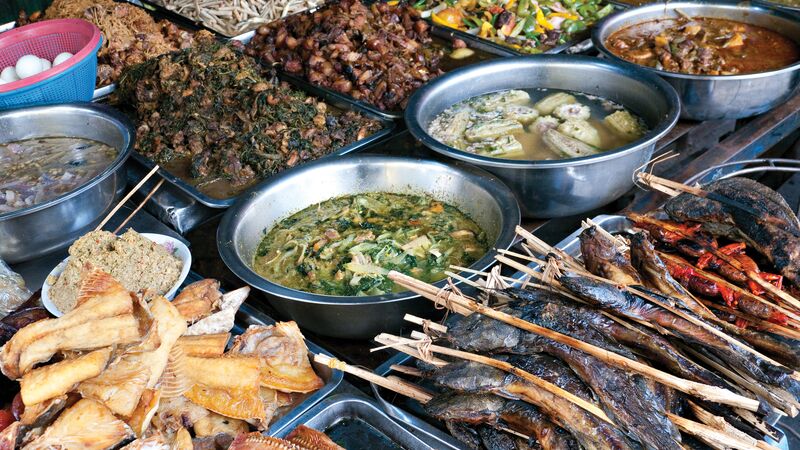 What comes to mind when you hear 'Cambodian cuisine'? Perhaps a generic-looking dish of noodles, stir fry or curry? It's okay; you're off the hook. Most people don't know much about Cambodian food, which is a big shame… because it's delicious! Unlike its South East Asian neighbours, the spiciness of Cambodian food is predominantly from pepper, not chilli. In fact, top chefs consider Kampot pepper to be the world's finest.
Discover Cambodian food on a Real Food Adventure
Traditional Khmer cuisine revolves around rice, fish, prahok (a fermented fish paste) and kroeung (a fragrant curry paste), but you'll also recognise the culinary influences of France, China and India on the menu. Popular dishes to try include fish amok (coconut fish curry in banana leaf), samlor machu (sweet and sour soup), nom banh chok (Khmer noodles) and pleah sach ko (beef ceviche). The country also boasts a growing craft beer scene in Phnom Penh and Siem Reap.
Winner: Thailand (I'm a sucker for the lemongrass-y, galangal-y goodness of Thai food)
Cities
Thailand's cities are bigger and more energetic than Cambodia's (*cough* The Hangover Part II *cough*). Okay, you might not be looking to pull all-nighters and get up to the same mischief as Phil, Stu, Alan and Doug, but the movie paints a pretty accurate picture of the excitement and vibrancy of Bangkok. There are endless things to do whether you want to zip through the maze-like streets of Rattanakosin (Old City) in a tuk-tuk, watch a Muay Thai show or visit a floating market to see locals whip up culinary wonders from a tiny wooden canoe. It's a city you could spend months exploring, yet still feel like you've only scratched the surface.
Read more: What to do, eat and drink in Bangkok
Thailand's second-largest city, Chiang Mai, has a much more relaxed vibe. The city is home to over 300 beautiful Buddhist temples that glisten in the sun, buzzing night bazaars and a stunning old town surrounded by a moat. It's also the gateway to the lush Doi Inthanon National Park.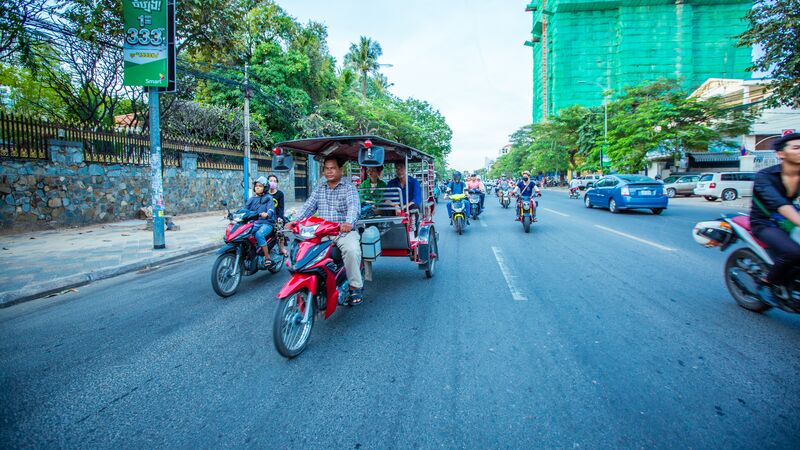 Phnom Penh might not be as famous as Bangkok, but it shares the same organised chaos (and the excitement that comes with it). The city is home to colourful markets, diverse architecture and a happening waterfront with round-the-clock activity, from locals doing morning aerobics classes to families playing games at sunset. There are fewer trendy bars and rooftops than in Bangkok, but pockets do exist – including the bustling Bassac Quarter which comes alive after dark.
If you're looking for a little more peace and quiet, Cambodia also has plenty of smaller cities and charming towns to explore. Visit Kampot to learn why the pepper grown here is so delicious, head to the coastal town of Kep to feast on crab (flavoured with said peppercorns), or go north to Siem Reap for sprawling temple ruins, laid-back cafes and floating villages.
Read more: 5 of the best small towns in Cambodia
It's important to remember that Cambodia was a very different place 45 years ago. The atrocities of the Khmer Rouge regime from 1975-1979 caused devastation beyond anything I can convey with words. The aftermath crippled the country's development, which is why travelling to Cambodia – and learning about its tragic past and the stories of its people – is so important.
Read more: What it's really like visiting Cambodia's Killing Fields and S21
Winner: Thailand
Temples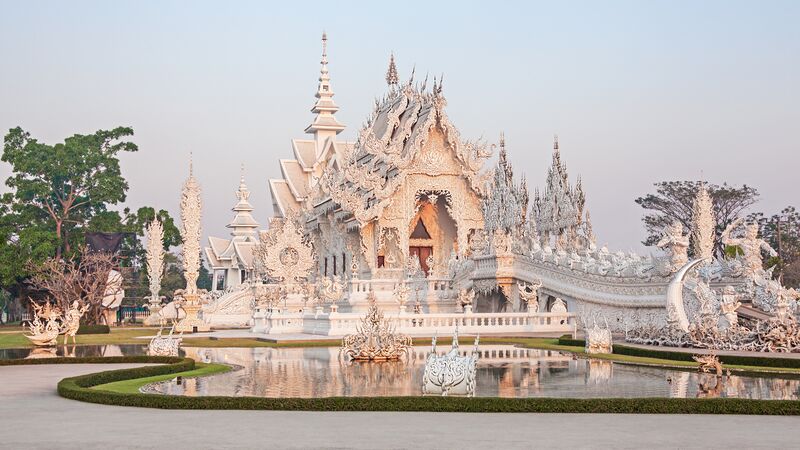 Get ready for beautiful temples galore. Buddhism is the main religion in Thailand and Cambodia, and temples play a significant role in everyday life. Some of the most iconic temples to visit in Thailand include Wat Pha Sorn Kaew, an impressive mountaintop pagoda distinguished by five massive white Buddha statues; the fairytale-like Wat Rong Khun (White Temple) in Chiang Rai, and Bangkok's Wat Pho which features a 46-metre-long reclining Buddha statue.
One word: Angkor. Spanning 400 acres, this historical site is one of the world's largest archaeological sites. It's also one of the most popular, attracting over 2 million people every year. Angkor was built in the early 12th century and was once a fully functioning city (historians believe it had a population of up to one million). From the ancient passageways of Angkor Wat to the smiling statues of the Bayon Temple and the giant tree roots that have taken over Ta Prohm (AKA, 'Tomb Raider temple'), exploring these ruins is like being in another world.
Winner: Cambodia
Beaches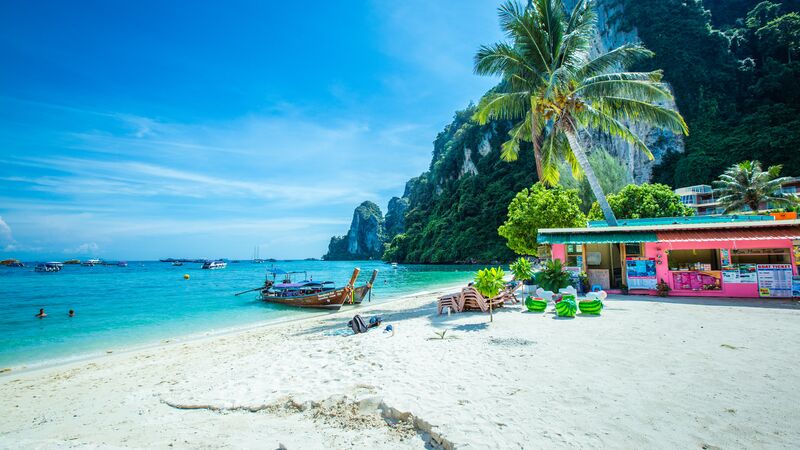 If being horizontal on white sand with a coconut (or cocktail) in hand is your idea of a good time, you'll be pleased to know you can get your beach fill in both countries. But, with over 2,500 kilometres of coastline and 1400 islands – some of which have been voted the world's best – Thailand has the upper hand. Iconic spots include Koh Hong with its turquoise lagoons, the karst-studded Railay Beach and the majestic Maya Bay, which earned star status in the cult classic, The Beach (2000) starring Leonardo DiCaprio.
It's hard to compete with Thailand here, but Cambodia may be a better choice if you're not keen on touristy bars and crowds. The best islands and beaches are off the south coast, including Koh Rong, Koh Rong Samloem and Koh Ta Kiev. Cambodia's beaches have a rustic charm with simple accommodation (as well as a few snazzy resorts), and there are plenty of opportunities to enjoy the white sand and sparkling waters all to yourself.
Winner: Thailand (but Cambodia gives it a run for its money)
Weather
Thailand and Cambodia are both year-round destinations. They share a tropical climate with a distinct wet and dry season, with average temperatures lingering between a balmy 18-38°C in Thailand and 22-35°C in Cambodia. The wet season runs roughly from May to September/October, and while it usually rains every day, it's generally in the form of heavy, albeit brief, afternoon downpours, so it shouldn't be enough to disrupt your trip. Plan your trip between November and March if you want consistently dry weather.
Winner: Draw
The verdict
Being geographical neighbours, Thailand and Cambodia share many similarities. They both boast incredible beaches, lip-smacking food and vibrant cities jam-packed with culture. Thailand is more developed and has more tourist infrastructure, but this might be another reason to visit Cambodia depending on what you're looking for.
Still torn? Why not tick off both countries (and then some) on Intrepid's 30-day South East Asia Loop through Cambodia, Laos, Thailand and Vietnam? Happy travels!
Check out Intrepid's range of small group adventures in Thailand and Cambodia.
Top trips