Vietnam – the Southeast Asian stunner lying on the coast of the South China Sea – is as famous for its beaches as its pho. Though you probably already know this; its claims to fame, and beauty, are no well-kept secret. Yep, since 2016, the country saw over 10,000,000 international visitors. But don't let the numbers put you off…Vietnam boasts some of the most stunning settings from which to watch the sun rise and set. Let us take you through some of the best.
Halong Bay
We had to start with an obvious one, because Halong Bay's beauty is always worth a mention. Situated in the north-east of the country, it provides one of Vietnam's most recognizable landscapes. The waters of the bay are dotted with thousands of tree-topped, limestone pillars, each formed over millions of years. If you've brushed up on your geology lately, you'll know that limestone is synonymous with caves and Ha Long Bay is no exception. So try kayaking there if you want to explore a myriad of caves up close.
Halong Bay was declared a UNESCO World Heritage Site in 1994, when you take a visit, you'll see why. And though a hotspot for tourists, there are ways of escaping the crowds. Intrepid's tours, for example, take you to a secluded harbor and natural grottos aplenty, before letting you swim and spend the night on board a boat. The best part is that these boats moor in quiet areas of the bay overnight, so get on the sun deck and take in the sunset in all its unobstructed glory.
Mui Ne
Unless you're well versed in Vietnam's geography, you might be surprised to learn about its sand dunes. Less than 20 miles outside the south-eastern seaside town of Mui Ne are the White Sand Dunes. Despite needing a vehicle to get there, entry is free once you arrive. Sleds and quad bikes are available to rent and there are "guides" with Jeeps to drive you to the top of the dunes.
It isn't just the dunes alone that make this place special, but the fact they lie directly next to Bau Trang, the "White Lake". If you're there in summer, you'll be lucky enough to see the lake covered with lotus flowers in bloom. If you're willing to sacrifice your sleep, we highly recommend getting to the top of dunes for the sunrise. It is spectacular and the quietest time of day, tourist-wise.
CHECK OUT OUR RANGE OF SMALL GROUP ADVENTURES IN VIETNAM
Chau Doc
Lying on the border with Cambodia in southern Vietnam, the city of Chau Doc lies within the Mekong Delta. The city makes use of the waterways by having floating markets which you can browse through on a boat trip. Sam Mountain, in Chau Doc, is a sacred mountain for Buddhists and is home to many temples, pagodas as well as a giant Buddha statue.
At 800 feet high, Sam Mountain provides a great vantage point from which to see the beauty of the surrounding countryside, including parts of Cambodia. The mountain top is accessible on foot or, if you're feeling lazy, you can take a motorbike to the summit. It is here that you will get magnificent views of the golden sun setting over the Mekong Delta and flooded paddy fields. If that doesn't have you mentally preparing to dig the suitcases out, we honestly don't know what will.
SUBSCRIBE TO INTREPID'S NEWSLETTER FOR TRAVEL INSPO, COMPETITIONS, GIVEAWAYS & MORE
Bai Xep
In central Vietnam, the coastal city of Quy Nhon has definitely slipped under the traveler radar, making it the perfect place for escaping the crowds. The city boasts many unspoiled beaches with crystal-clear waters and coral reefs. If beach sunsets, minus the thousands of tourists is what you're after, we suggest you forgo the popular Phu Quoc and Nha Trang, and head instead to Bai Xep, six or seven miles south of Quy Nhon.
It's a small, traditional fishing village where you'll see fishermen setting out to sea in round woven baskets (at night time, don't be surprised to see hundreds of lights floating on them – the fishermen use these to attract squid into their traps). At dusk, take a seat on the beach and see for yourselves why this 'off the beaten track' coastal village is one of the most serene places to watch the sunset in the country.
RELATED: WHAT TO EXPECT ON AN OVERNIGHT TRAIN IN VIETNAM
Hoi An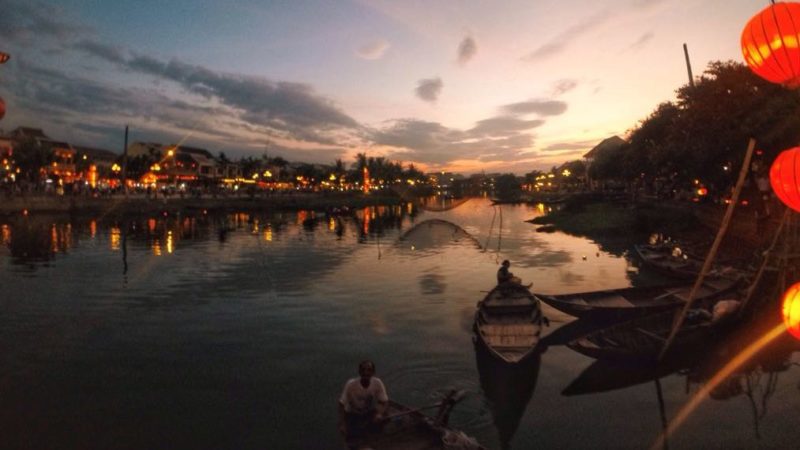 On the central coast of Vietnam lies the city of Hoi An. In addition to its stretch of beach, Hoi An's ancient Old Town is a former port city and, reflected in its architecture are influences from Japan, France and China. Declared a UNESCO World Heritage Site in 1999, the Old Town is packed with history and many of its streets are 'no vehicle' areas, making it perfect for sightseeing on foot or push-bike. It lies on the banks of the Thu Bon River whose tributaries run through the city creating the famous canal waterways. We highly recommend taking a night-time boat ride, where you'll see the buildings on the river banks lit up with beautiful traditional lanterns.
For the best sunset viewing, hire a moped or push-bike, grab your camera and explore the rice paddies just outside the city around dusk. It will be quieter and you will witness the sun setting over the paddies, reflecting off the tiny, winding tributaries of the Thu Bon River – a truly once in a lifetime experience.
CHECK OUT HOI AN ON OUR 10-DAY VIETNAM EXPRESS SOUTHBOUND TRIP
Tam Coc
Dubbed "Halong Bay on land", the landscape of Tam Coc in Vietnam's northern province of Ninh Binh features similar tree-topped limestone karsts, however here they are interspersed with rice fields and the Ngo Dong River. The area is absolutely beautiful and, as such, makes up part of the Trang An Landscape Complex UNESCO World Heritage Site, declared in 2014. As with Ha Long Bay, the area is known for its caves; Tam Coc actually translates to "three caves".
To explore the area, we suggest either hiring a boat to take you along the river or hiring a push-bike and pottering your way around the rice paddies at your own pace. Be sure to find a place amongst the fields to watch the sunset, because witnessing it in this naturally spectacular setting is not one to miss.
Tempted to check out the beauty of Vietnam for yourself? Check out our small group tours there.
Image Credits (top to bottom): iStock x3, Ellie Abraham
Feeling inspired?