I have eaten all of Delhi. At least that's what the size of my food baby seems to imply.
Jo, my guide, has taken me deep into the maze of the Old City. We meander and stop occasionally either for me to take a picture of a stray dog that is still showing signs of Holi, or to eat.
It is not even noon yet and so far I have had sweet chai from Jo's favourite tea vendor, stuffed my face with paratha and curry, devoured a little plate of nagori with halwa and a crushed deep-fried bread roll. Usually while standing on a street corner and being watched by some cheeky monkeys from above.
Everywhere we go, I seem to be the only tourist and people stare and smile. I feel a bit like a celebrity – and have to watch that I don't spill any of my treats.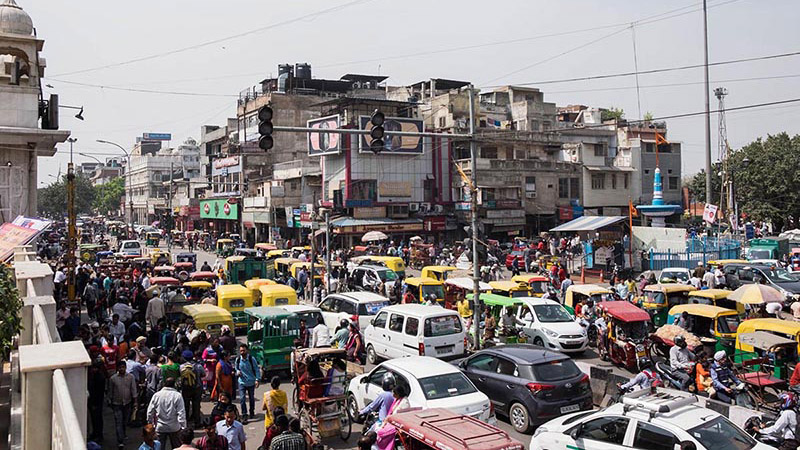 To make room for lunch, we detour through the spice market and make our way to the roof which offers a fantastic view over the beautiful chaos that is Delhi's Old City. I cannot stop sneezing – while the food so far has had moderate spice levels, there is a definite whiff of chili dust in the air here.
Inside one of the shops, everything is packed neatly and I linger and ponder over the differences of various teas and curry flavors, buying way too much for a nomad like me who doesn't even own a kettle or a pot. We make our way to lunch though I am not sure how I will manage any more food at this point.
DISCOVER DELHI'S CUISINE AND CULTURE ON OUR REAL FOOD ADVENTURE
However, lunch is not any lunch. Today, we are eating at the local Sikh Temple. When Jo tells me where we are headed, I am excited. A meal at the temple was the one thing my cousin, who had been to Delhi before, had told me not to miss. She didn't tell me the logistics behind it though, so I am happy to have a local to show me now.
We hop into a bicycle rickshaw and head off into Delhi's mad traffic. The Gurudwara Bangla Sahib (the Sikh Temple) isn't far, located right in the Connaught Place area in New Delhi. The Nishan Sahib, the typical saffron-colored triangular flag with the blue Khanda, a Sikh symbol, can already be seen from afar. It is usually placed up high on a flagpole so Sikhs, and anybody else for that matter, can easily see it from afar, knowing that there is a place to pray and rest one's head.

At the Sikh Temple, everybody is welcome, regardless of your denomination. The Gurudwara Bangla Sahib even has a visitors center where you can learn more about the cornerstones of the Sikh faith: Sewa (service to community and God) and Simran (remembrance of God) as well as the ten Sikh gurus and the five Ks, items that Sikhs have on them at all times. We also leave our shoes and bags here and borrow a headscarf.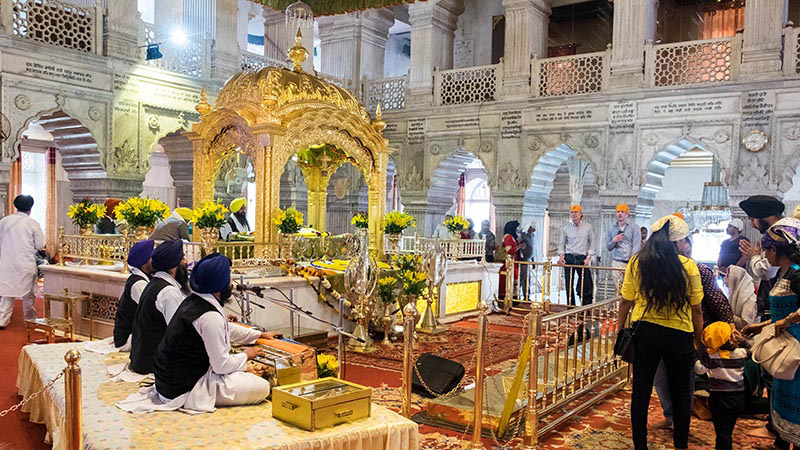 I cannot help but stare when we enter the temple. Music is playing, people are walking and praying, and the atmosphere is festive yet oddly relaxed for a sacred place. Men with turbans, children and their mothers, locals and foreigners. I feel more welcome than in any other religious site before.
RELATED READING: OUR GUIDE TO COOKING INDIAN STREET FOOD
After listening to the music for a bit we head towards another building. After all, we are here for a particular reason: lunch. As part of their Sewa, volunteers prepare about 10,000 meals per day at Gurudwara Bangla Sahib. Everybody is welcome to help and everybody is welcome to eat. For free of course, and no questions asked. You don't need to prove that you are needy and nobody cares if you are Sikh, Muslim, Christian or a fairy.
First, we go into the kitchen where many volunteers are already at work chopping vegetables, cooking rice, rolling and frying roti. I glance at the women who are busy kneading the dough and they make space for me. After a little lesson in roti making, I get to work. While this isn't Masterchef, one lady is watching me closely – all of the rotis have to be approved by her.
After work, it is time to eat and we move into the big hall behind the kitchen. We grab a tray and are shown to an area. People are already eating sitting cross-legged in long rows on woven mats. Still more volunteers walk around with plates of rotis, buckets of rice and curry.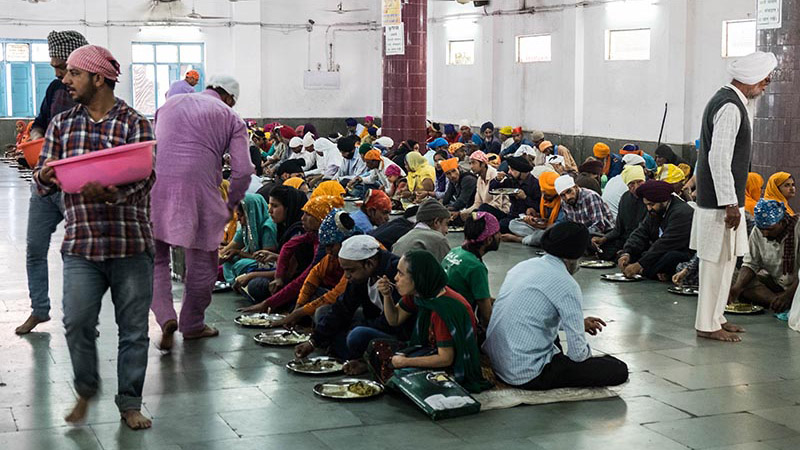 While visitors are welcome, I can tell that I am a novelty here. The woman next to me keeps eyeing me shyly and I eye back – I admire how gracefully she eats with her hands without making a mess. The boy on the mat across is not so shy and keeps on staring and smiling. I smile back, he giggles and averts his eyes. Stare, smile, giggle, avert. We continue this game while we eat.
People keep coming and leaving, the lunch runs like a well-oiled machine. Nobody is impatient, everybody is friendly and polite.
On our way out I leave a donation. It is not required but I like the thought to just pay it forward. After all, to me, that is what Sewa is all about regardless of your god.
Get behind the scenes of northern India's food scene on an Intrepid small group food adventure! 
Words and images by Annika Ziehen. You can follow her adventures at midnightblueelephant.com 
Feature image c/o – Shutterstock 
Feeling inspired?