It's a major bucket list item when in Morocco — you cannot deny the call of the Sahara desert.
Even with the sizzle of the Saharan heat, the 9,200,00 square kilometres of majestic desert terrain will send shivers down your body. There's little that's as surreal as first laying eyes on the dunes; their various hues of orange and yellow set against the endless horizon. 
Sitting perched on a camel, you're led into the vast desert for a night camping under the starry African sky. This is adventure at its finest, a highlight of any North African adventure. 
It's a journey that'll feed your adventurous spirit, yet the idea of heading into the scorching, remote desert can seem a bit daunting at first. To combat this, I've put together a few tips I learned along the way so you can focus on taking in the dazzling Sahara.
The trek before the trek
The first thing to know is that there are two main ergs (seas of dunes formed by wind-blown sand) in Morocco's Sahara desert: Erg Chigaga and Erg Chebbi. They are both beautiful, but Erg Chebbi is, in my opinion, more impressive for its grander dunes that reach over 520 feet.
Obviously, for the desert to have such a majestic isolation, you have to hop on quite a long bus ride to get out there. Though the mileage seems not all too bad, driving over the Atlas Mountains' passes and one-lane highways can fill a large portion of the day.
The upside to the journey is that there's beautiful scenery as you cross the mountains, with remote Berber villages wedged between the hills. Watching the mountain landscape gradually morph from its rocky formation into the speckled sand dunes through the window is quite the distraction.
SPEND THE NIGHT AT ERG CHEBBI SAND DUNES ON THIS 15-DAY 'BEST OF MOROCCO' TRIP
Pack like a pro
Once you've arrived in the small, desert town of Merzouga, you can stock up on the essentials at the few shops along the main road (hint: tissues and a flashlight were handy for trips to the loo; camp toilet facilities were quite basic).
Make sure you have water, and charge up your devices before you set out – there are rarely power outlets available in the desert camps and you don't want to miss out on photo opportunities due to poor planning.
For your trek from Merzouga into the desert, the key is to pack light. You should also maintain your modest dressing as Morocco is a conservative country, especially in the more remote regions. This means that to respect local culture you should keep your shoulders and knees covered.
READ MORE: WHAT IT'S REALLY LIKE BEING A SOLO FEMALE IN MOROCCO
Clothing like this will also prove to be more comfortable and shield you from the sun. Don't be put off by the heat, though; there's no denying that it's hot but it's totally manageable. The best materials to wear are loose, breathable fabrics like lightweight linen. (You can easily cop a great linen outfit at the souks in main cities.)
In July and August, temperatures climb above 122 degrees fahrenheit, but nights can still be cold. I was there mid-June and was happy to have a layer for the night time, so think of bringing some especially if you're travelling during winter months. 
SUBSCRIBE TO INTREPID'S NEWSLETTER FOR MORE TRAVEL GUIDES, COMPETITIONS, GIVEAWAYS & MORE
The ups and downs of riding a camel
Getting into the depths of the desert by camel is the quintessential experience. From its high-up vantage point, a camel is a prime way of looking out onto the Sahara and will give you that majestic, Lawrence of Arabia feel as you ease your way over the rolling dunes into the depths of the desert.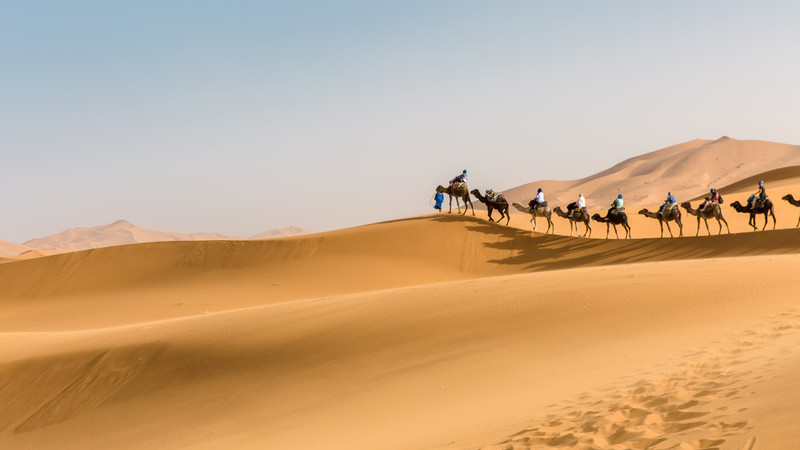 The trek itself to the desert camp will take about one hour from Merzouga. It will be late afternoon when your trek leaves, so the heat won't be such a burden to your journey, but it's super important to cover your head as the desert sun remains strong, even if you're drinking enough water. For the ride, stick your water bottle close by and keep your camera handy for photos of the chain of the camels' shadows on the the sand.
Definitely wear long pants to avoid chafing on the inside of your legs, plus bring closed-toe shoes. Bringing a pair of open-toe shoes also came in handy when I arrived at the camp. They let my feet breathe while protecting them from the sand that was still quite hot.
Being seating on a camel may be uncomfortable on your backside so don't hesitate for the alternative of walking alongside your camel. Or do what I did and prop your feet up on the handles intermittently to give yourself a bit of a stretch to reduce soreness.
Expect to be a bit tender the next day from riding the camel, but what's to follow will make it all well worth your while.
READ MORE: TIPS FOR HOW TO RIDE A CAMEL LIKE A PRO
Berber hospitality
Spending the night in a desert camp under the stars. Now that's something you won't forget in a hurry. And, fortunately, it's an included activity on Intrepid's 'Best of Morocco' tour. As the sun goes down over the dunes it's easy to feel like you're in a dream. Your hosts will prepare a hearty feast, so the only thing you need to worry about is soaking up the atmosphere and gazing at the gorgeous, ever-changing shades.
Sip mint tea (known as Berber whiskey) over dinner and then get settled in for the night.
It's likely your camp will be a simple affair, with both bedding and basic toilet facilities, but little else. Blankets provided are usually sufficient for most visitors between April and October. You may like to bring your own sleeping bag for extra warmth, especially during the months between November and March.
READ MORE: 10 EXPERIENCES EVERYONE SHOULD HAVE IN MOROCCO
The feeling of being awe-struck
A stay in the desert is an occasion you won't forget. A little discomfort may arise, but it's up to you to accept the challenges and embrace your sense of adventure. As your desert experience comes to a close, you'll be woken up the morning of your departure before the sun comes up. Climb up a dune to see the sunrise light up the grains of sand and transform them into creamy dunes. Mother Nature's magic knows no bounds.
By the time you hop back on your camel into the desert and watch Merzouga slowly come into sight, your desert trek will seem like a blissful mirage.
Tempted to visit the stunning Sahara? Check out Intrepid's range of small group adventures in Morocco and join a Sahara tour without delay!
—
(Image credits from top to bottom: Intrepid Travel x2, Rebecca Shapiro x2, Intrepid Travel x2, Julie Germansky, Intrepid Travel)
Feeling inspired?