Not many people begin a story in an icosahedron cubby house; in fact, it's difficult to imagine the scene without the use of a dictionary. But the origin of Marcus Veerman's Playground Ideas is as intriguing as the shape of that first cubby house he built in Thailand in 2007.
What began as a newlywed adventure quickly evolved into a project that impacted 1.4 million children. It became Playground Ideas: an organisation dedicated to making play available for young people across the globe through do-it-yourself projects.
On the Thai-Myanmar border – a conflict area rife with displaced people – Marcus began undertaking miscellaneous projects. He taught photography to children and built everything from kayaks to solar ovens. These endeavours were ambitious, yes, but even more impressive was Marcus' resourcefulness in using local materials.
When word spread about his building skills, a local organisation asked Marcus to help construct a playground. He agreed – with a 'why not?' attitude – and designed what would be the first of over 150 playground templates. The inaugural design managed to cover all the playground essentials: two seesaws crafted from tree trunks and motorbike bearings, a makeshift slide, and a couple of rope and wood swings. Plus, the two-storey icosahedron cubby house.
CHECK OUT THE INCREDIBLE WORK THE INTREPID FOUNDATION IS DOING HERE
Before a team of volunteers finished taking the playground from paper to reality, there were requests for more. In a place as fraught with violence, tension, and pain as the Thai-Myanmar border, the play space became a haven for children to just simply be.
For those who grew up with the freedom to play – or in places where it was embedded in the curriculum – it is difficult to imagine childhood without it. In many developing countries, school days are filled with generalised rote learning, only to be followed by long commutes, demanding home lives, and oftentimes work to support the family. The result: under-stimulated children who haven't reached their full developmental and creative potential.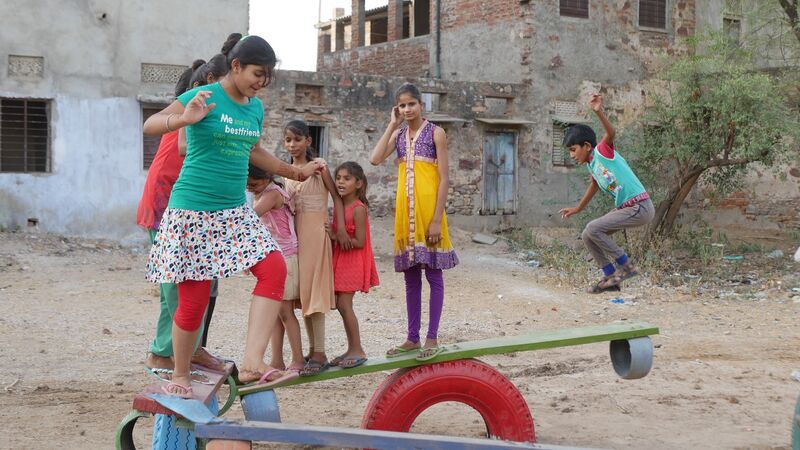 RELATED: MEET THE SYRIAN REFUGEES RUNNING THEIR OWN FASHION BRAND IN ISTANBUL
On the other hand, industrialised nations – South Korea being one – are working to remedy dire problems like high rates of youth suicide. They cite academic stress and parental pressure to succeed as some of the leading causes; Marcus believes playgrounds are the answer.
The way he sees the human brain is a good indication of how his own mind works. Inspired by the boundless creativity that he recognises in children, Marcus describes the mind as a jungle: a diversified ecosystem of neurons with endless connections and possibilities. The problem, as he sees it, is that traditional schools treat the mind more like a factory farm in which a single, repetitive task will always yield the same results. And, put simply, that doesn't work.
"Welcome to the jungle," he says with a confident smile. "Life is constantly changing. Our kids need to be able to engage with their environments and play if we want them to be ready for the world with practical, 21st century skills."
RELATED: 25+ TRIPS THAT VISIT PROJECTS SUPPORTED BY THE INTREPID FOUNDATION
In development, organisations often use the platitude 'work yourself out of a job' to describe their mission. But the reality of it is rare; introducing programs into communities usually requires maintenance, continuous training, and – unfortunately – large amounts of funding. That's where Playground Ideas is different: their open-source model uses local (and usually upcycled) materials and labour, and is accessible to anyone with an internet connection. These days, that's just about everyone.
With the use of a downloadable manual, anyone who wants to build a playground can. Each design comes with a checklist of necessary supplies – and potential substitutes – plus a step-by-step guide from assembly to maintenance. Because they're constructed from locally sourced and upcycled materials, the playgrounds can be built nearly anywhere. That's how Playground Ideas has reached over 2750 communities in 143 countries.
RELATED: IMPROVING ANIMAL WELFARE IN EGYPT, ONE FURRY PATIENT AT A TIME
Here at Intrepid, we are always looking for projects that benefit the communities we travel through. So this year, we partnered with Playground Ideas to build a play site in Tordigarh – a town in Rajasthan, India. Over five days, our local leaders and staff came together to create a life-changing playground for a local school. Before they even finished, the site was buzzing with children eager to get onto any equipment they could. Watching the children bounce from vibrantly coloured tyres to seesaws and hanging from 'monkey bars', it's easy to see that Marcus was right: the mind really is a jungle.
Check out the video to learn more about the project
While the playground designs are free to download, they're not free to create. The Playground Ideas team offers support to hundreds of projects per year, produces new manuals, and trains building partners around the world. But they can't do it all alone.
Just like building a playground, many hands make light work; supporters can create a fundraiser to bring projects to new communities. And when you give through The Intrepid Foundation, your contribution is matched. Double the giving, double the impact. That means AU $1,500 can support 6,000 kids to explore, play, and just be kids.
When we give children the freedom to play, we give them the freedom to decide what to do with their time. It's another way of saying, "Here's your future. We trust you with it." And with the right tools and a little bit of elbow grease, the whole world is a playground.
To read more about Playground Ideas, start a fundraiser, or find out more about the projects we support, visit The Intrepid Foundation now. 
All images c/o The Intrepid Foundation. 
Feeling inspired?