The Great Barrier Reef is a 'must see' destination for snorkellers and nature lovers who are keen to make the most of their time on the reef.
When you get up close and personal with the Great Barrier Reef, coral gardens sparkle with jewel bright tropical fish, clown fish peek out of anemones tucked into the coral and huge parrot fish swim by below. Spotted rock cod drift lazily in the current, slowing occasionally to let a double-headed wrasse pass by in front of them. Here is all you need to know when you are snorkelling the Great Barrier Reef, from the best time to visit to where to stay on the Great Barrier Reef and what to see and do while you're there.
Where is the Great Barrier Reef
The Great Barrier Reef is located entirely in the state of Queensland on the east coast of Australia. It is almost 2,000 kilometres long and 80 kilometres wide at some points and extends from the tip of Cape York in Far North Queensland down to just north of the town of Bundaberg.
When to visit the Great Barrier Reef
It's possible to visit the Great Barrier Reef year-round. The best time to visit weather-wise is May to November as this avoids cyclone season, stinger season, and Queensland's hottest weather. It is best to avoid school holidays as many of the popular tourist towns which allow easy access to the Great Barrier Reef like Cairns and Airlie Beach can be busy with families enjoying a holiday. Tours can be busy and accommodation is usually more expensive as these busy times of year.
Where to stay on the Great Barrier Reef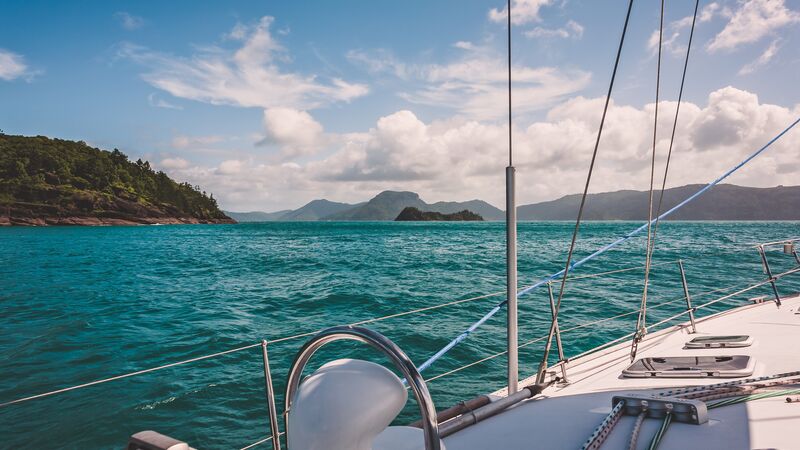 Some of the most popular jumping off points for visiting the Great Barrier Reef are Airlie Beach, Townsville, Port Douglas, Cairns and the Whitsundays. The other option is to join a Whitsunday Islands Explorer tour and spend several days on a live-aboard yacht exploring the Great Barrier Reef. The further north you go, the warmer the water at the Great Barrier Reef will be if you're worried about getting chilly.
FIND OUT MORE: SLEEPING ON A YACHT IN THE WHITSUNDAYS WITH INTREPID
How long should I stay at the Great Barrier Reef
Whenever you decide to visit, don't give yourself just one day to see the Great Barrier Reef. If you are planning on visiting the reef on a day trip, try to allow at least two days to visit the Great Barrier Reef. This will give you some flexibility if the weather isn't good on the day you originally planned to visit the reef.
Should I visit the Great Barrier Reef if it is raining
While it's ideal to visit the Great Barrier Reef on a sunny day, wind is actually more of a problem than rain when you snorkel the Great Barrier Reef. High winds can make for an uncomfortable ride out to the reef and increase the chance of sea sickness. Once you're there, the wind often stirs up the sand and impacts visibility, making it more difficult to see the wonders under the water.
FIND OUT MORE: SNORKELLING OFF MAGNETIC ISLAND
What to wear while snorkelling
It is easy to get sunburnt on a Great Barrier Reef day trip, especially if you choose to sit on the top deck to enjoy the beautiful view on the way out to the reef. Bring plenty of sunscreen – and remember to apply it regularly, even in winter – plus sunglasses, a hat and shirt with sleeves to protect your arms. If you are visiting the Great Barrier Reef during stinger season, you will need to wear a stinger suit. Most tour operators supply stinger suits for free or you can hire one for a nominal charge.
STINGER SUITS: ALL YOU NEED TO KNOW
Ask for help if you need it
Most day trip operators provide complimentary flotation devices such as buoyancy vests or pool noodles. If you tire easily or need a little extra help to stay afloat, using a pool noodle is a good idea. This is also a good option for young children who aren't strong swimmers and get tired easily. Some companies offer guided snorkelling trips where an instructor leads you (or can even tow you) around the reef while pointing out interesting things and making sure you are feeling comfortable in the water.
Feeling inspired?