This article is brought to you in partnership with Welcome to Country. Together we support the growth of First Nations experiences in Australia. Welcome to Country is Australia's first not for profit marketplace for Aboriginal and Torres Strait Islander experiences and products with a vision of prosperous First Nations communities.
At Welcome to Country, we're proud to have partnered with our friends at Intrepid Travel to bring you Aboriginal and Torres Strait Islander stories – and where better to start than with a roundup of top family-friendly experiences across Australia.
With Intrepid's small-group adventures, you can take the family to the Red Centre, the Top End, the Kimberley or more, many of these trips include First Nations experiences. Plus, we will show you how to elevate your holiday to a life changing experience by including additional First Nations experiences.

An Aboriginal and Torres Strait Islander experience is an easy and deeply satisfying way to go beyond the usual tourist experience, and connect with the soul of a place, its traditional culture and people. An Indigenous experience can be staying with a family on Country, a walking tour of the local area or sharing a meal listening, laughing and learning. And it will leave you with a completely new perspective and experience of Australia.
Although seemingly simple, Aboriginal and Torres Strait Islander experiences create a deeper understanding of a place and people leaving you with a meaningful connection. They not only benefit you but also the places, cultures or communities visited, and these benefits go far beyond the simple tourism dollar. Sharing in a culture preserves it, creates cross-cultural respect and opens a dialogue for understanding and change.

Here are five Indigenous experiences to add on to your next family holiday to help you find a true connection to Indigenous cultures, peoples and Country.
The Red Centre, Northern Territory
Gather the family and venture into Australia's heart for a four-day family trip. Experience the best of the Red Centre has to offer on a fun-filled family adventure!  As you watch the shifting colours of Uluru at sunrise and sunset the whole family will understand why this is one of Australia's most sacred sites. Learn about the culture of the Luritja people and their connection to Country. Your tour leader will let you in on local secrets and show you what they love about this truly remarkable part of the world. Take in views of Kata Tjuta and look out for super cute wallabies on the Walpa Gorge walk, and hike past the soaring cliffs and tranquil gardens of Kings Canyon.
DISCOVER ULURU & KINGS CANYON ON A FAMILY ADVENTURE
And while you're there…
Join a dot painting workshop
Join our fun, organic and hands on dot painting workshop in the township of Yulara, Uluru. Siting in the red earth with Uluru as your backdrop, you will learn traditional dot painting techniques as well as art symbols and language from a local Anangu artist. Get inspired by the ancient ways of the desert and create your very own work of art to treasure. Through our workshops our artists would like to share a part of their culture with you, so you can learn and create a piece of art to show your family and friends.
FIND OUT MORE: DOT PAINTING WITH WELCOME TO COUNTRY
The Top End, Northern Territory
The whole family can journey together into the Northern Territory's rugged Top End on this short but sweet four-day adventure from Darwin to Kakadu National Park. Climb high to look down on the Nardab Floodplain, cool off in the refreshing swimming holes of World Heritage-listed Kakadu National Park and discover the towering rock walls of Katherine Gorge. The kids will love spending time with the Traditional Owners of Wulna Country to learn about their culture, going bird and croc spotting in the lush Mary River and seeing traditional rock art in Ubirr. From fascinating wildlife to legendary landscapes, this family holiday will be hard to top.
DISCOVER KAKADU, KATHERINE & LITCHFIELD ON A FAMILY ADVENTURE
And while you're there…
Tour Litchfield
Bring this magnificent landscape to life on an Aboriginal guided day tour. Northern Territory Indigenous Tours will not only show you stunning scenery, you will discover the spiritual importance of the waterfalls and stone Country, ancient rainforest and unspoilt woodland, and their places in the Aboriginal cultural landscape. This is an extraordinary opportunity to learn directly from Traditional Owner Tess Atie. "I grew up where Litchfield is now, travelling and camping with my family. I developed a great respect for my old people. They showed me all the fine details about the plants and animals on our Country, and how to live properly there. Now I want to teach visitors about our beautiful Country."
FIND OUT MORE: TOURING LITCHFIELD WITH WELCOME TO COUNTRY
The Daintree, Queensland
Leave hustle and bustle behind and answer the ancient call of wild coastal rainforest in Tropical North Queensland. Take the family on a five-day journey to some of the world's oldest tropical rainforest and the untouched coast it spills onto. Discover the heart of the land the Kuku Yalanji people have called home for 50,000 years, adventure into the complex ecosystem of the forest and deserted white-sand beaches. You and your family will have the chance to learn about hunting native plants from a First Nations guide, encounter crocodiles and colourful birds on a cruise through mangrove thickets and walk under heavy green canopy in Mossman Gorge.
DISCOVER THE DAINTREE ON A FAMILY ADVENTURE
And while you're there…
Ngana Julaymba Dungay: We all Going Daintree Day Tour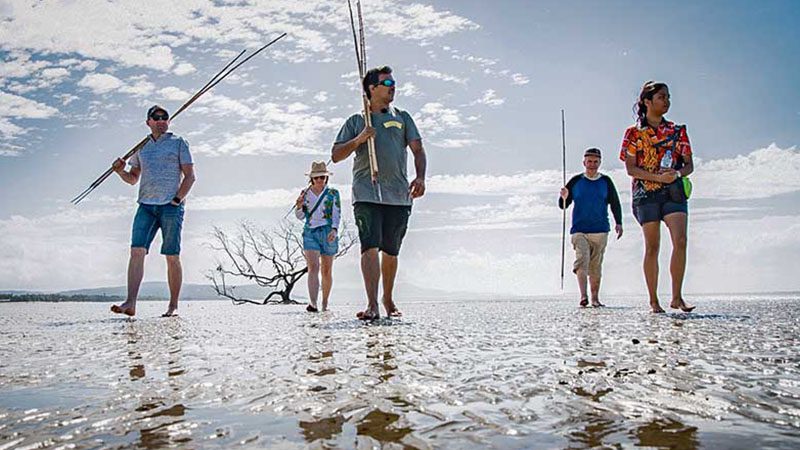 Go where the Rainforest meets the Reef and explore Kuku Yalanji Country, the only place where two world heritage sites meet, the Daintree Rainforest and the Great Barrier Reef. These contrasting environments offer spectacular scenery, unique ecosystems, food sources and Dreamtime Stories. Join Juan Walker on the Ngana Julaymba Dungay, We all going Daintree, for a half or full day tour. On the beach learn the art of spearing a mud crab and collecting shellfish, in the rainforest discover the huge variety of bush foods and medicines seasonally available and learn about Kuku Yalanji connection to Country, culture and history.
FIND OUT MORE: TOURING THE DAINTREE WITH WELCOME TO COUNTRY
The Kimberley, Western Australia
This often overlooked and untouched part of Australia's outback is thriving with unique wildlife, rugged cliffs, gigantic gorges and clear waterholes for young – and old – kids to explore. Get ready to experience wildlife, waterholes and First Nations culture deep in gorge country. Head straight into the wilds of the Kimberley region on this five-day family-friendly Top End adventure. Learn of the area's myths and legends, stake out your next pristine swimming spot, try your hand at some local artwork and relax beside the campfire to watch the night sky come alive in swathes of stars above. And what's more, you won't need to worry about directions or most meals as our local team has got all of that covered. All you need is to be ready for an incredible Aussie adventure.
DISCOVER THE KIMBERLEY ON A FAMILY ADVENTURE
And while you're there …
Dampier Peninsula Cultural Walk
There is magic to experiencing how food is found, caught and cooked, nothing is better than tasting the result of all your hard work. On the beautiful Dampier Peninsula join Bolo on the Southern Cross Cultural Walk. Go foraging for bush foods and learn traditional hunting techniques as you meander through mangroves, paperbark forests, salt plains and creeks. Learn about bush foods and medicines, how to find fresh water, the tides and Aboriginal seasons. Finally, sit on the warm sands of a sparkling blue beach, cooking up all the bush foods you have collected and caught during the tour along with a traditional damper hot from the coals.
FIND OUT MORE: DAMPIER PENINSULA CULTURAL WALK WITH WELCOME TO COUNTRY
The South Australian Outback, South Australia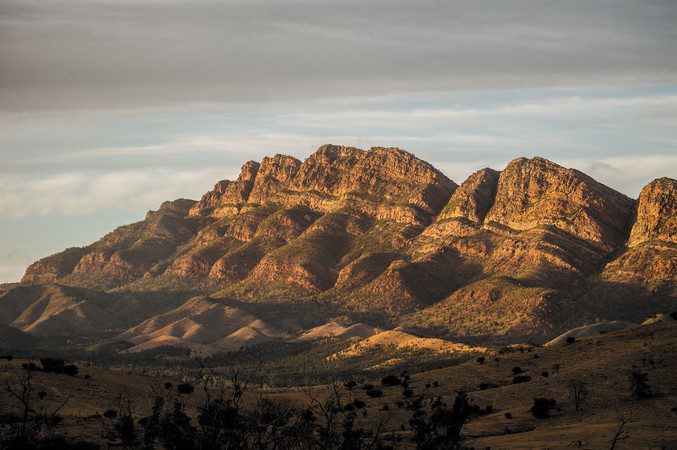 Spend 10 days exploring the best of South Australia's Outback in on a culturally rich and deliciously different small group adventure. With First Nations experiences, comfortable accommodation, a knowledgeable leader and numerous included activities, this Outback adventure is the whole package. From Adelaide, visit the opal capital of Australia, see the Silo Art Trail and watch stars sparkling above Ikara-Flinders Ranges National Park as you hear traditional stories of the Adnyamathanha people. You will also immerse yourself in the beauty of Arkaroola, a 610 sqm wildlife sanctuary, and taste fine wines in the Clare Valley.
DISCOVER THE SOUTH AUSTRALIA OUTBACK ON A FAMILY ADVENTURE
And while you're there …
Yura Udnya – Our Culture, Your Culture
Discover the magnificent Ikara-Flinders Ranges and the history, culture and Country of the Adnyamathanha people. Yura Udnyu – Our Culture, Your Culture tour exploring the intertwining histories of Aboriginal and European cultures of the area. "Yura" is the name for local Adnyamathanha people and "Udnyu" means white, so this two-hour walking tour includes the interconnecting histories of both Aboriginal and European cultures. Touring Old Wilpena Station you will discover the history of the station, the Heritage listed site is a valuable archive of pastoral history in the Flinders Ranges. The Station also holds a continued cultural significance for the Adnyamathanha people. Learn about the Dreaming of the Adnyamathanha, hear the story of how the Akurra (serpents) formed Ikara and Wilpena Pound. This dual history creates a fascinating story of this unique place.
FIND OUT MORE: OUR CULTURE, YOUR CULTURE WITH WELCOME TO COUNTRY
These holidays are the perfect opportunity to reconnect with family, explore Australia and make a true connection with Aboriginal and Torres Strait Islander culture. Learn more or book now at Welcome to Country or Intrepid.
Feeling inspired?