"So what's this dish called?" as a huge terracotta dish is placed on the table, steaming away. It's a pie – which happens to be my third pie of the day – golden, glistening, still hissing fresh from the oven. "It doesn't really have a name," says our host Tina. "We just call it Tina's tart," adds her husband Dani, "It's a family favourite."
That pretty much sums up the approach to food here in rural landlocked Macedonia, 25 years after the break-up of Yugoslavia in 1991. You forage, you find, you cook, you serve, you enjoy. It's informal, hearty, filling, made with love, and sometimes it doesn't really have a name.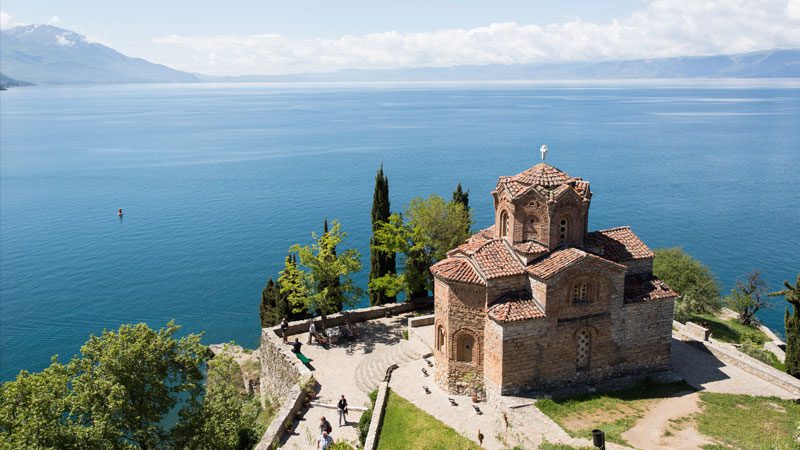 Tina and Dani run Villa Lazareski, one of a handful of simple, friendly homestays in Mavrovo National Park, Macedonia's largest, handily located between the capital Skopje and the pretty lake town of Ohrid. The house itself was built by Dani's father some 70 years ago and they're so warm and hospitable, it feels like home. So much so that I feel I'm visiting old friends of my parents who last saw me aged five, a feeling reinforced by the soft rock 80s ballads playing from a stacked hi-fi system reminiscent of the one still in working order at my family home.
RELATED: CHECK OUT OUR REAL FOOD ADVENTURE IN MACEDONIA
The pie is delicious, crammed with foraged forest greens and bieno cheese, an aged 'beaten' cheese made by Marovo farmers. Tina has also prepared baked peppers stuffed with rice, vegetables and meat, homemade bread, traditional Balkan red pepper avjar dip, and a shopska salad, a Macedonian staple with cucumbers, tomatoes, onion, olives and a salty feta-esque cheese.  It all goes nicely with the wine; an oaky red Vranec that's Macedonian too – in fact, not many know, but this tiny nation is the world's 25th largest wine producer.
It's easy to write off Macedonian cuisine as cheese-, pastry- and meat-heavy, but theirs is a cuisine that's reliant on agriculture, rich in vegetables too, where the connection between the land and its people is visible on the table. Dessert is Tina's 'no-name cake', warmly spiced with cinnamon and made with chocolate, berries and raisins. My stomach reaches breaking point, but Dani rescues us with a calming herbal tea of local herbs: mountain mint, dandelion flower and thyme.
Alas, only seven hours separate dinner from breakfast. After a blissfully tranquil night's sleep, I enter their home the next morning where Tina is preparing mekici, fried doughnuts, at an old stove, and serving it up with homemade plum marmalade. "It's nothing much, something light," says Dani. I don't even know if he's joking. It's a far cry from my usual breakfast of yogurt with banana, nuts and honey, but compared to the previous night's feast, it's a fraction more forgiving.
The term 'hyper-local' gets bandied about a lot when it comes to food, but it really applies here. But while the ingredients are local, what influences the cuisine goes further afield, testament to the different cultures which have settled here. "It's a mix of Balkan, European, Middle Eastern and Mediterranean," says my Intrepid Macedonian guide, Jane (pronounced Ya-ne) Josifovski. He runs the Real Food Adventure trip which also takes in Montenegro. "There, we try the famous smoked ham in the village of Njegushi and meet characters like Mr Monic in Tici village where he does olive oil tastings at his farm and tells stories of the old Yugoslavia."
It's a similar story at the home of Goran and Gjurgjina Mickoski in the highlands near Lake Ohrid, home to the UNESCO World Heritage town of the same name. When we arrive, Goran hasn't long returned from a walk in the woods where he collected snails for dinner, served up super-garlicky. I stick to the dandelion flower salad, Gjurgjina's pie, and a swig of rakia, a fruit brandy infused with herbs. The next day, we meet Pece Cvetkovski who grows 80% of his food served at his guesthouse, and meet dedicated beekeeper Naco Jovcevski, the local honey-maker whose honeycomb is sublime.
It's astonishing and heartening to see so much food produced from scratch in this way. "I'm still discovering new places and dishes in the Macedonian countryside," says Jane. "Most food is how I remember it growing up, I hope it stays like this."
I hope so too – after all, one stomach can only take so much and there are still a lot of dishes I need to try, and at a supermarket stop en route to the airport, I stock up on avjar dip, local cheese and a small bottle of rakia. But while it's great to take a portion of Macedonia home, I make a mental note of what to bring from the UK on my next trip; a pair of over-sized, elasticated trousers.
Want to taste the real Macedonia? You'll need our latest Real Food Adventure.

Feeling inspired?