NOTE: This article was inspired by our 8-day Highlights of Italy trip.
While many of us crave unlimited holidays, there are only so many vacation days we can take on an annual basis. Thankfully there are destinations that you can explore A LOT of in a mere 7 days, Italy being one of them.
The birthplace of the Renaissance has incredible art and delicious carbs in equal measures, and that's just for starters. And though experiencing La Dolce Vita in a short time span may seem like an impossible journey – especially since Italy's culture varies so much from north to south – it can be done. Because we want to help every traveler maximize their time in the country, we've curated a 7-day itinerary, filled with all the sights, history, pizza and pasta you could dream up.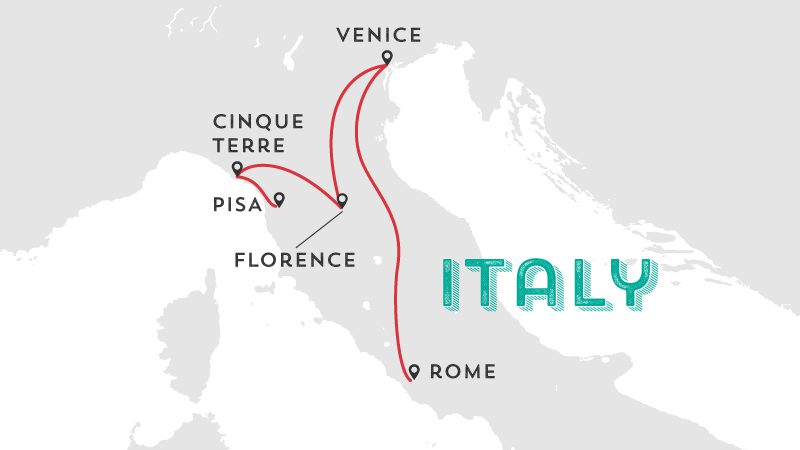 Day 1: Rome
It should come to no surprise that the first stop in your short-but-sweet Italy trip is the ancient city of Rome. While the Eternal City is filled with historic ruins and architecture, it is also home to modern boutiques and chic restaurants, so you can get a taste of the old with the new. And don't worry, with our suggested hidden gems to explore, your first destination will be far from boring…
First things first, you obviously have to visit the classics: The Colosseum, the Roman Forum and the Trevi Fountain; where you can't forget to toss in a few coins – each one indicating a special wish (one to return to Rome, two to find love, and three for marriage).
For visiting these popular sights, it's best to go in the (early) morning, so you can save your afternoon for spots that are more under-the-radar, such as the Christian Catacombs, the first large-scale burial sight tucked in a volcanic rock. Yep, Rome is actually home to some of the oldest burial underground tunnels in the world.
To end your first evening in Roma, seek out the best gelato in the city, AKA the Ciampini. In between the Spanish Steps and the Pantheon, this old-school gelato shop features classic flavors and simple ingredients that will have you believe you've found heaven on earth.
Day 2: Rome
Since Rome is Italy's largest city, you definitely need more than just one day to enjoy all it has to offer. We suggest starting your second day in Rome with a morning walk, accompanied by an espresso and a Nutella-infused pastry. The best spots for some people watching and casual sightseeing are Piazza Navona and Piazza Del Popolo but don't be shy to veer off into some cobble-stoned alleys – you never know what delights you might find.
In the afternoon, visit the Galleria Borghese, an art museum that houses stunning sculptures and paintings. Don't forget to step outside and roam the grounds, to take in the breathtaking gardens filled with colorful flowers and rich greenery.
SUBSCRIBE TO OUR NEWSLETTER FOR TRAVEL INSPO, GIVEAWAYS, COMPETITIONS & MORE
You must not leave Rome without trying a few popular dishes that were born out of this city, such as the Pasta Carbonara and Bucatini all' Amatriciana. If you head to Trastevere, a cobbled street-filled neighborhood on the river, you're bound to find a number of hip restaurants that offer both of these specialties.
Once you've eaten more than strictly necessary, top off the rest of your stay in Rome in the heart of the city, Piazza de Santa Maria. Here, locals and travelers come together to congregate over (more) delicious food and lively nightlife.
Day 3: Venice
Just a few hours away, Venice is the next stop on our Italian mini-getaway. This City of Water can't be forgotten (although it may very well soon be as it's literally sinking every day…). You might as well spend 24 hours here while you still can!
Once you arrive in the city made up of tiny islands and bridges, you'll want to check out the main attractions: the Piazza San Marco, the Saint Mark's Basilica and the Grand Canal. You may even take a few hours to go on an enchanting gondola ride through the canals – not an original idea, but a must-do nevertheless.
For the rest of the day, explore Venice's best-kept secrets, including the city's most unique bookshop. The Libreria Acqua Alta is a bookstore tucked away in a tiny sidestreet that screams "off the beaten track" as books are kept in boats and bathtubs, in order to keep them safe from the regular floods of Venice.
After you've wandered around the tiny streets of Venice, make your way to an island off the main city called La Certosa. This uninhabited island is basically a sprawling park and has just one boutique hotel, restaurant and bar. If you want to get away from Venice's hustle and bustle, even just for an hour or two, it's the place to go.
RELATED: CHECK OUT OUR NON-TOURISTY GUIDE TO VENICE
Day 4: Florence
Another few hours journey and you'll find yourself in Florence, the city of art and wine. You simply can't visit Italy without witnessing its beauty, and the surrounding Tuscan towns. Since the atmosphere of Tuscany is calmer than Rome and Venice, you'll witness of a new side of Italy that's incredibly alluring.
Your first day in Florence demands that you tour through the city center, witnessing iconic sights such as the Ponte Vechio (hello jewelry shopping!), the breathtaking Florence Cathedrol, and the must-see Michelangelo's David in the Galleria dell'Accademia.
While these main attractions will take up most of your day, you can have a midday break for gelato at Carapina, a hidden gem that only locals (and frequent visitors) know about. While tourists get side tracked by over-the-top gelato displays, tucked away on a side street is this small shop that offers unique flavors such as sweet wine and cantaloupe.
For the rest of the afternoon, make your way to Arcetri Astrophysical Observatory, an observatory that used to be Galileo Galilei's villa while he was under house arrest. You'll get to learn more about Florence's rich history all while getting dreamy views overlooking the city from the hills. For a delicious dinner afterwards, enjoy a meal at Osteria Del Cinghiale Bianco, a tiny restaurant that serves authentic Florentine steak and truffle pasta – two very distinct and special dishes from the region.
Day 5: Florence
For many, spending the day under the Tuscan sun right in the middle of wine country is the ultimate Italian dream come true. Thankfully there are tons of wineries to visit while you're staying in Florence. It only takes a few hours to make way to wine heaven, and once there you can sip on whites and reds all day long.
For a dose of good time visit the Chianti Classico winery, where premium wines are made.  You'll get a brief history lesson about the region and its special wine, all while sipping on samples with classic Italian dishes, including antipasti and pasta.
If you're craving more wine and history head over to Badia a Coltibuono, an estate that features a farm, a church, gardens, and a wine cellar. After you spend an entire day under the Tuscan sun, you'll want to spend the evening under the stars at this old monastery from the 11th century.
RELATED: 6 CITIES IN ITALY TO VISIT BEFORE EVERYONE ELSE DOES
Day 6: Cinque Terre
While it takes a little longer to get to this next destination, let's start off by saying it's 100% worth it. Visiting the villages of Cinque Terre will ensure your life feels like a literal postcard. It's a part of Italy that brings in millions of wanderlusters each year, purely for its colorful houses and breathtaking seaside views.
It will take you most of the day to see all of Cinque Terre, so start at the first village called Riomaggiore, and then hike your way through all five. At Riomaggiore, it's worth visiting two churches: the Chiesa dell'Assunta and the Chiesa San Giovanni Battista.
RELATED: CHECK OUT OUR 8-DAY HIGHLIGHTS OF ITALY TOUR
Once you hike up to the second (and arguably most scenic) village, Manarola, you'll want to seek out Nessun Dorma for an al fresco lunch that features only essential items: bruschetta and prosciutto. After lunch, hike your way past Corniglia, and spend the rest of the afternoon in Vernazza – the largest village in Cinque Terre. While there, visit the church, the Doria castle and the harbor.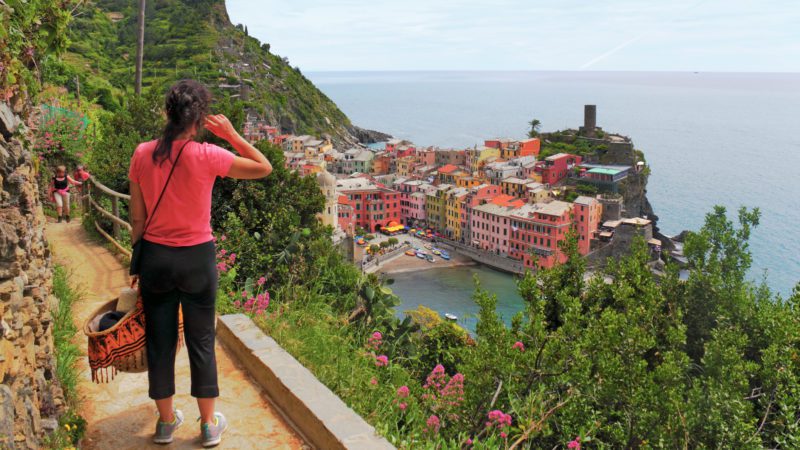 For the late afternoon and evening, head over the final village, Monterosso, the only spot with a sandy beach. While small, visiting this spots caps off your stay at Cinque Terre nicely, though many boutiques and restaurants will probably entice you to stay longer…
Day 7: Pisa
The last stop on the taste of Italy tour is the city known for its not-so-stable architecture, the Leaning Tower of Pisa. After you spend an hour making your way to Pisa, you'll want to make your first stop at the world-famous sight, and take a few cheesy photos – you'll regret it if you don't.
Once you've got that out of your system, it's time to explore off the beaten path. Luckily, Pisa has more to offer than the Leaning Tower. Other historic sights include the Church of San Francesco, featuring the tomb of Count Ugolino della Gherardesca, and the Museum of San Matteo, known for displaying sacred art.
LOVE ITALIAN CUISINE? YOU'LL LOVE THIS FOOD TRIP THROUGH SOUTHERN ITALY
Spend the rest of the day exploring the "piazzes" of Pisa – and no not pizza but the city's three popular neighborhoods that gather locals and tourists alike. Look out for The Piazzi dei Cavalieri, the Piazza delle Vettovaglia ad the Pizza La Pera, each offering their own unique atmosphere and architecture.
For the evening, delight yourself in Pisa's cuisine. A dish you'll often find in this area is called "Sullo Scio", a soup made up of garlic, rosemary, tomatoes, tagliatelle pasta and cheese. You can't forget about dessert, but skip the gelato this time and go for the "Torta con Bischeri", a tart made with rice, milk, lemon, vanilla and the best ingredient – liqueur. Walk it all off with an evening stroll among Pisa's beautiful buildings and it's fair to say your trip will end supremely blissfully.
Are you now desperate to book a flight to Italy? Check out our range of small group trips there.

Image Credits (top to bottom): c/o Intrepid Travel
Feeling inspired?