"India is a sensory overload, but in the best possible way."
That's how photographer Mirae Campbell describes her recent 15-day trip from Delhi to Goa with Intrepid Travel. We know just what she means – the country is tantalizing, chaotic and utterly beautiful all at once. It's as unforgettable as it is indescribable.
In fact, it really is hard to put into words, which is why we sent the talented Canada-based photographer on one of our (many) Intrepid tours in India. She came back gushing: "What a cool diverse country", "the guide made all the difference", "the Taj Mahal was stunning". But it's her photos that truly capture the country's magic.
So, check out the photo essay, then give Mirae's website and Instagram a browse; she's oh so amazing at what she does. Without further ado, here's exactly what it looks to navigate city to coast on a small group tour of India:
Day 1: New Delhi
The trip starts in chaotic capital, New Delhi. You have tons of time on your first day (the welcome meeting isn't until 6pm) so you can acclimatize and take a day trip or two. We recommend our sister company, Urban Adventures, for this.
You can also travel through the streets around the Chandni Chowk marketplace in true local style – by traditional cycle rickshaw.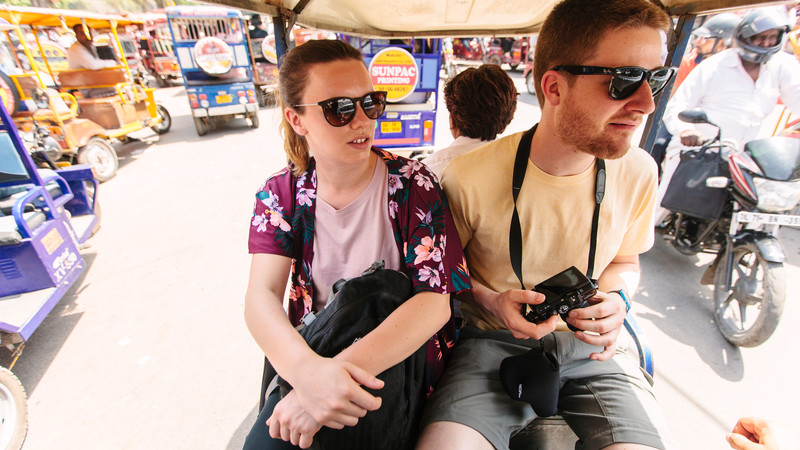 You'll realize immediately how good the cuisine in India is. Mirae the photographer said the food on her trip was "amazing". She added, "We were just eating so much, I was so excited!"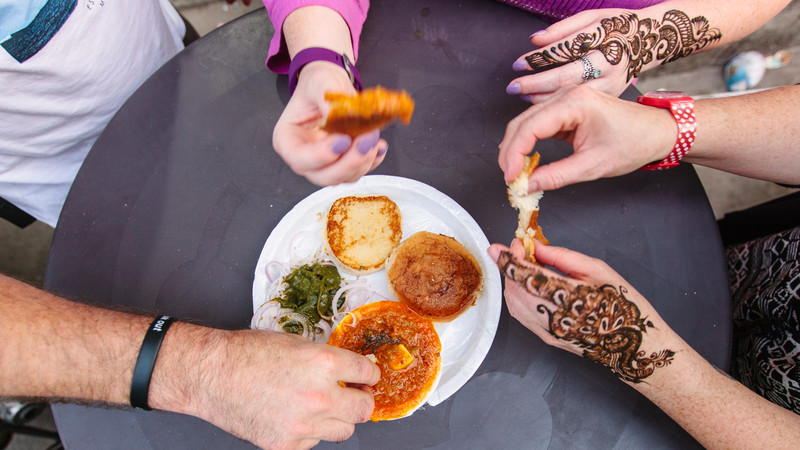 DELHI IS ONE OF OUR TOP CITIES FOR STREET PHOTOGRAPHY; SEE THE OTHER 5
Day 2: New Delhi
Today your local guide will take you on a walking tour of Old Delhi, one of the oldest city areas in existence. Then you can visit the majestic Jama Masjid, Delhi's oldest (and India's largest) mosque. As you can see below, the architecture is awe-inspiring.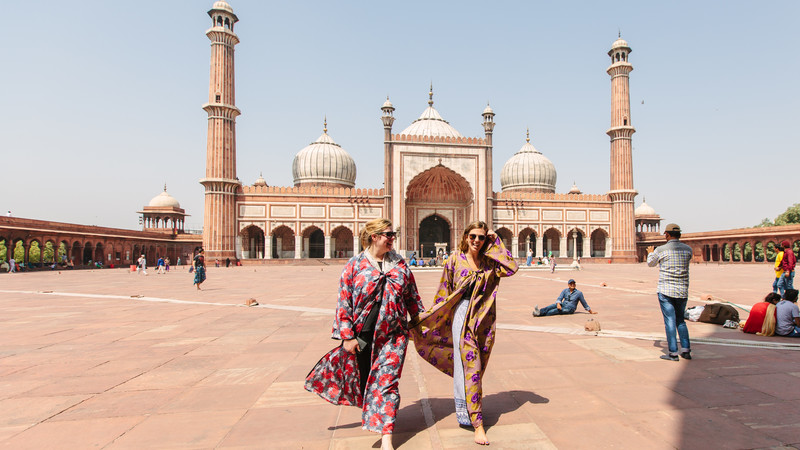 By this point you'll be more than acquainted with the group of like-minded travelers on your trip. Ride the metro with them, stop by the Sheeshganj Gurudwara (Sikh Temple), or get to grips with the city's delicious street food.
SUBSCRIBE TO INTREPID'S NEWSLETTER FOR TRAVEL INSPO, COMPETITIONS, GIVEAWAYS & MORE
Day 3: Agra
The most recognizable sight in India, nothing compares to the Taj Mahal. A beautiful example of Mughal architecture, it's truly iconic, and a building (and experience) that'll stay with you for life.
It's also very busy, and so a trip there is worth preparing for. To do so, check out this all-encompassing Taj Mahal guide.
Day 4: Jaipur
Rajasthan's colorful capital, Jaipur, is known for its pink buildings and its amazing bazaars. Enjoy exploring the city and be sure not to miss the ornate Royal City Palace.
For the next two nights of this trip you'll be staying at a beautiful, family-run heritage hotel. But before you get too settled, take the opportunity to see a Bollywood film. Jaipur is home to one of the world's great cinema halls, the grand art-deco Raj Mandir.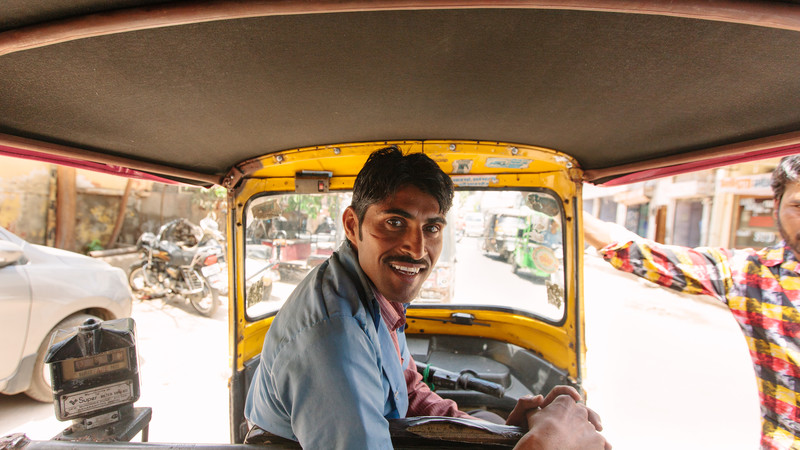 JAIPUR IS A MUST-VISIT DESTINATION IN RAJASTHAN'; HERE ARE A FEW MORE
Day 5: Jaipur
Waking up early for a hot air balloon ride over Jaipur is an experience that's pretty once-in-a-lifetime. Photographer Mirae described the experience as "the most magical sunrise of my life".
It's pretty picture perfect.
On the afternoon of day five you get a guided tour around the hilltop Amber Fort. It's an architectural marvel you don't want to miss.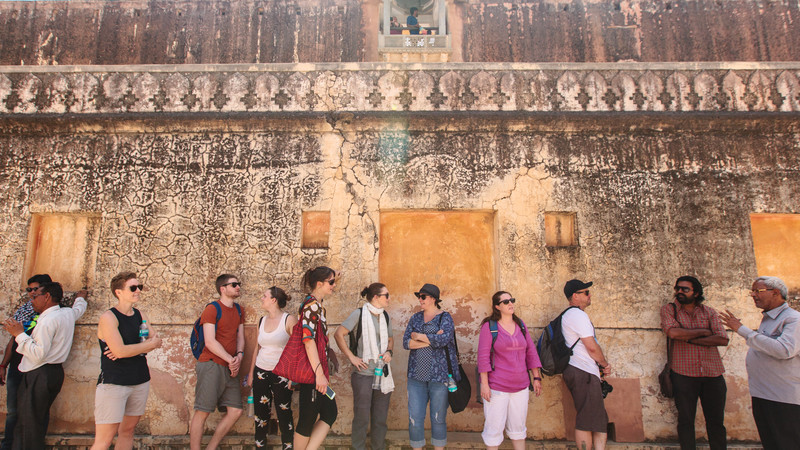 REVEALED: THE 5 MOST COMMON FEARS ABOUT TRAVELLING IN INDIA
Day 6: Pushkar
Travel to one of India's holiest towns, Pushkar. The lake is sacred to Hindus and is particularly dazzling at sunset.
Day 7: Pushkar
Another early start, but one that's more than worth it. The sunrise hike up the hill to the Savitri Temple is wondrous.
Reward yourself with a steaming cup of tea at the top (if the chai man is there, of course). Later, visit the colorful Brahma Temple and take in everything else Pushkar has to offer.
Day 8: Udaipur
Known as the 'Venice of the East', this white city is often regarded as the most romantic in India. For this reason and more, it's a firm favorite among visitors.
There are tons of optional activities to choose from here, from a boat ride on Lake Pichola (see above) to a cooking class (see below).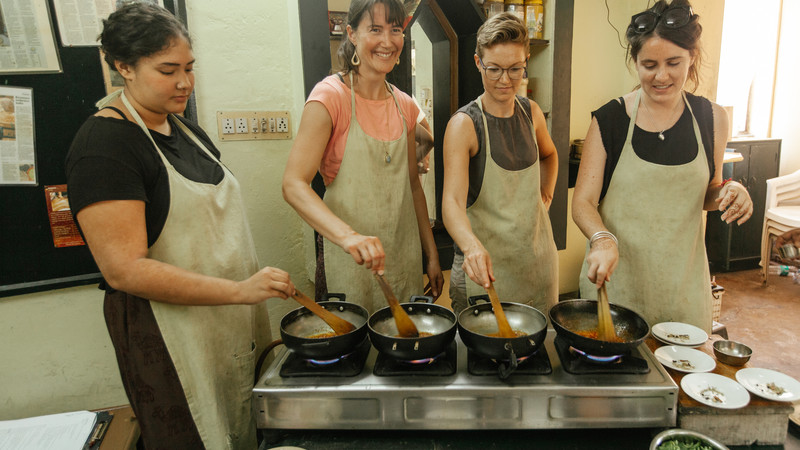 If you're into shopping, Udaipur doesn't disappoint. Explore twisting alleyways filled with bazaars selling things like silver jewelry, shoes, bags, leather goods and miniature paintings.
Day 9: Udaipur
Today is a free day to enjoy Udaipur at leisure. Take a guided tour of the lakeside City Palace complex, the largest palace in Rajasthan. Or even visit Shilpgram Craft Village, to buy crafts and witness traditional dancers and artisans in their element.
If you're keen to know more about this gorgeous city, check out our guide.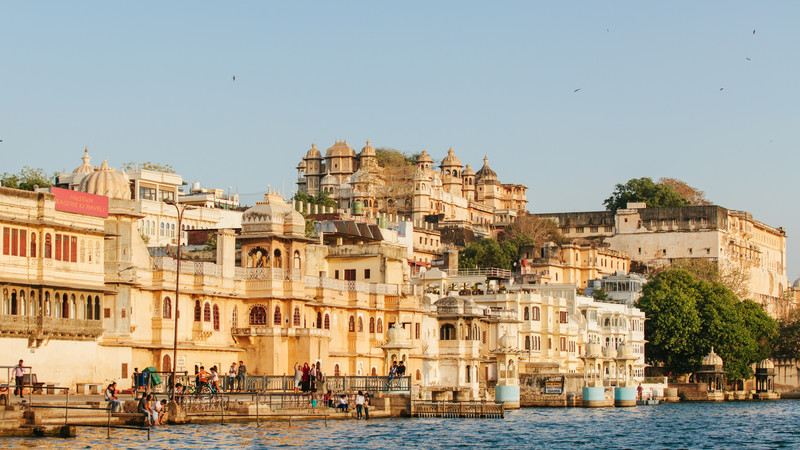 Mirae the photographer said that "the weather in Udaipur was really hot, so the rooftop pools were amazing to visit for the day". Don't they look it.
Day 10: Mumbai
After more free time in Udaipur, it's time for overnight train one of two! At this point, it's worth giving a shout out to the Indian tour guides that make Intrepid trips so special.
As Mirae put it, "The leader was a local so he made everything so accessible. He explained how people live their lives so nothing felt overwhelming."
MEET ONE OF OUR LOCAL GUIDES, SANA: A WOMAN DEFYING GENDER STEREOTYPES IN INDIA
Day 11: Mumbai
Time to explore what is likely India's most cosmopolitan city. Wander around Mumbai's art deco buildings, shop at the bazaar-filled streets and dine in some of the country's best restaurants. Oh, and don't forget to grab a coconut from a street vendor.
In the evening it's nice to visit Chowpatty Beach, where crowds of people mill about in the cooler evening air. By this point you're probably pretty good friends with those in your group. As Mirae put it, "Everyone knew everything about each other by the end of the trip".
Speaking of end of trip, it's time to journey on to the very last stop…
Day 12: Goa
Spend some more free time in Mumbai before boarding an (air-conditioned) sleeper train to Goa.
Day 13: Goa
The Portuguese influence in this tropical state is totally captivating. There's an optional visit to a local spice farm as well as a Goan buffet lunch to drool over.
Day 14: Goa
It's your final full day of the tour and there's plentiful options. Take a bike ride into the lush countryside, try some beach-side yoga or sip a cocktail at a local bar.
Join the group for a farewell feast this evening – the local prawns are a winner. As is Goa's nightlife.
Day 15: Goa
Sadly, it's time to say goodbye to both tour group and Goa's coastal bliss. What with the otherworldly experience you've all shared, it's likely you'll stay in touch for years to come.
If you're planning to continue your adventures on a solo jaunt through India, consider checking out these useful travel tips.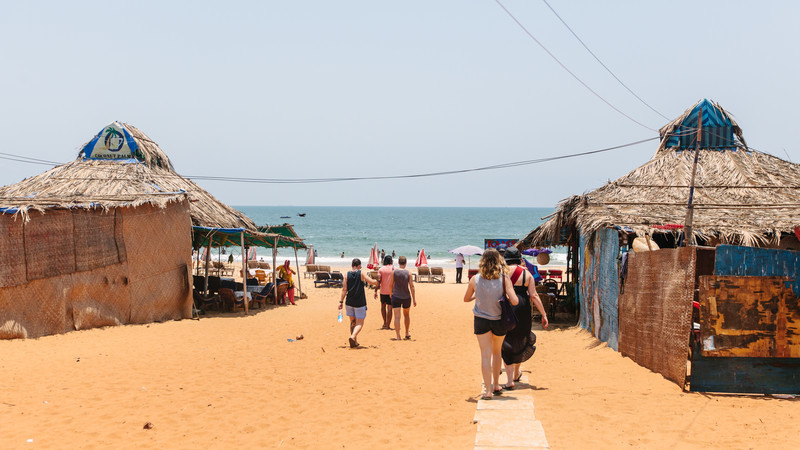 Want to experience the magic of Delhi to Goa with Intrepid for yourself? Check out our 15-day trip.
—
(Images all c/o Mirae Campbell for Intrepid Travel)
Feeling inspired?