From the rugged dunes of the Thar Desert to the colourful chaos of Johari Bazaar, Rajasthan offers a real life choose-your-own-adventure. But what is it like to actually travel through India's largest state?
First and foremost, it's a land of extremes. One moment you're driving through a lush forest, admiring the deer and temples, and the next you're drowning in sea of people, surrounded by saris and sandstone walls. By day, everything is bright and chaotic, demanding your undivided attention; by night, the glitz crumbles away to dust and shadows. It's vibrant and severe – a creative's paradise.
Now, if you're reading this article, chances are that you're considering heading to the majestic state of Rajasthan (or just reminiscing). Here's my little list of must-see stops along the way:
Jaipur's bazaars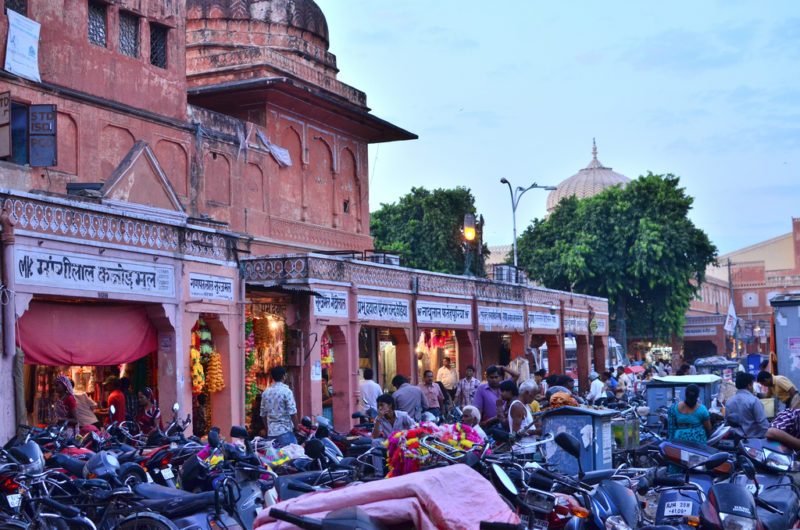 Rajasthan is well known for its treasure trove of delights catering to one particular guilty pleasure – shopping. It's known as "the" place to shop in India, and no trip to Rajasthan is complete without a visit to the heart of Rajasthani retail, the Jaipur bazaars.
The most well know bazaars are located within the walls of Jaipur's Old Town. The atmosphere is electric, bombarding you with the sights and sounds of hundreds of shopkeepers and their patrons gathering in uniformly sized stores lining the streets.
Begin your journey at the New Gate and take a moment to acclimatize to the chaos before making your way through the textile merchants, silversmiths, and sacks of tea, spices, and nuts. Make sure to stop by one of the many lassi and chai wallahs within the Old City for a midday refresher.
VISIT RAJASTHAN ON THIS EPIC 15-DAY SMALL GROUP ADVENTURE
Tips on visiting Jaipur from Sana, one of Intrepid's female tour guides in India:
Jaipur is known around the world for its gemstones. But there's a lot of fake gems and scams out there, so Intrepid recommends places to shop that are audited. Jaipur is also known for hand block printing and so we work with local villagers who practice the art form, so we can support the local economy.

If you buy just one thing, make it lakh bangles. The bangles are made only in Rajasthan so should be bought here, and there are a few lanes in Jaipur solely dedicated to selling them.
Jaipur City Palace
Aside from being a shoppers paradise, Jaipur is also known for it's historical and architectural delights. One of the main draws is the royal City Palace, featuring a beautiful complex of pink hued buildings and garden space.
I recommend visiting in the early morning which will allow you to view the museum and famed peacock gate well before the masses arrive. You'll get a good run-down of the city and palace history, as well as take you to the school of art, where you can watch artists using brilliant pigments made from local stones.
After a long day at City Palace head to the Copper Chimney for dinner. This restaurant offers both veg and non-veg options, and is known for their large servings and curry combos.
SUBSCRIBE TO OUR NEWSLETTER FOR TRAVEL INSPO, GIVEAWAYS & MORE
Pushkar Lake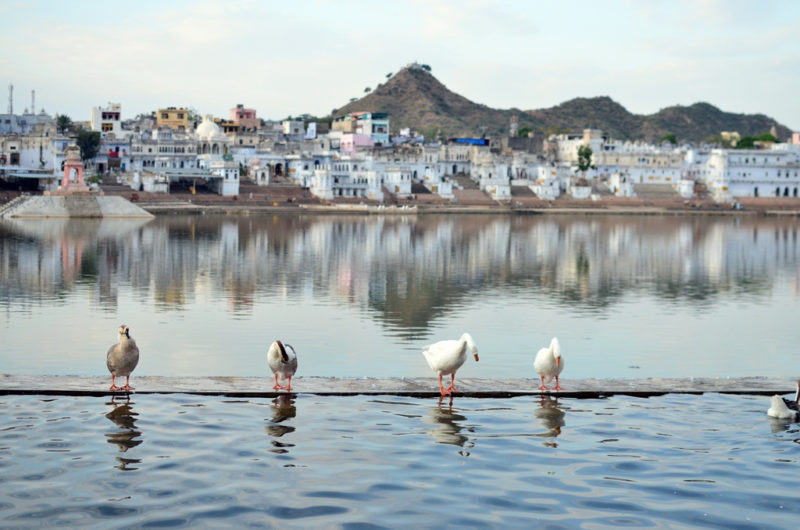 Often overlooked, Pushkar is one of the oldest and most serene towns in India – a welcome refuge from the hustle and bustle of Jaipur. The town is characterized by narrow streets and pedestrians; it doesn't have a train station and vehicles are only allowed in certain areas, cutting down on the noise and pollution that India is known for.
Pushkar is best known for being home to Pushkar Sarovar, a sacred lake and place of Hindu pilgrimage surrounded by 52 bathing ghats and 500 temples. Take advantage of the tranquility with a wander through town, a walking tour of the ghats, or by dropping in at Pushkar Yoga Garden for your daily stretch.
If you're in the mood for shopping, head over to The Silver Palace to browse through mountains of gems and create your own made-to-order jewelry. Pushkar is also a big market for leather products, so get stocking up. If you fancy a hilltop hike, try a sunrise one to Savitri Temple. Though tiring, the stunning view of Pushkar is more than worth it.
Note: Respecting tradition is particularly important here – alcohol and meat are forbidden, and visitors are expected to wear full length clothing.

Tips on visiting Pushkar from Sana, one of Intrepid's female tour guides in India:
Visit Pushkar lake at sundown. While the sun is setting there will be two drummers playing the Indian classical drums. The faster the sun does down, the faster their beats get. It is such an amazing thing to watch that I always take my Intrepid groups there.

The food in Pushkar is delicious – there are so many veggie options because it is a place of pilgrimage for Hindus. Go to 'Out Of The Blue', an amazing German bakery, for amazing chai and fresh fruit juices!
Ranthambore National Park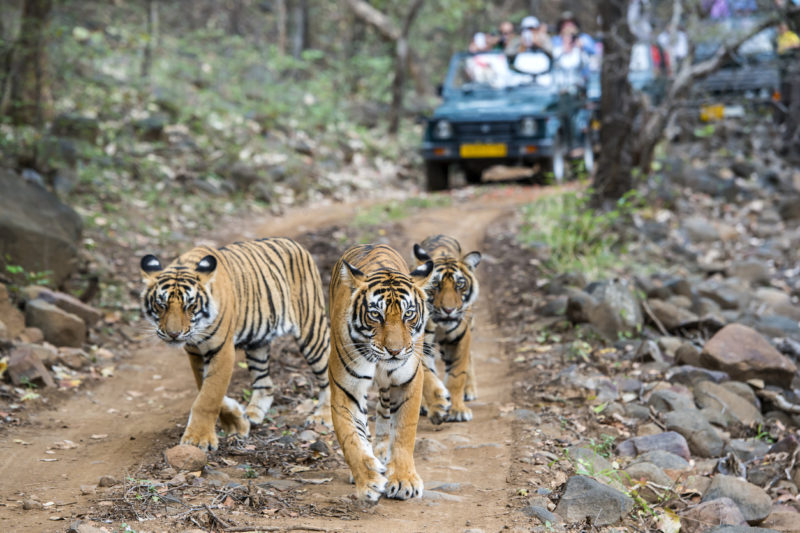 Rajasthan boasts three national tiger reserves, which are known for their efforts in wildlife protection. Ranthambore National Park in Sawai Madhopur is the most famed of the reserves, well loved by nature enthusiasts and photographers alike.
While tiger sightings aren't guaranteed, the parks boasts a large range of wildlife, 300 species of deciduous trees, and gorgeous views of the surrounding terrain. It's well worth the visit, even if the closest you get to a tiger sighting is a set of paw prints dotting the dirt road ahead of you.
MEET SANA, THE INTREPID LEADER DEFYING GENDER STEREOTYPES IN INDIA
Lake Pichola, Udaipur
It's not hard to figure out why people call Udaipur the most romantic city in India. Well, it isn't after gazing at Lake Pichola, a stunning artificial lake that makes the city so special. From it, you are immediately confronted by a canvas of white marble, bathing ghats and rolling hills. It is the perfect spot to sit back and truly appreciate the majesty of your surroundings. (Bonus: Intrepid trips to Rajasthan include a boat ride on Lake Pichola!)
Pichola is the oldest lake in Udaipur, constructed in the 1300s when the ruling Maharana fell in love with the area. The lake is in the middle of the city, and provides a fantastic view of Udaipur City Palace and the floating Lake Palace, Udaipur's famed luxury five-star hotel.
A GUIDE TO UDAIPUR, THE 'VENICE OF THE EAST'
The Thar Desert
As much as Rajasthan is loved for its shopping and royal flare, it's perhaps best known for its arid landscapes, and with good reason: there's nothing quite like lying back to admire the rolling desert dunes against the dusty pink skies of sunrise.
The Thar Desert, also known as the Great Indian Desert, is absolutely vast, taking up 10% of India's entire land mass and a large piece of Rajasthan state. It's densely populated and culturally rich, with its own unique form of dance, food, and costume. Time your travels for the annual Desert Festival to ensure a vibrant peek into the Thar Desert culture.
(Image credits from top to bottom: iStock, Sarah Kitson, iStock, Sarah Kitson, iStock, Sarah Kitson, iStock)
Feeling inspired?