If you close your eyes and imagine the River Thames, chances are you'll think of the murky waters that run through London. Sure, this is the most iconic image of the Thames, but there's a whole bunch of adventures and hidden gems waiting to be explored outside of the big smoke. We've put together some of our favourite things to do on the Thames that will get you out of London and into the stunning English countryside.
1. Go rambling
If you like walking, you're in for a treat. The Thames Path National Trail – a 184-mile route from Gloucester to Kent – is dedicated solely to walking. It showcases southern England's most glorious scenery featuring pretty meadows, fairytale-like villages, abandoned railway tracks, stone bridges and historic buildings. Go for a casual afternoon stroll or long-distance hike, it's up to you. Walking is also one of the best ways to see the life that lives on and by the water, from bevvies of elegant swans and people living on colourful barge boats, to the bobbing heads of swimmers.
2. Cycle along the river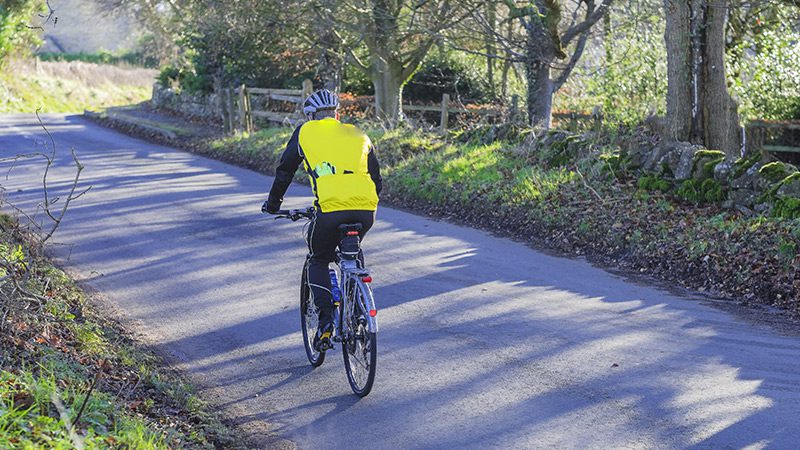 Cycling along the Thames is pure joy on wheels. Unfortunately you can't cycle from source to sea due to many of the riverbanks being privately owned, but there are still plenty of stretches to peddle along. Not to mention all of the lovely little towns and villages dotted along the river like those in the Cotswolds. You've also got the stunning Chiltern Hills, and as you can guess by the name, it's on the hilly side! The cycleway is mostly paved and well signposted to ensure fun for the whole family, but of course, there are some steep climbs and descents if you're looking for a challenge.
3. Go kayaking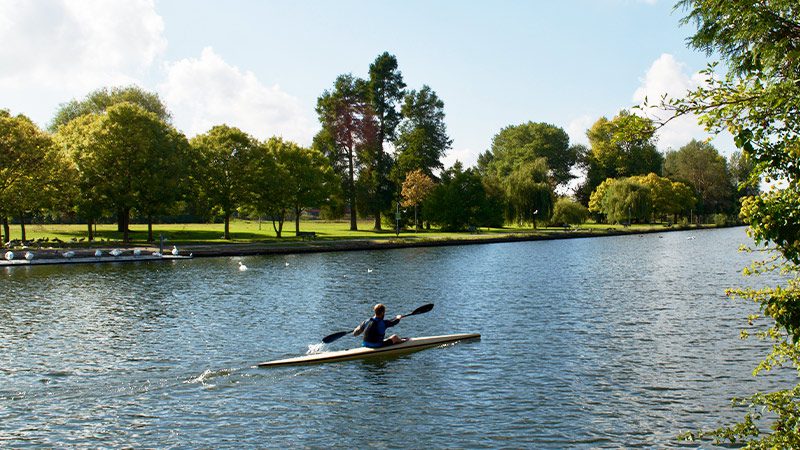 Kayaking is a fun way to discover the Thames whether you're a pro or novice. There's something so tranquil about being on the river and hearing the water lapping against your kayak or ducks quacking beside you. Go solo, couple up with your travel buddy or get the whole family involved. You might be physically tired after a day on the water, but it's a tonic for the mind and you'll sleep like a log. Pack a tasty picnic or stop off for a riverside pub lunch along the way to refuel.
4. Embrace the outdoors on a stand-up paddleboard
Get a different perspective of the Thames on a stand-up paddleboard. Float from Eyndsham all the way to Oxford while you soak up the stunning green scenery. You might even get a few friendly waves from ramblers! Don't worry about any wibble wobbles at first, you'll be cruising down the river with a big smile on your face in no time. Paddleboarding can work up quite an appetite, but there's plenty of pubs and riverside cafes to grab a bite and rest.
5. Go wild swimming
Is there a better way to shock the system and recharge the batteries than taking a dip in fresh water? You don't need plastic slides and chlorine when you have the gorgeous Thames and lush lakes surrounded by green countryside. The Cotswold Water Park is a firm favourite for wild swimming followed by Lechlade River Park, Hurley Island and Cheese Wharf. Go for a refreshing swim, test out your paddleboard skills, give wakeboarding a go or chill out on the lakeside beach with a book. Like any swimming activity, always be aware of the risks and practice swimming safety.
6. Catch a glimpse of royal life in Windsor Castle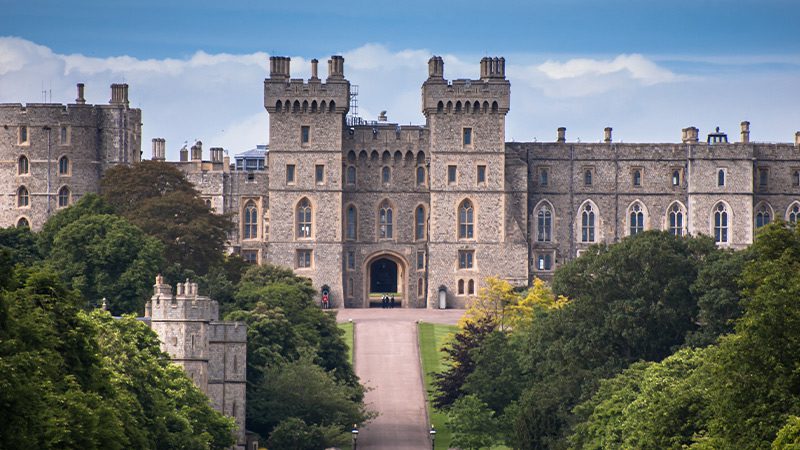 If you've ever fancied getting a glimpse inside the world's largest occupied castle, now's your chance. Windsor Castle is over 900 years old, and if the walls could talk they'd have some fascinating stories to share. The castle is spectacular and has a whopping 1,000 rooms, 300 fireplaces and magnificent gardens. It's also said to be one of the most haunted places in England with countless ghost stories that'll make your hairs stand on end. Rumour has it Windsor is Queen Elizabeth's II favourite weekend digs. Keep an eye out for the royal flag – if it's up you know the Queen is home!
7. Step back in time in Bampton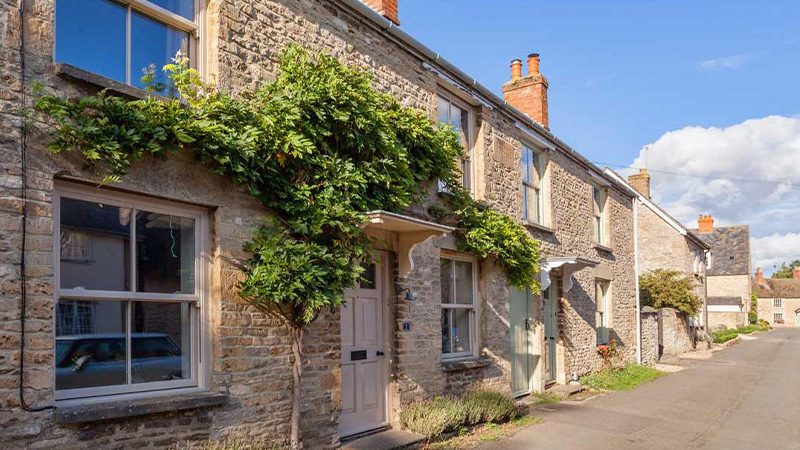 Bampton is full of old-world charm. In fact, it's so charming that it was used to film much of the hit series Downton Abbey. It feels like you've stepped back in time as you wander down cobbled streets with centuries-old buildings and quaint shops. Hop on a bicycle, explore on foot, sip your way through tea rooms and pubs, or simply find a patch of grass to watch the world go by. Bampton is also one of the few English villages that has kept up with the 600-year-old tradition of Morris Dancing. Keep your eyes and ears open for the colourful costumes and jingling jangling sound of bells.
8. Explore quintessential English villages
It's hard to describe the charm of villages in the Cotswolds. The rolling hills, stone cottages and bubbling streams have been inspiring literary giants and artists for centuries. Did you know the River Thames (or River Isis as they call it in Oxford) inspired Lewis Carrol's magnificent Alice in Wonderland? Lechlade, Cricklade, Moreton-in-Marsh and Eynsham are just a few of the postcard-perfect towns and villages dotted along the Thames' path. Spend a few hours getting lost and taking in the beauty and history of these ancient settlements.
DISCOVER THE THAMES FOR YOURSELF ON A RIVER THAMES (SOURCE TO SEA) TOUR
Feeling inspired?