Hidden almost 500 miles away from the party city of Rio de Janeiro lies a Brazilian metropolis that you wish you knew about years ago: Florianopolis.
In many ways, "Floripa" (as the locals call it) is like Rio and Sao Paulo, but on steroids. It is safe, fun and has many similar attractions to the ones found in Brazil's major cities. Plus, Floripa has a unique – almost magical – charm to it because of the fables that come from the island (we'll explain…).
Within the first few hours of exploring Floripa, it is evident that it appeals to every type of traveler – especially adventurous ones. Particularly the southern tip that's remote and filled with white-sand beaches, diverse hiking trails and lush rainforests.
Floripa: Where dreams come true
Pretty much every landscape and experience here is magical, in all honesty. Visitors will witness lush rainforest trails that run along local farms that sell fresh fruit and produce. Follow a path and discover hidden coves with white-sand beaches and seaside huts selling caldo de cana (sugarcane juice).
Hiking is also big here; and one of my favorite trails is the Naufragados hiking trail. It leads to a private beach with the occasional peacock frolicking about.
The center of the island has a more hippie vibe. It's a trendy area with rustic restaurants and artsy cafes; perfect for backpackers and intrepid travelers. Step foot near Lagoa da Conceição and find the center of it all – a great place for nightlife, surfer shops and live music. When I lived in Floripa, I choose an apartment in this area because it is central – easy to get to from both the north and south side of the island.
The north is sprinkled with five-star resorts, pool parties, world class spas and designer stores; wonderful for those looking for a more luxurious getaway. Here visitors will find Jurerê; an upscale beachside neighborhood housing Brazil and Argentina's elite.
RELATED: ARGENTINA VS BRAZIL: WHICH SIDE OF THE IGUAZU FALLS SHOULD YOU TRAVEL TO?
Florianopolis is known as "the Magic Island"
But there is much more to this island than its diverse activities; there are also myths that go way back. Florianopolis is also called "Ilha da Magia" (the Magic Island) because its charm and beauty conquers whomever steps foot on its soil. Fables from years ago tell tales of witches and sorcerers casting spells and curses on locals. Legend says that the boulders off the beach of Praia de Itaguaçu were once witches before they were turned to stone.
Witches are found in many of the legends here. The most common story is that they would frighten the fishermen, steal their boats and play with their fishing nets. To this day there is a belief that those who move to Floripa have to ask for permission from the witches. This will ensure they will be successful and have a good life. Other tales tell of werewolves, ghosts, mysterious floating lights and wizards.
Though many visitors never experience these occurrences, the stories truly highlight the charm and magic of Florianopolis. And folklore or fact, the beaches on this island certainly are enchanting.
SUBSCRIBE TO INTREPID'S NEWSLETTER FOR TRAVEL INSPO, COMPETITIONS, GIVEAWAYS & MORE
Azorean culture is weaved into everyday life
From spellbinding sandy coasts to timeless fishing hamlets, it's obvious that diversity is what this island is all about. 
The Azorean (Portuguese) spirit, inherited from immigrants who settled the region 250 years ago, is really obvious on the island. Villages immersed in tradition and history, such as Santo Antonio de Lisboa and Ribeirão da Ilha resist the approaching modernity. There's fishing boats, lace makers, and all the folklore you've probably come to expect from Floripa. 
And in traditional Azorean-inspired fashion, Floripa stands out for both its seafood and its celebrations. Regarding the latter, something you certainly need to know is that February is Carnival month.
Carnival is a momentous time of year in which locals party for days on end wearing colorful, revealing outfits. It's all about getting buzzed on caipirinhas and Brahma beer, and dancing to the beat of the drums until the wee hours. When the locals get tired, they feast on the island's fresh seafood and oysters, and knock back some energy drinks to keep the party going.
It's a messy, colorful event that entices even the most reluctant bystander to join in the fun.
VISIT BRAZIL ON AN OTHERWORLDLY SMALL GROUP ADVENTURE WITH INTREPID
Eat, drink, and eat again
As was just mentioned, the seafood, particularly the oysters, stands out in Floripa. It could be because the island supplies all of the oysters for the largest country in the world, Brazil, in addition to many other South American countries. There is simply nothing else like enjoying the oysters straight from the sea in Floripa. It will change your life. The flavor is that tasty.
After living on the island for a month, I would recommend Ostradamus for excellent oysters in a romantic atmosphere. Here, guests can dine over the ocean on a sturdy dock as they feast on the best seafood Brazil has to offer. They also have great craft cocktails.
I also enjoyed Bar do Arante, a beachside restaurant with a unique vibe. The walls and ceiling are covered with tiny slips of white paper with messages from customers, and during lunch they have live music.
Much to my surprise as a New Yorker, I had the best pizza I've ever tasted at Artesano Pizza Bar. The rustic Italian spot is hidden off of the main street and absolutely worth stopping by for. As for their specialty pizza, you will be in tastebud paradise.
RELATED: INTRODUCING NORTHERN BRAZIL, THE MOST BEAUTIFUL PLACE YOU'VE NEVER SEEN
Last but not least, Floripa is packed with adventure sports. Visit during their summer and you'll hear locals zooming along the paved streets on skateboards. At the seashore, surfers, kite boarders and swimmers play in the warm turquoise ocean.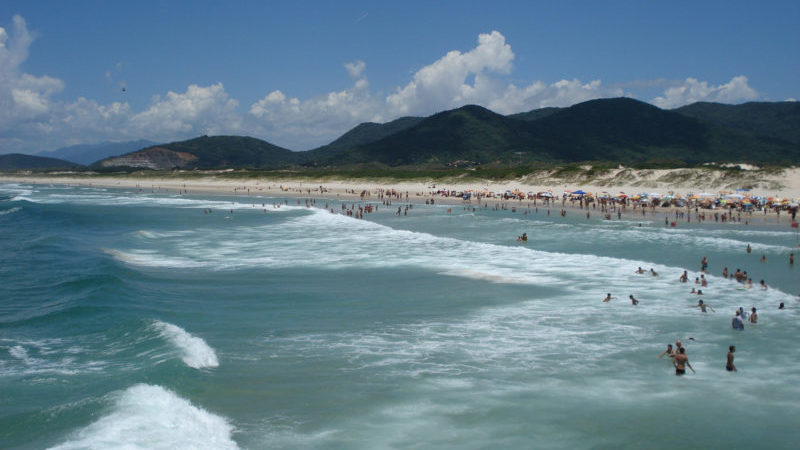 Gaze up to the hilly jungle and see hang gliders jumping from the lush forest mountains above. Better yet, take an excursion on a fisherman's boat to Ilha do Campeche (Campeche Island), where you'll be met by lifeguards warning you about the local monkeys who will quite literally drag your bags into the forest.
If it's not clear already, Floripa really has a unique charm that isn't found anywhere else. The island is about pushing your limits, experiencing untouched adventure, and encountering the unknown. Give it a visit and you'll be surprised at every corner with its beauty and charm.
FAQ
Where is Florianopolis located?
Florianopolis is a coastal city located in the South Region of Brazil. It is a 9-hour drive from Sao Paolo and a 14 hour drive from Rio De Janeiro.
Is Florianopolis worth visiting?
We believe its a must-visit in Brazil, with white-sand beaches, diverse hiking trails and lush rainforests, it has plenty for an explorer to enjoy. Don't forget the amazing food scene and adventure sports it has  
Tempted to visit the always-gorgeous Brazil? Check out our range of small group adventures.
—
(Image credits c/o Sarah Funk except hero image c/o iStock)
Feeling inspired?