The choice between island paradises begins…
Sun, sand and surf? Say less! Well, if you're deciding where to lay your beach towel down, there are a few other things to consider but the two neighbouring archipelagos, Fiji and Vanuatu both have so much to offer that it makes it a pretty close call.
While the draw to these islands is typically the cocktail-in-hand, overlooking a white sandy beach type of lure, there's a vast assortment of adventure, cultural and historical activities that make a trip to either so fulfilling. We're talking hiking, rafting, village tours and wildlife treks all while there's a pristine beach and refreshing coconut waiting for you. Do we even need to say more?
Our Fiji and Vanuatu trips
Culture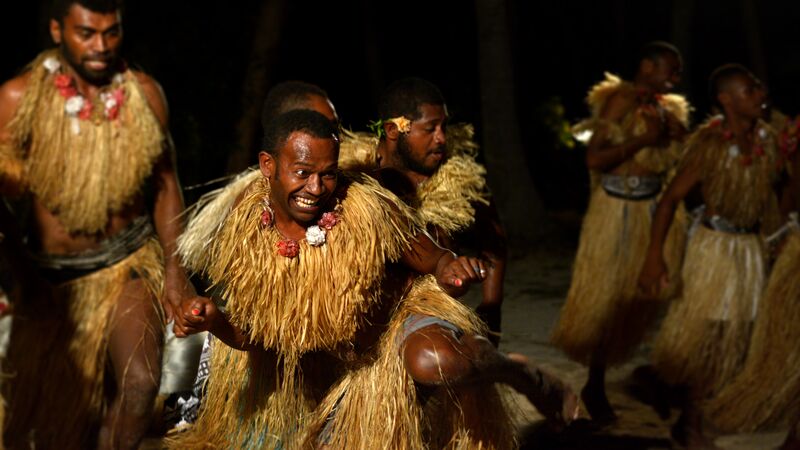 If you're looking for a heart-warming holiday and smile-inducing trip you might want to check out Fiji, whose motto is "Where happiness comes naturally". And you can easily see why. Fijians are known around the world for their 'Bula spirit', a perfect encapsulation of their friendliness, cheek and warmth. 'Bula' is the Fijian word for hello and across the island, you're likely to be greeted with a hearty 'Bula!' and wide smile – often accompanied by a funny line or two.
While English is the official language, Fijian is also spoken by many with different dialects heard across the islands. The indigenous people of Fiji (i-Taukei) are Melanesians and make up more than half of the nation's population, their main religion is Methodist Christan. However, two-fifths of the population are people of Indian descent making their language – Fijian Hindi, the third official language of the country.
Indigenous Fijians remain close to their culture with traditions such as storytelling Meke dances, kava ceremonies, communal lovo feasts and firewalking still being practised throughout the country. When moving through the islands, there are times when you'll be asked to respect the local customs, sometimes in the form of removing headdresses, wearing a sulu (sarong-like garment) or presenting a sevusevu (gift) to a village chief.
Learn more about festivals in Fiji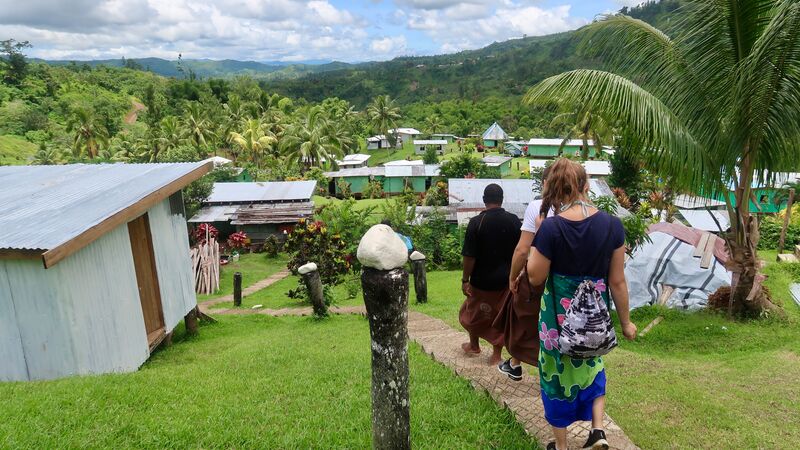 Vanuatu has its own mixed population with immigrants from Europe, Asia and other countries in the Pacific, although the vast majority of residents are native Melanesians, also known as Ni-Vanuatu (of Vanuatu). Vanuatu has also had its fair share of history. Archaeological evidence shows that some of the islands have been inhabited since 2000 BC. Nowadays, there's a rich mixture of over 113 distinct languages, dialects and local kastoms (customs) of traditional culture weaved throughout the islands.
One of the most well-known of Vanuatu's traditions is the act of land diving, known on the islands as 'Naghol'. This is thought to be the origin of modern-day bungee jumping. See this ancient tradition for yourself from April to June on Pentecost Island when brave individuals tie vines around themselves and jump off platforms as high as 30 metres.
The islands have also been heavily influenced by the English and French who've been settling since the late 18th century. Until 1980 when they claimed independence, The Republic of Vanuatu had been known as New Hebrides and was controlled by the British and French.
The country was also an important location for the Allies in World War II when the Americans arrived with warships. Throughout their stay and especially after they left, there was a rise of 'Cargo Cults' – a belief system surrounding the figure John Frum – which are still around today.
Feeling inspired?
Climate
The climate in Fiji is tropical, not surprising either since it's located in the South Pacific Ocean. Although this is a year-round destination, there are two major seasons in the country, the wetter season running from December to April, known to be hot and humid with decent rainfalls and a slightly cooler season from June to October. You can't really go wrong visiting Fiji at any time of the year, but it's often said that the best time for a trip is from May to October.
In the capital Suva, daytime temps sit around 30ºC from December to March and typically drop to 26ºC from May to September. Sea temperatures in Suva average about 27 ºC for the entire year. So, you see what we mean about the warm climate. Also, from December to April, Fiji can be affected by tropical cyclones, but these are usually rare occurrences.
Being in such close proximity to Fiji, with only 1,211 km between them, Vanuatu's climate is very similar. The more northern islands will see slightly more equatorial weather, but it will still be wetter from December to March and cooler from May to October. But don't stress, the maximum temperatures are sitting pretty around 28-30°C.
Vanuatu is also home to many volcanoes which can increase the precipitation in those regions. In the northernmost islands, annual rainfall can reach 4,000mm (157 inches).
See the sights yourself on a Vanuatu Adventure Trip
Landscapes
Many know Fiji for its beach scene but there's so much more sitting just beyond the palm tree line.
Fiji is made up of over 300 islands, only one-third of which are inhabited. The two main islands are Viti Levu and Vanua Levu. The island interiors are a rich mixture of rainforests, bushlands, green valleys and even sand dunes. Because it's a volcanically made group of islands, there are several mountains reaching over 900 meters (3,000 feet). The varying topography means there are some pretty stunning waterfalls and trekking sights to be seen.
Around the coasts, Fiji is home to world-renowned coral reefs, several surf breaks and marine rehabilitation sanctuaries. You'll also find mangrove swamps, fishy lagoons and white-sand beaches with a fair share of palm trees and tropical fruits speckled across the shores.
Likewise, Vanuatu is made up of 83 islands split over six provinces that are mountainous and tropical or sub-tropical in nature. The country's capital, Port Vila, is located on the southeast coast of the island Efate and sits on Mélé Bay.
The region is quite mountainous due to the volcanic origins of the islands. One of the most active volcanoes is Mt Yasur on Tanna Island while the highest mountain is Mount Tabwemasana which reaches 1879m (6158ft).
Learn more: 5 top things to do in Vanuatu
Cuisine
No trip is complete without a taste of local cuisines and regional delicacies. With such a varied history of immigration, there are many influences on the country's food ranging from Indian, European, Chinese and Melanesian. And as typical of an island, you'll see a lot of seafood, fresh vegetables (namely tubers and starchy roots) and exotic fruit (a lot of coconuts). Some Fijian-specific foods include smoked meat from a lovo pit, kokoda (raw fish in lime juice and coconut milk) and palusami (assorted meats and veggies wrapped in taro leaves).
You'll find a lot of curries on offer, specifically around the major cities due to the large population of people who are of Indian descent. Try a fish suruwa curry served with roti or dahl, white fish combined with coconut milk, veggies and various spices.
Finish with a dessert like the vudi vakasoso (vudi fruit with coconut, sugar, cinnamon and cardamon) or puruni, a Fijian pudding-like treat. Or simply stop by any of the produce markets to pick up some fresh and juicy locally grown fruits.
Seafood is the name of the game for Vanuatu with the catches of the day being yellowfin, skipjack tuna, poulet fish, lobster, crab, prawns and coconut crabs.
The national dish of Vanuatu is called laplap (baked pudding). Other kaekae (foods) to try include simboro (cassava, cabbage and coconut poached in cream), tuluk which is comprised of some type of meat that's put into casava parcels and placed in an underground rock oven and the country's award-winning chocolate.
One of the cultural practises seen in both countries is the drinking of kava. This is a ceremonial drink made from the root of the kava plant and has mild sedative effects. This earthy-tasting liquid is usually offered at welcoming ceremonies but is also served socially.
Related: Things to eat in Fiji
Activities
Understandably, many come to Fiji to rejuvenate under the sun and refresh in the idyllic waters but for the days you're itching to get your heart rate back up, there's a host of fun to be had from mountain top to ocean floor.
Get in some fresh air on a 1.5km hike to the breathtaking Savulelele Waterfall, meander through the sand dunes and learn about the island's history on archaeology walks through Sigatoka National Park. Or, if you're really looking for an adventure: race down the rapids in Upper Navua Gorge. On quieter days, learn more about the local culture from the Fijians themselves when visiting villages or pop into the Fiji Museum in Suva for 3,700 years of history on display.
Don't forget that there's always a refreshing splash to be had after a hot day's adventuring. Fiji's coral reefs are well worth a dip and there are many ways to experience them. Whether you're an experienced diver, new hopeful or snorkeller, you can find a wide range of beautiful underwater life just off the beaches or further in the outer reefs. Above the water, experience the serenity of cruising, sailing, surfing or paddleboarding.
Read more: 7 reasons why Fiji is an ultimate adventure destination
Likewise, Vanuatu offers a perfect balance of easy holiday living and adrenaline junkie fun. If you're in the country at the right time, you'll be able to experience the excitement of land diving.
Being a paradise island, it's not hard to understand why people spend all their time outdoors exploring the beauty of the country's crystal waters and protected coral reefs. One of the biggest draws to the country is the famous SS President Coolidge wreck which is one of the most famous dive spots in the world.
Vanuatu also has a number of large marine caverns called blue holes. These stunning natural formations are as the name suggests – bright blue and contain pure freshwater that flows from the island's mountains. One of the most stunning natural sights you'll see.
Hiking in Vanuatu will take you to rumbling volcano craters, bristling jungles, riversides, black sand beaches mountains and more. See the world's largest banyan tree, take a dip in hot springs, swim in marine conservation sites full of every coloured fish or kayak your way along the coast or through the Rentapao River. A kayaking experience is said to be one of the most beautiful and peaceful ways to tour Efate as you'll pass waterfalls, rock pools and vibrant rainforest greenery.
One of the more unique aspects of Vanuatu's modern culture is the existence of the cargo cult communities. One such community exists on Tanna Island, and they worship an American called John Frum. While exploring, you might also be interested to learn about the country's culturally significant sites in places like the Chief Roi Mata Domain in Efate or through village visits where you'll see traditions come to life in front of you.
Want to see Land Diving in person?
The verdict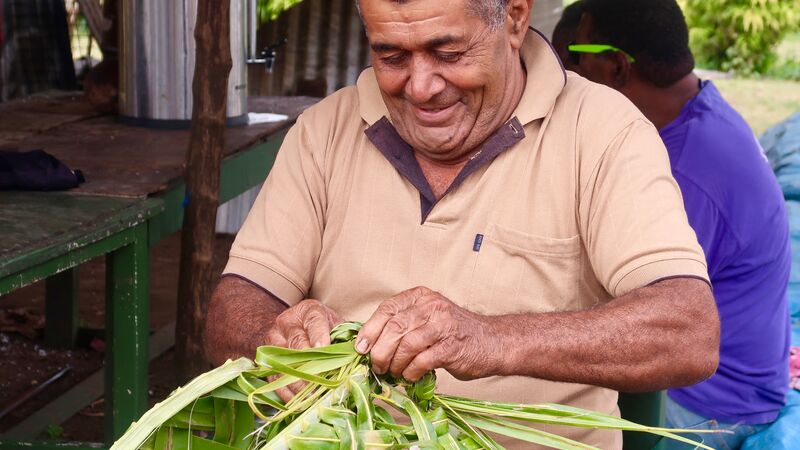 All right now comes the tough part. Where are you buying a ticket to? With such similar climates, landscapes and seafood-oriented cuisine, the decision may come down to the more specific activities available. So, will it be diving the SS President Coolidge or white water rafting through dense jungles and waterfalls?
Well, you know, it's only a two-hour flight, maybe you could just add both to the itinerary?
Learn more about Fiji and Vanuatu or browse through trips in the Oceania region.
Check out our Fiji and Vanuatu tours