Fiji often conjures images of soft sandy beaches, lazy looking palms and hammocks overlooking the horizon – at least that's what I envisioned before packing my bags to travel around the islands.
I was not disappointed with the promise of pristine sands soon served beneath the soles of my bare feet. But what I discovered over the course of my two-week trip is that there's a whole bunch of adrenaline pumping activities and (even more rewarding) culturally immersive experiences to uncover. Fiji on the flipside gives way to frog-kicks at the base of majestic waterfalls; hikes navigating through jungle-clad hills; rafting over rapids down a spring-fed volcanic interior; boating across sparkling sky-blue waters and snorkelling spots bursting with varieties of coral and tropical fish.
All I can say is move aside Bali and come on over to the South Pacific. Here's seven reasons why Fiji is full of adventure.
1. Name a water activity and you can most likely do it in Fiji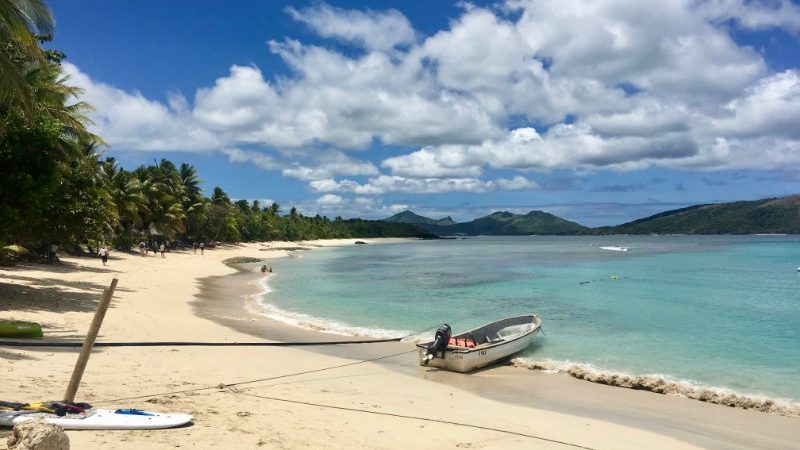 Think pristine sand and turquoise coasts surrounded by wild rainforests and you've got Fiji's natural wonderland: surfing, scuba diving, free-diving, stand up paddle board (SUP), rafting, kayaking, fishing or boating – you will find it in Fiji. Most of these activities are up for the taking at any beachside accommodation. Beach bungalows tend to include free hire of SUP, snorkelling equipment and kayaks with your stay.
JOIN US ON OUR 11-DAY FIJI EXPEDITION – FULL DETAILS HERE
2. Fiji offers incredible hiking experiences
One thing that struck me while travelling throughout Fiji is that you can always spot an emerging hill or a mountain in the distance. The main island of Viti Levu is where things are at for day trips and multi-day hiking experiences. Fiji's largest mountain, Mount Tomanivi, is an extinct volcano sitting in the northern highlands of Viti Levu – standing at 1,324 metres (4,344 feet). The top of Mount Tomanivi can be summited on a day trip from Suva. When it comes to trailing through the highlands, you can expect jaw-dropping views of convex shaped topography reaching as far as the eye can see. And somewhere within that scene lies traditional villages, winding rives and roaring waterfalls awaiting those who venture into the interior.
EXPLORE OUR FULL RANGE OF EXPEDITIONS HERE
3. You can go on a sustainable rafting adventure on the main island
This is a highlight for any visitor to Fiji. Go rafting with a team of locally trained expert guides down parts of the Upper Navua River Conservation Area. Rivers Fiji supports local communities by working in partnership to protect areas that are targeted for logging and gravel extraction and provides training to local guides. Not to mention the eye-popping fun of swishing past waterfalls, listening to local mythology along the river and gazing overhead at the dense bamboo clusters and overhanging ferns – rivalling scenes out of Jurassic Park.
RELATED: WHY TO CONSIDER SOLO TRAVEL IN BALI (AND WHAT TO EXPECT)
4. There are local homestays where you can learn more about Fijian culture
Tying up your sulu (traditional wrap skirt worn by both men and women) and entering a Fijian village is a completely welcoming moment. Fijian communities are steeped in tradition: the cultural values, strong sense of family and pride Fijian's have for their land will leave you with the warm and fuzzies. There are simple protocols that all visitors are asked to follow in respect of the community, whether you are from another part of Fiji or a foreigner that is entering the village. A few simple respectful measures you can take before and during your visit to a Fijian village are: to wear a sulu, remove all items from your head (hats and sunglasses), and simply be respectful towards the people you meet – much like you would do as a guest invited to dinner.
5. Fiji's first declared national park is covered by giant sand dunes and ancient relics
There's a few reasons to visit Sigatoka Sand Dunes National Park and it's not just for the contrasts of the great Sahara looking mounds that line a coastline of intense waves ­– almost trying to outrival each other. The sand dunes bordering the Park are known as the training grounds for Fiji's national rugby team which means they run up and down dunes ranging 20-60 metres in height (no thanks). It's also the place of ancient pottery relics that give clues to Fiji's first inhabitants. Three thousand years ago people from the coastal areas Papua New Guinea and the Bismarck Archipelago started settling throughout the South Pacific. Lapita pottery, which has been found buried beneath the sand dunes, is associated with early Melanesian settlements. Archaeologists have identified that the pottery remains unearthed have most likely been washed down from the Sigatoka River.
RELATED: HEADING TO INDONESIA? HERE'S WHY YOU SHOULD SKIP BALI AND EXPLORE FLORES INSTEAD
6. Trying kava in a welcome ceremony adds to your experience
Fijian culture is synonymous with the act and ritual of consuming kava. It's a tradition dating thousands of years and symbolises the deepest respect for the Chief and the people belonging to a village. When offered to drink kava from the wooden bowl (called a Tanoa), this gesture signifies the visitor and the visited becoming one people and striving for the same purpose. Kava is often described as having a woody or earthy taste. Having one or two cups might leave you with a slight numb feeling in your mouth that soon subsides. It's only when drunk in larger quantities that it starts to have mood-altering effects.
RELATED: 8 TRAVEL LESSONS I LEARNED FROM WORKING AS A FUNERAL DIRECTOR
7. Plunging into a majestic tropical waterfall is unforgettable
This is one of my favourites! While there are waterfalls dotted throughout the islands, I have to say that Nabalesere Waterfall on the main island of Viti Levu is one of Fiji's hidden gems. The village and waterfall can be visited on a day trip from Suva. Permission is needed from the village to enter the Nabalesere Ecotourism Forest Park. A friendly local guide accompanies you on a one-kilometre trek to the base of the massive falls. Jumping into the soothing waters with the roar of the falls beside you enliven the senses. After the adventure, you're invited back to the village to warm up over a cup of locally grown lemon-leaf tea.
SUBSCRIBE TO INTREPID'S NEWSLETTER FOR INSPIRATIONAL STORIES, TRAVEL TIPS, AND GIVEAWAYS
The best bit? You can do all these of these things then kick back at a beachside haven or perhaps a rainforest lodge and head-hunt the next best cocktail while swapping stories with a travel buddy.
Explore this beautiful island on our 11-day Fiji Expedition.
All images by Jenna Hoare. 
Feeling inspired?