If you've spent any amount of time scrolling through Instagram the past few years, then you've definitely seen images of Bali.
It's become a hotspot for travelers, but I must admit that I was worried about visiting as a solo traveler. Bali seemed like one of those destinations where couples would be walking through rice fields hand in hand and swimming in luxurious infinity pools together. I wasn't nearly as worried about safety as a solo traveler in Bali as much as feeling very, very single.
I knew I couldn't allow this fear stop me from visiting Bali. Instead, I decided to spend a portion of my time alone and join Intrepid's 9-day Beautiful Bali trip for the remainder of my trip. By joining a tour, I'd be able to see the highlights of Bali with a knowledgeable local guide and a group of like-minded travelers by my side. I'd also have the freedom to explore on my own if I truly wanted to.
Let's just say, visiting Bali as a solo traveler might have been one of the best travel decisions I've ever made. Here's why:
It's the ultimate destination for solo travelers
As soon as I arrived to Bali, my apprehensions flew out of the window. Within 24 hours, I'd met several solo travelers who were on similar journeys as myself. Some of them were there to experience their own version of 'Eat Pray Love' and others were simply there to enjoy every breathtaking landscape in sight.
There are a variety of day-trips, classes, and cultural sights that are easy enough to join whether you visit with friends or take the plunge to go solo. More importantly, I never experienced any issues with safety as long I kept my wits about me. I quickly discovered that Bali might be the perfect travel destination for solo travelers who wanted to spend time alone while meeting other travelers at the same time.
READ MORE: THE ULTIMATE GUIDE TO 7 DAYS IN BALI
There's an established tourism infrastructure
There's a well-trodden tourist trail, which makes transportation and logistics rather easy. However, transportation costs definitely tend to add up when you're traveling solo. You could choose to rent a motorbike, but this could also be dangerous if you're an inexperienced driver. After spending a hefty amount on taxis, I discovered that traveling with a group tour through Bali made transportation much easier and cost-efficient. I was able to venture places I could have never gone on my own.
When it comes to accommodation options, you can really get a feel for the local life if you opt for a traditional Balinese home. On the other hand, you get can stay in an epic villa at a relatively low price. There are so many neighborhoods to visit throughout Bali, so it's probably best to try out a variety of accommodation options as you visit multiple destinations.
There's more to see than meets the eye
Most travelers tend to stick to Ubud, Canggu, and the Gili T Islands. I found Ubud to be extremely relaxing once you get outside of the main tourist strip. There's an abundance of yoga studios available to beginner and experienced yogis alike.
READ MORE: 8 MUST-DOS IN UBUD, THE CULTURAL HEART OF BALI
I'd also recommend strolling past the lush rice fields on the Campuhan Ridge Walk, watching a traditional Kecak dance performance, and soaking in a Balinese flower bath in one of the many spas in town. I loved the small-town beach vibe of Canggu, especially since the town is dotted with delicious health-conscious cafes and surf schools. The crystal clear waters on Gili Trawangan Island were absolutely beautiful, especially if you're interested in getting diver certified or snorkeling.
While these destinations were wonderful, I loved getting off the beaten path with my tour group. I hadn't heard much about Sideman, but this quaint village blew my mind. Imagine coasting through a quiet town by bike while bypassing nothing but local Balinese people along the way. Then, imagine strolling through coffee plantations and hiking to hidden waterfalls in the town of Lovina.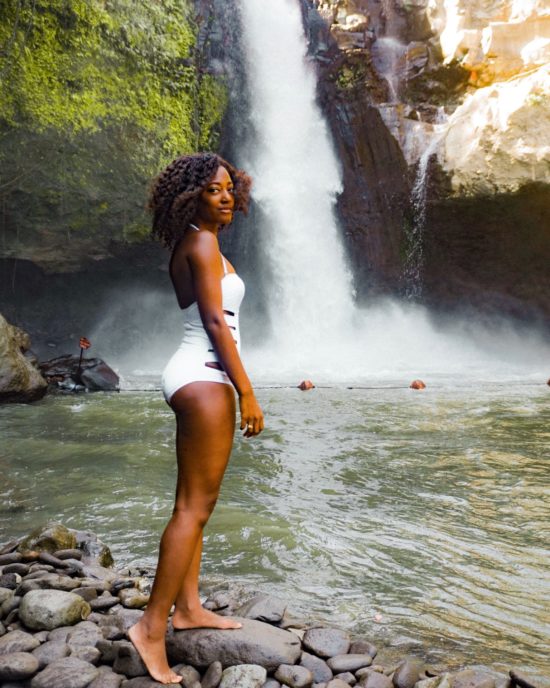 The highlight of my trip included snorkeling at Menjangan Island, which left me in awe of the rainbow colored fish and bright coral in West Bali. I've gone snorkeling many times in my life, and this was by far the most outstanding coral reef I've ever had the pleasure of witnessing up close. These were the places that weren't highly promoted or discussed while I was planning my trip to Bali and I would have definitely missed out if I chose to go completely solo.
The people make you feel at home
Once I arrived in Bali, I felt a sense of calm rise over me. The atmosphere was completely relaxed and it was easy to see why so many recognized this island as a spiritual retreat. We also can't forget to discuss the Balinese locals, who proved to be some of the most accepting people I've met during my travels. I was able to learn about their traditional customs and culture on several home visits. We wandered through Saturday market stalls and enjoyed home-cooked meals along the beach.
Our local guide, Oday, even managed to take us to his family home and serve us tea, simply because he wanted us to see his way of life.
Balinese people are proud of their culture and they were happy to share as much as they could with us. Despite being halfway across the world, the people made me feel right like I was right at home.
While Bali might seem like it's overrun by tourists these days, there are still plenty of locations that are less frequented. Traditional culture is extremely rich and customs are still widely practiced throughout the country, which is apparent in the day to day life of Balinese people.

By joining a tour, I was able to see a side of Bali that isn't always shown on social media. By going alone, I was able to be more aware of my surroundings and meet people who wanted to immerse themselves in Balinese culture just as much as I did. Thanks to the people I met and the locals, I was never made to feel alone.
It would have been a shame if I let my doubts hold me back from visiting this Indonesian paradise. As it turns out, Bali is probably the most solo-friendly destination I've ever traveled to.
I can't wait to return.
Don't let anything hold you back – it's time for the Bali adventure of a lifetime. Check out Intrepid's range of small group tours there.
—
(All images taken by Ciara on Intrepid's Beautiful Bali trip.)
Feeling inspired?