Bali. A place that for many people only exists on Pinterest inspiration boards and Instagram luxury travel accounts.
But you, dear reader, have decided to make your travel dreams a reality, but you only have one week. There are so many things to do and see for such a small island in the Indian Ocean, so where do you begin? How do you get the absolute best of Bali in 7 days?
With a little bit of beach, a little bit of bliss, and a little bit of boho, this week-long itinerary is filled with all that Bali has to offer, along with some insider tips based on my recent Beautiful Bali trip with Intrepid.
Day 1: Uluwatu
The best place to start your week is the beach, of course. Travel to Uluwatu, located in the South Bukit peninsula. This area has arguably the best beaches in Bali and is nowhere near as busy as the popular tourist destinations of Kuta and Seminyak.
Recover from your jet-lag at Padang Padang beach, a lovely little oasis off the main street in Uluwatu. Pick a spot on the sand and a bite to eat from one of the warungs (local restaurants) situated right on the beach. Padang Padang is also a great place to watch your first sunset in Bali, whether from the beach itself or from the bridge overlooking the entrance. This will be your first of many sunsets on your trip, as it is a ritual for many islanders to celebrate the ending of the day with the setting of the sun.
READ MORE ABOUT SOUTH BALI'S SECRET SCENIC GEMS
After your sunset experience grab a bite to eat at the popular Italian joint La Baracca, which is right by the beach. Whoever said they can't do pizza outside of Italy is wrong about this place. Then get rid of that delicious carb baby by working it out on the dance floor at the bar Single Fin, which looks over the famous Uluwatu surf break discovered back in the '70s. They have live local bands playing on Wednesdays and Sundays, but there is a DJ there every night of the week.
READ MORE: HOW TO SEE THE BEST OF BALI, MINUS THE CROWDS
Day 2: Uluwatu
After your smoothie-bowl breakfast at Nalu Bowls in town, start your first full day of surfing and beach hopping at the famous Uluwatu Beach. Grab your surfboard and get in there with the pros! There are even photographers with great telephoto lenses who take pictures of all the surfers and will sell you a digital copy at a reasonable price.
If surfing isn't your thing take the many winding steps down to the secluded beach cave where the surfers enter the water. The layout of the cave means the tide and undertow is weak, which means it's a great place to safely splash around and ride the waves.
Need some more entertainment? Watch the surfers! In the beach cave you will see signs to a warung that will point you up some stairs etched into the rock; follow these and you'll find yourself at viewpoint to watch the surfers do their thing.
EXPLORE BALI ON ONE OF INTREPID'S SMALL GROUP ADVENTURES
End the day at Bingin Beach, where, the sand is pure white and the water is the clearest that you'll find in Bali. Best of all, when the tide goes out around 6pm the beach transforms into a seafood restaurant! You can pick the seafood you want to BBQ and they will grill it for you on the spot. If you've never eaten parrot fish, this is the place to try it. It's meaty and filling and a perfect meal for two along with some rice.
Day 3: Ubud
End your beach-hopping bonanza by spending the morning and early afternoon at the peaceful shores of Balangan Beach. Grab lunch at the South American-inspired restaurant Café La Pasion. They make some of the best coffee in the area, hands down.
READ MORE: 8 MUST-DOS IN UBUD, THE CULTURAL HEART OF BALI
In the afternoon head to Uluwatu Temple. It is one of six temples believed to be Bali's spiritual pillars and it is and perched on top of a beautiful cliff. With traditional Balinese architecture, ancient sculptures, and a beautiful view of the Indian Ocean, you can't miss it! Remember to cover your legs and shoulders before going into the temple (your sarong will come in handy for both men and women here). This temple can get very busy, so I'd recommend having your ride drop you close by and walking in on foot.
After your time at the temple, travel to the lush jungly area of Ubud; it is the main hub of Balinese art and culture, and there is great food, sights, and fun to be had here.
And for dinner, go local.  The local dish to try is bebek bengil, Bali's original crispy duck, and the place to try it is literally named after the specialty dish. The restaurant Bebek Bengil has been serving crispy duck since the '90s, and is easily found in the main area of Ubud.
After dinner try to catch a traditional Kecak dance, a Balinese hindu dance and musical drama that is performed in many temples every night of the week in Ubud. More than 50 men and women perform various musical acts on the stage over the course of an hour, comprised of dancing, chanting, and even fire.
SUBSCRIBE TO INTREPID'S NEWSLETTER FOR TRAVEL TIPS, COMPETITIONS, GIVEAWAYS & MORE
Day 4: Ubud
I'd recommend rising as early as you can for your first full day in Ubud. Grab a coffee and a bite to eat at the delicious vegan haunt Atman Café and make your way to the famous Campuchan Ridge for an early morning walk. It is best to do this hike in the morning as there is no shade from the sun, but this is also one of its best qualities as you can see the rolling landscape for miles and miles. End your hike in the neighboring small village of Penestenan, with lunch at a darling little restaurant called Yellow Flower Cafe.
For the afternoon, go on a waterfall trek to Tegenungan Waterfall, located about 20 minutes outside of Ubud in the town of Gianyar. It's a steep climb down to the falls, but you'll be rewarded with a great view! They have a great swing you can sit on to get a great photo in front of the waterfall.
READ MORE: WHY I'M SO GLAD I CHOSE TO VISIT BALI ON A GROUP TOUR
Since you're in the area, why not experience a traditional Balinese night market? Gianyar night market is one of the largest markets in the area and is a popular hangout for locals every night of the week. Prepare yourself to be the only tourist there! You won't find any English menus or signs here, so I'd recommend sampling all the dishes you can and going to the food stalls with the most locals eating at them. That's how you'll know the food is good and fresh.
Day 5: Canggu
Early mornings in Ubud are magical, so get yourself out of bed and take advantage of it again today with an early morning yoga class at Yoga Barn. This is a yoga sanctuary at its finest, and they have classes for all levels of yogis. I'd also highly recommend attending their Ecstatic Dance sessions on Friday nights, where you can dance to trance music and get your inner hippie on.
Grab a bite at the Yoga Barn café onsite to recoop your energy and then travel to the Tegellalang rice terraces, one of the most popular destinations in Bali and for good reason. You can take pictures at the top or you can descend into the terraces themselves and walk the interlacing paths. Depending on the time of year you'll be able to see the rice farmers in their element.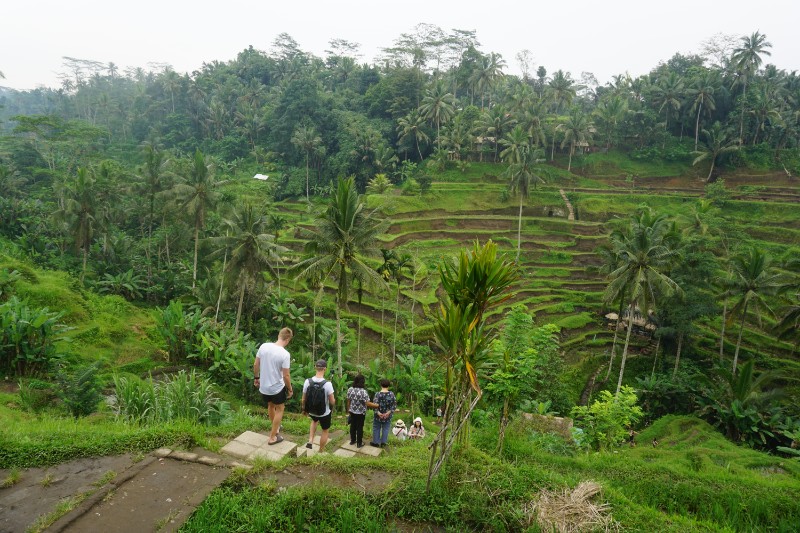 Head back into Ubud for a late lunch at Moksa. Do not miss this place, even if you are a carnivore at heart. This vegan restaurant is the epitome of local cuisine, as they have their own permaculture garden where they grow and harvest most of the vegetables that you'll be eating. If you still have room for dessert after your meal, get the sweet black jack pudding.
After your meal, go from hippie to hip and make your way to trendy Canggu. For the evening take a walk around the main street, Jl. Pantai Batu Bolong, and take in the atmosphere. You can't go wrong with any of the restaurants along this strip, but I'd recommend Moana Fish Eatery or Betel Nut Café.
SEE MORE: 13 PHOTOS THAT WILL INSPIRE YOU TO VISIT INDONESIA
Day 6: Canggu
Take the morning and relax at Canggu Beach at the end of Jl. Pantai Batu Bolong, then grab a casual lunch at Warung Varuna. With cheap and delicious traditional Balinese fare, and you can try a little bit of everything without breaking the bank. It's a great way to try new dishes that you've never seen before!
For the afternoon travel to Tanah Lot temple, which is about 30 minutes outside Canggu. Explore the cliffside and then travel down to the temple itself which is built on a boulder a few hundred metres from the shore. When the tide is out, you can walk right up to it!
Make sure to look around for the monks in orange robes; they will give you a holy blessing by anointing you with flower petals and have you drink some of the holy water. There is also a market here with traditional Balinese wares, as well as some Western shops. Try to stay here until sunset if you can, as it's the most beautiful time to see it.
Travel back into Canggu for dinner at Warung Dandelion. With kitschy, Alice in Wonderland décor it's one of the most unique and delicious restaurants in the area.
READ MORE: 5 FOODIE EXPERIENCES TO ENJOY ON A TRIP TO BALI
Day 7: Canggu
One of the best daytime activities in Canggu are the weekend markets. If you're in Canggu on a Sunday head to the Samadi Bali market which sells the best organic produce and baked goods around. Grab a bite to eat there and then head to the Love Anchor Market. With upbeat music pumping under the canopied alleyway, you can buy everything from local handmade crafts, to souvenirs, jewelry, and clothing here.
Make sure you go see 'The Shortcut' today, which a famous little brick-lined pathway set in the middle of a rice field that connects two main areas of Canggu. This street is legendary in the Canggu area, as it's meant to be a one-way street but traffic laws are largely ignored in Bali. While scooters can pass each other easily, it is impossible for two cars to fit on the road at one time. Many unfortunate vehicles have tipped into the rice paddy over the years!
For the afternoon and evening, make your way over to Echo Beach. Go for a final surf in the waves or chill on the beach and then grab a table at Echo Beach Bar, where you can watch your last perfect sunset in Bali and dine under the stars.
Ready for the adventure of your life in Bali? Check out Intrepid's range of small group tours there.
—
(Image credits from top to bottom: Intrepid Travel, Alex Frustaglio x4, Intrepid Travel, Alex Frustaglio x3, Intrepid Travel, Alex Frustaglio.)
Feeling inspired?