The salty air and sound of crashing waves await…
It's little wonder why travellers from all over the world flock to Victoria's coastal Great Ocean Road; there are sea cliffs, lighthouses, seal colonies and plenty of beaches to discover. But this isn't a destination you should experience by car – it's one for your feet. To fully appreciate the beauty of this diverse stretch of coastline, you have to walk it. And you have to do it on our seven-day hiking tour from Melbourne to the 12 Apostles.
Regarded as one of the world's best coastal treks, the Great Ocean Walk takes you across a landscape shaped by the elements over thousands of years and promises scenery you won't want to stop looking at. Combine that with local maritime history and a group of like-minded nature lovers and you've got yourself an unforgettable trip.
But I'm getting ahead of myself. To get the most out of your walking adventure, there's a few crucial things you need to know – spoiler alert: the best selfie spot isn't one of them.
So you can spend less time googling and more time gearing up for the best walk of your life (slight exaggeration? You decide), I've put together a complete guide on the dos and don'ts, the tips and tricks and every little nugget of info in between. You're welcome.
1. The walk stretches between Apollo Bay and the Twelve Apostles
It takes hours and hours to drive along the Great Ocean Road, so it will take you days and days to complete the Great Ocean Walk. Starting in Apollo Bay and finishing at the 12 Apostles, this iconic walk stretches for 104km but is usually broken up into days of around 16km – 23km.
While the walk predominantly follows the coastline known as 'The Shipwreck Coast,' it also spans an area rich in environmental and cultural significance with traces of the region's colonial past present along the route. However, the landscape still echoes with a deep spiritual connection held by the traditional owners, the Wadawurrung Peoples, and this will be evident during the journey.
RELATED: HOW TO PREPARE YOUR FEET FOR A LONG HIKE
2. It ranges from easy to hard
You don't need to be crazy fit to complete the Great Ocean Walk, but a general level of fitness is needed to get the most out of the trip. The trip has a physical rating of 4 out of 5 due to the long back-to-back walking days (distances of over 19km+); however, the track is well maintained, so you shouldn't come to any issues as long as you have some walking experience.
The track also features diverse terrain from sandy beaches to rocky paths, so pack appropriate footwear that you've already worn and made comfortable (no one needs to worry about blisters a few kilometres in). It's important to note there's a few sections of the route that are more technical than others and whether or not you end up walking them largely depends on the weather conditions. This will be decided on the day by your expert leaders.
3. You can complete it year-round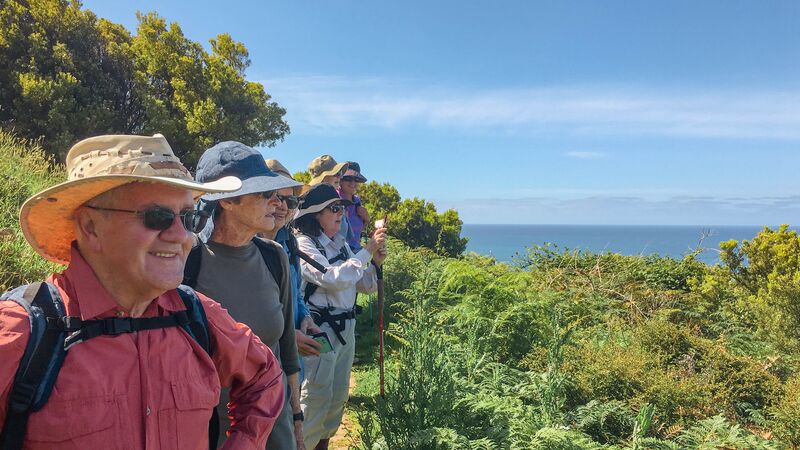 One of the greatest things about walking the Great Ocean Road is that there's no 'best time' to do it. This walk can be done year 'round depending on the type of weather you want to walk in – whether that's sunny conditions and hot temperatures in the summer or overcast conditions and cold temperatures in the winter.
If you want the best of both worlds (sunny weather but moderate temperatures), walking in the shoulder seasons of autumn (March, April and May) and spring (September, October and November) is the way to go. You might get a few showers along the way but it's all part of the adventure of being in the great outdoors.
4. The easiest way to walk it is on a guided trip
While you can definitely embark on this multi-day trek on your own, the easiest way to walk it comfortably is to jump on a guided tour. Boasting not one but two local experts eager to share their knowledge about the region, this trip is perfect for those that want an adventure without handling any of the pesky organizational details that will inevitably pop up.
If that wasn't enough to convince you, you also get (almost) every meal included in the form of breakfasts, picnics and home-cooked dinners – think sandwiches made with fresh ingredients and hearty stews to recharge your energy levels after a long day walking.
5. You'll have little to no wifi connection
You might be dying to upload that fire photo you just took, but disconnecting from the online world while completing the walk isn't a bad thing. I'm not saying you'll have zero mobile service for the entire duration, but some sections of the walk are more remote than others and your signal may be patchy and non-existent for long periods.
Don't let it stress you out. Just take your photos, put your phone back in your pocket and use the time to appreciate the natural beauty surrounding you. Your friends and family will be just as jealous of the breathtaking scenery and the huge amount of fun you're having, whether they see it now or at the end of the day.
6. There is no drinkable water along the track
Walking 104km will make you thirsty, like real thirsty, but one of the rare downsides of the track is that you won't be able to access any drinking water as you go. This means you should fill up your drink bottle at your accommodation before you head off in the morning. If you're camping, be wary of the rainwater tanks at the campsite; they're untreated, so drinking water from that source isn't recommended unless you have water purifying tablets or filters.
7. Keep an eye out for warning signs
While walking, you're pretty much at Mother Nature's mercy, meaning you have to look out for potential hazards. Some parts of the track wind through forested areas, so keep an eye out for warning signs and make note of any pre-planned hazard reduction burns occurring in the area.
As mentioned before, most of the track follows the coastline but some parts are tamer than others. The 'Shipwreck Coast' isn't called that for no reason and caution needs to be taken when walking to avoid rogue waves, high tides and swollen river mouths.
However, if a particular part of the route looks dangerous, your local leaders will steer you in a safer direction while still ensuring you see enough unforgettable scenery to last you a lifetime.
EXPERIENCE THE BEAUTY FOR YOURSELF ON OUR 'HIKE THE GREAT OCEAN ROAD WALK'
Feeling inspired?