2017 is coming, which means that if you're anything like us, a) you have a huge list of places you've been dreaming about going, and b) you're 100% ready for your next adventure.
The only problem with all this exciting, fresh-faced travel potential, is that there are just too many amazing places on this big blue dot to choose from. Should your next trip involve kicking back with a cerveza on the beach in Mexico, or eating your way into a food coma in South Korea? Trekking to Everest Basecamp with new friends, or tracking lions deep in the African savannah?
We decided to throw this dilemma out to the lucky professionals who count travel as their full-time job. Enter, Europe's top travel bloggers and their pick of the top destinations for 2017. 
Chloe Gunning: Wanderlust Chloe
"Croatia is one of my favourite European destinations. I've been a couple of times over the last few years and loved exploring the ancient city of Dubrovnik, sailing around the islands of Hvar, Brac, and Korcula, checking out the illuminated sun salutation installation in Zadar and climbing to the top of Marjan Hill in Split. One of my top tips – pay a visit to Krka National Park. There are several amazing waterfalls and you can even swim in one of them!"
Follow Chloe's adventures at wanderlustchloe.com
Andrew & Emily: Along Dusty Roads
"Valparaiso was, without question, our favourite city in  Chile. Just two hours from the capital, this port city is gritty and authentic, with a history formed from the docks and the dreamers, such as Pablo Neruda. Its architecture, sprawling and clattering up the side of its many, many hills, makes little sense but captivates the eye whilst the jumble of cafés and artists, street art and hill-top vistas, markets and poetry make it South America's answer to Berlin."
Follow Andrew & Emily's adventures at alongdustyroads.com
Katharina & Henryk: OUT OF OFFICE YEAH
"For us, travelling is about exploring special places, which differs completely to what we know from home. And it's about leaving the everyday routine behind. You don't even need to go too far to find such a remote spot… One of our top destinations for 2022 is  Jordan with its vibrant major city of Amman, an incredible desert, lonesome valleys and last not least the inner silence when floating in Dead Sea. Although it's still safe to travel within the country, only few visitors come to Jordan these days due to its geographical position. So, if you ever wanted to wander through a world heritage like Petra almost on your own, now is the best time to do so."
Follow Katharina & Henryk's adventures at: oooyeah.de
Macca Sherifi: A  Brit and a Broad 
"New Zealand is going to be an amazing place to visit this summer because of one reason and one reason only – the Lion's rugby tour. New Zealand is the Mecca of world rugby so the whole country is going to be absolutely buzzing with this event. I went to the Lion's tour of Australia in 2013 (which was easily one of the highlights of my life!), and I'm just itching to get over to New Zealand for it again this year; it really is going to be something special."
Follow Macca's adventures at anadventurousworld
Mark & Miranda: The  Common  Wanderer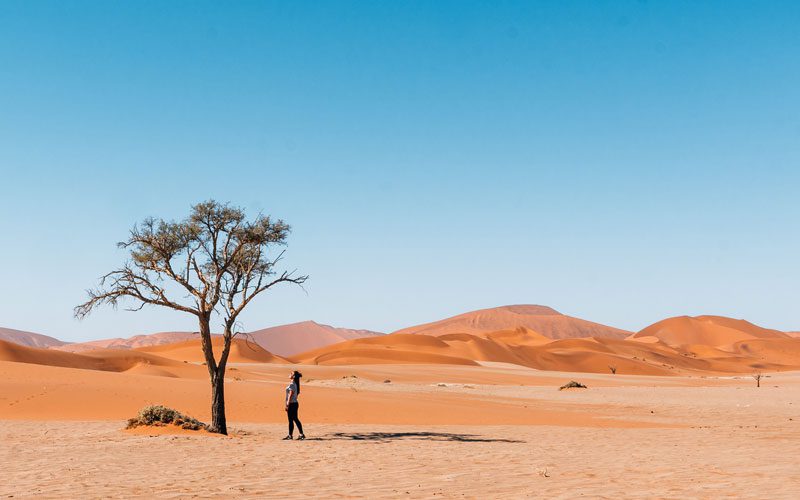 "Dramatic. That's the perfect word to describe Namibia, with its sand dunes that tower like mountains in Sossusvlei, thriving Etosha wildlife reserve, endless blue horizons, the wild Namib Desert, and rugged and isolated Skeleton coastline. From Fish River Canyon, to the 900 year-old fossilised trees of Deadvlei and the rock archways of the Spitzkoppe, our whole time there felt like a lesson in understanding just how small humans are. It's a dream photography destination, and one of the most strikingly beautiful countries we've ever seen."
Follow Mark & Miranda's adventures at thecommonwanderer.com
Annika – The Travelettes
We Travelettes love India, a country that is not only super diverse and utterly fascinating but also seems to be the gateway to solo travel for many. Editor in chief Katja took her first solo travelling steps here and we think it is due time to return in 2022, if it's safe to do so. Ocean, mountains, and chaotic cities – we want to see it all. We want to find tigers and explore hidden temples, eat all the food we can muster and drink a lot of chai. And we would also like to tick one important bucket list item off: attend an Indian wedding and wear the prettiest sari we can find!
Follow Annika's adventures at  travelettes.net
 2022 bucket list sorted now? Check out our range of small group adventures.

Feeling inspired?