British culture is a curious and complex thing. Many think it's all about tea, pubs and talking about the weather, and well… they're not entirely wrong.
But these cornerstones of British culture are wrapped up in thousands of years of history and tradition, from the days of dinosaurs to the Roman Empire and the suffragette movement.

Those of us in the UK don't have to look far for compelling cultural experiences – they're all around us, whether you're drinking pints in a 500-year-old establishment or walking down storied streets which tell the tales of generations gone by. Crack open the UK's cultural treasure chest with these close to home experiences.
1. Raise a glass of whisky in Scotland
If you want to get straight to the heart of Scottish culture, a sip of local whisky is your ticket there. With a history stretching back hundreds of years, whisky is deeply engrained in Scottish culture, and it's believed to be the first place this much-loved liquor was ever made. Pay a visit to the nearest pub and you'll be greeted by an impressive array of Scotch. Despite being made with just four ingredients, each bottle offers something unique, with flavours ranging from light and floral to rich and smoky. Whatever you go for, drinking whisky in its birthplace is an experience worth raising a toast to!
SAMPLE SCOTCH ON OUR HIGHLIGHTS OF SCOTLAND TOUR
2. Walk alongside Hadrian's Wall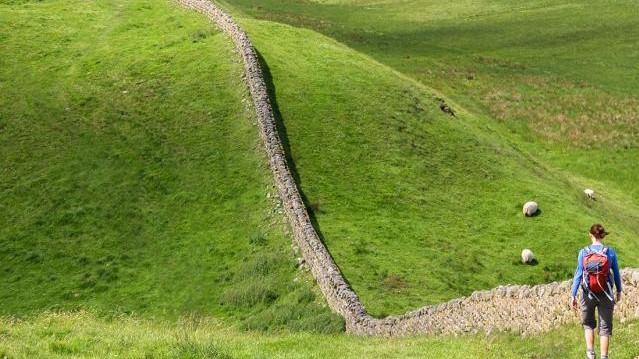 Roman emperor between 117 and 138, Hadrian was known to rule justly, and his inclinations skewed more towards building and architecture than fighting and conquering. Of all his projects, Hadrian's Wall is the most revered, spanning an impressive 73 miles along the north of England and built with the goal of separating the Romans from the northern Picts. Today, a scenic trail follows the remains of the wall, allowing you to walk in the footsteps of the 15,000 men who constructed it over a six-year period. Punctuated with ancient bridges, forts and scenes of the quintessential British countryside, trekking this trail is the ultimate way to experience the country's Roman history firsthand.
SEE IT YOURSELF ON OUR HADRIAN'S WALL WALKING ADVENTURE
3. Sip craft beer on the Jurassic Coast
Stretching from Devon to Dorset, England's Jurassic Coast is littered with ancient riches, and if you explore on foot, you may come across fossils of extinct sea creatures and bones of aquatic dinosaurs. But it's not only prehistoric relics that make this pocket of the country so enthralling – a scattering of excellent breweries, pubs and tap rooms provide a perfect respite for weary walkers and fossil hunters. Known for producing and serving a fantastic selection of craft beers, there's no better way to get a taste of local culture. Where else can you walk through 185 million years of history and finish up at the pub!? If you are in the Jurassic Coast, why not check out Cornwall, here are some reasons to!
STEP BACK IN TIME ON OUR WALK THE JURASSIC COAST ADVENTURE
4. Take a historic train ride up Mt Snowdon
No trip to Wales is complete without a visit to its tallest peak, Mt Snowdon. Cloaked in ancient myths and local stories, the mountain is said to be the resting place of a giant who lost a battle against King Arthur. While some travellers prefer to tackle Snowdon on foot, the slopes are also home to a historic railway which has been carrying passengers up the mountain since 1896. The train gives you the option to reach new heights without breaking a sweat, and experience a piece of the region's history while you're at it. Carrying you three quarters of the way to the summit, the views are simply unforgettable.
MARVEL AT MT SNOWDON ON OUR WALES: SNOWDONIA & SURROUNDS TOUR
5. Indulge in tea and scones in the Cotswolds
The tea room is a British institution. Warm scones with a pat of jam, steaming teapots, milk please, one sugar – it doesn't get much better than that. In the late 19th century, it wasn't socially acceptable for women to visit pubs or restaurants frequented by men, so tea rooms became a safe space to congregate outside the home. With groups of suffragettes gathering over a pot of tea to discuss their activism, these establishments were a key piece in the women's liberation movement. Today the doors are open to all, and if there's anywhere that does the tea room right, it's the Cotswolds. The fare on offer hasn't changed much in the last few hundred years, so get cosy and enjoy a slice of British history.
SHARE SOME TEA ON OUR CYCLE THE COTSWOLDS ADVENTURE
Check out our full range of UK adventures here.