There are some things you'll only know if you've been to a place – reading about it just doesn't do the trick.
Especially when the country in question is as magnificently unique as Cuba.
After my Intrepid trip there, I've concluded that there's 10 things you can only know from being in Cuba and experiencing its magic for yourself. Here they are:
10. The joys of switching off from technology
It's hard to explain what a shock to the system it is being sans wifi. In today's fast-paced, hyper-connected world, there are so few places where we can be truly present. Most places in Cuba fit this bill, though.
Approach your trip with the right attitude and you'll be surprised and delighted by how good disconnected travels are for the soul. After the slight withdrawal symptoms settle down, that is.
9. The atmosphere and architecture of Cuban cities is unparalleled
…Have you seen a Cuban city?! Pictures simply don't do their beauty justice. Whether you're an architecture lover or an avid Instagrammer, there's simply nothing as atmospheric as Havana's charming streets and Trinidad's colourful treats.
Top tip: if you're in the market for an underrated Cuban gem, head to Cienfuegos. The city ended up being an unexpected highlight of my trip. As well-kept as it is majestic, it's quite the delight to wander through.
VISIT CUBA ON A SMALL GROUP ADVENTURE WITH INTREPID TRAVEL
8. Food variety is something to be treasured
It's fair to say that Cuba isn't known for its food scene. But you can't change what the political situation – and its subsequent importing rules, or lack thereof – dictate. What you can do, however, is make peace with the fact that quite a lot of your meals will be made up of rice, beans and a protein.
That said, the food in Cuba is incredibly local and fresh. Overall, I was pleasantly surprised by the majority of meals I had there – namely the organic farm of Finca Agroecologica El Paraiso in Vinales, the seafood pretty much everywhere, and my fave discovery – fried plantains.
READ MORE: WHY CUBA'S FOOD SCENE MIGHT SURPRISE EVEN THE BIGGEST FOODIE
7. There's no such thing as too much rum
Don't love the food? No problem. If you've been to Cuba, you'll know just how synonymous rum is with daily life. Lap it up, enjoy that it's freely poured (no stingy shot glasses like in the West!), and feel free to drink it at lunch, as well as dinner.
After all, isn't that what vacation are for?
6. Havana good time is not hard to do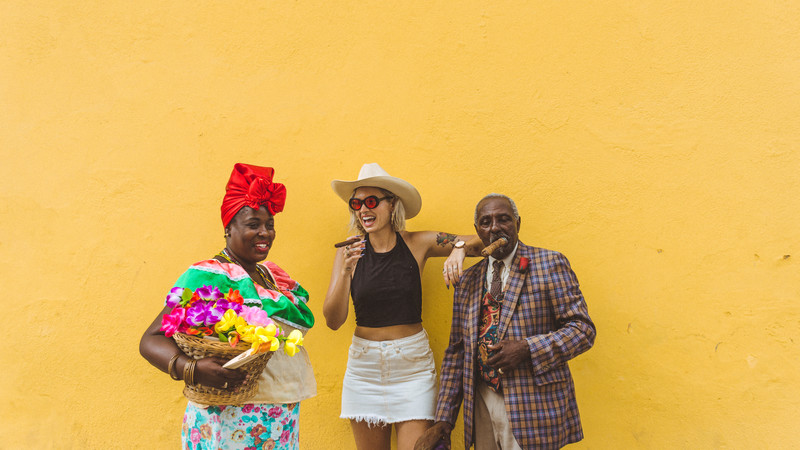 Now this point might – in part – be thanks to the above rum-related one. But, really, the energy all over this special island is infectious. Leave any apprehensions and awkwardness at the door and join the party.
SUBSCRIBE TO INTREPID'S NEWSLETTER FOR TRAVEL TIPS, INSPIRATIONAL STORIES, GIVEAWAYS & MORE
5. If you're not clubbing in a cave, you're not doing it right
If you want to really experience Cuba, let the rum course through your veins and lead you to one of the best parties could hope to encounter: a club in a cave. Yes, that's right. It's a can't-miss in Trinidad, and it makes for a sweaty delight of a night.
4. You'll never be as rhythmic (or charming) as a local
You might need a drink (or three) to get you onto the dance-floor. Cubans sure don't. And if there's one thing you'll find out nearly immediately, it's that they're better dancers than you are.
Don't believe me? Visit aforementioned cave club and see.
READ MORE: I WENT TO CUBA FOR THE CARS AND CIGARS, BUT IT'S THE PEOPLE THAT'LL STAY WITH ME
3. Casa Particulares are the most special type of accommodation
Let me tell you that no hotel in Cuba will match the authentic vibes served up by a Casa Particular.
These locally-run private homestays are one of the easiest, most rewarding ways of interacting with locals in Cuba. And it doesn't even matter if you don't speak a lick of Spanish – the parent-like warmth and ready smiles you'll be greeted with don't require a common language.
2. The ability to go with the flow is a skill and a necessity
By this point in reading – and if you've travelled to Cuba – you'll likely realise that it really is different from any country on Earth. And its charm is in the fact it doesn't play by the rules. But sometimes this means that things don't quite go as expected. Whether it's hot water not working, unexpected museum closures, random roadblocks or more, it's vital you go with the flow here.
Cuba teaches you that it's not just about the destination, it's about the journey. And what a memorable journey it is.
READ MORE: WHAT CUBA TAUGHT ME ABOUT LIVING LIFE TO THE FULL
1. There's no country more beautiful, nor people more warm
Speaking of memorable, it's likely that the nature here is not something you'll forget. It might be hard to tear yourself away from the iconic cars and pastel streets, but it's worth doing. Because from the karst mountains of Vinales to the waterfalls near Trinidad, to say this country is easy on the eye is an understatement.
But, like with anywhere you go, it's the people that make the place. And if you've travelled to Cuba, you'll know it's the Cuban locals' generosity and resilience that'll keep you coming back for more.
Ready to experience a country unlike any other? Check out Intrepid's amazing range of small group tours in Cuba.
Feeling inspired?