Cuba is a destination of head-scratching contradictions and mind-bending experiences.
Two different currencies mark local palms out from foreign ones. Eye-wateringly long queues for Wifi cards (the only way to access the internet) twist through every town and city. Half-century-old cars ferry new, shiny tourists around mysterious, deserted roads. Houses with crumbling facades disguise a thriving hotbed of activity within; smoking, salsa and Spanish spill out the window and snake into the ears of passers-by in the street.
Cuba calls all travellers by name and each one who visits will find something different hidden behind its now slowly-melting mask.
But if you're visiting the island as a solo female, especially a brown-skinned one, you'll also be privy to a set of highly unique experiences – some of which are frustrating, others which are guaranteed to leave your camera memory overflowing and your mind open-wide.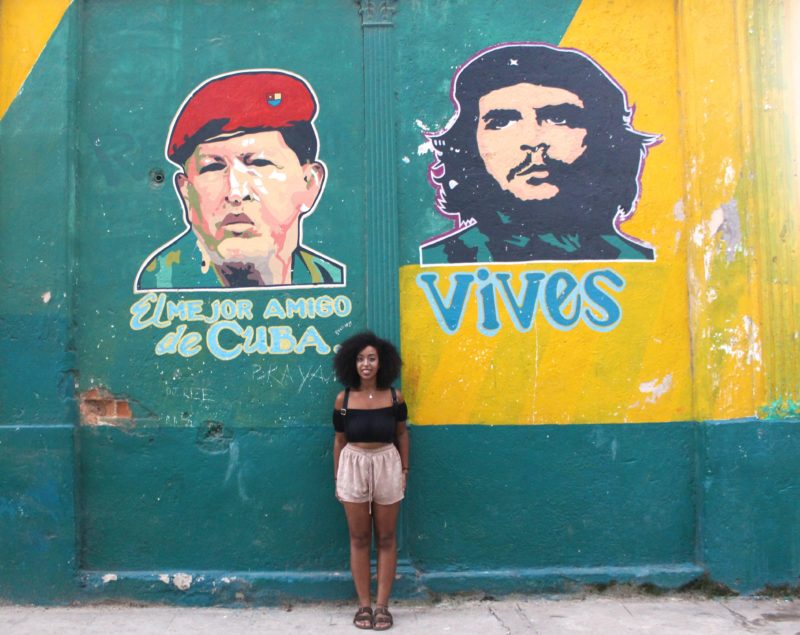 Here's some insight into the challenges I faced, and what you should expect as a solo traveller there. But also a little insight into why Cuba, to this day, remains my favourite country in the entire world…
High: Super-friendly locals
Cuban culture is open and warm, so get out there and talk to the people to understand how the country really works. The Caribbean island is rapidly opening up to tourists and the locals are unreservedly enthusiastic in their attitude towards foreigners.
I quickly realized how warm locals are during a walk around Havana's captivating old quarter, Habana Vieja, when my on-display camera sparked conversation and invited cultural exchange. So with an open mind and a little Spanish, I was quickly able to make friends. In my first few hours in the city, I was approached by a locals and ended up spending the rest of the day with them. I smoked real Cuban cigars, drank authentic Cuban rum, conversed in Spanish and snapped the kind of photos I never would have access to had I not taken a chance and got talking to people.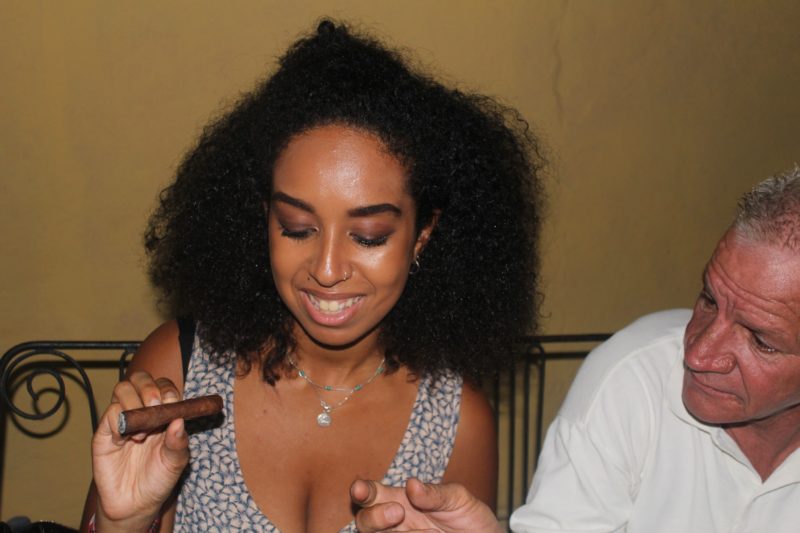 I also met two 22-year-old local guys, who sold antique books to tourists in Havana's oldest square, Plaza de Armas. They told me about Afro-Cuban customs (I was shown how they made special food offerings to the Gods of Santeria, as part of a popular religious practice in Cuba meaning "the worship of saints") and helped with street food purchases (there are two prices for everything in Cuba; one for tourists, another for locals).
The boys later invited me to the impossibly-cool club, Fabrica de Arte Cubano which is a warehouse-turned-art exhibition with mixture of live Cuban and house music at night. Afterwards, we stayed in touch for the duration of my time in the country and I know should I return, I have Cuban friends to call on.
SUBSCRIBE TO INTREPID'S NEWSLETTER FOR TRAVEL INSPO, COMPETITIONS, GIVEAWAYS & MORE
Low: Over-friendly locals
The openness of Cuban culture, for me, led to some downsides too. Cuban Spanish is sticky with innuendo and flirtation; in the casas, it's normal for men to saunter about in just their boxers. Cat-calling (known as "piropo") is commonplace. And the cultural differences come to a head on the dance-floor where the Cuban concept of personal space is far removed from what you might be used to back home.
Things weren't made any easier for me as a woman who resembled a Cubana with my brown skin and Spanish skills.
If you find it hard to handle, learning some phrases in Spanish may make you feel more in control. Or, as much as it pains me to say it, you can walk around the cities with a male accomplice to lessen the chance of being approached by other men.
You can also pick a tour operator like Intrepid that'll give you both an authentic, local experience and the comfort of like-minded travelers. Their itineraries in Cuba range from sailing trips to cycle trips to Cuba-on-a-shoestring trips.
And if you find yourself in Havana and at a loss, I'd recommend trying a local-led Urban Adventures day tour (there's everything from Afro-Cuban Religion Tours to Classic American Car Tours).
High: A travel experience like no other
A trip to Cuba is never boring. If you're not making friends with the locals, exploring the country in rattling old cars, or sipping on a Cuba Libre in a rooftop bar or discovering the best white-sand beaches in Cuba, you'll find yourself completely captivated by the life and laughter pulsating from every corner of the country. And these good vibes are found everywhere you go.
Havana boasts pastel-coloured apartment blocks and towering palm trees side-by-side, glittering '50s Chevrolets and eclectic architecture. Time-warped Trinidad boasts panoramic views of the city from the Historical Museum, an underground club in a cave and, transport via horse-and-carriage should you want it.
Be sure to also make it to Vinales, the heart of Cuban country life, where you can experience firsthand the way in which Cuban cigars are made (to find out what it's like meeting a tobacco farmer on an Intrepid trip, click here). And then the quaint town of Cienfuegos (known as "Paris of Cuba" due to its French architecture) also offers spectacular access to Caribbean nature with morning boat trips on the gorgeous Guanaroca Lagoon.
The beaches are some of the most unspoiled in the Caribbean and the best ones are found on the eastern tip of the country in the Caribbean-influenced Baracoa or on the southern side of the country (Playa Sirena).
Low: Frustrating customs

Don't go to Cuba expecting everything to work logically and methodically; the country still operates within a intense bubble of bureaucracy. For Westerners, this can prove both confusing and frustrating at times. Queues for club entry, Wi-Fi cards, food and water and tourist attractions often move at a snail's pace and sometimes, even after waiting for what feels like a crazy-long time, you'll be denied what you need because the computer system has failed or, they've simply run out.
RELATED READ: WHAT CUBA TAUGHT ME ABOUT LIVING LIFE TO THE FULL
You may also find that prices for everyday items fluctuate a lot; Cubans often dramatically inflate costs for Westerners (often right before your eyes), so having fluent Spanish or a keen eye, will likely reduce your chance of getting scammed in the street.
I remember one day purchasing churros from a truck on Calle Obispo; my Spanish was great and I paid 0.50c for my sweet snack. The next day I returned and, feeling lazy, spoke to the vendors in English. "$1" they chimed, without missing a beat when I asked them how much. I protested that the day before the price had been half that but they denied charging me two different prices.
But although things like this are frustrating, you can't take them personally and you can't change them, and so they're worth viewing as part of the island nation's charm.
VISIT BEAUTIFUL CUBA ON ONE OF INTREPID'S SMALL GROUP TOURS
High: A safe environment for all
Although the cat-calling I experienced was annoying, I never truly felt hassled or in danger during my month-long trip. Cuba isn't known for the drug wars and tourist-targeting crimes that plague many of its Caribbean and Central American neighbours and you can freely roam the streets at night in the Old Quarter of Havana as a woman (I did), but should always exercise caution.
Street crime is petty and insidious – but rarely violent. From the travellers I met in Cuba and those who have visited in the past, I never heard any negative crime experiences.
High: Blending in
Half a century of imposed Communist ideals didn't leave Cuba with the best record on human rights, but it did help create somewhat of a meritocratic society where homelessness is non-existent, healthcare is exceptional and pretty much all Cubans own their own property. As you might suspect, this is not the norm for many Caribbean countries and it's part of what gives Cuba its uniquely sheltered yet enterprising feel.
During a tour of Havana, my Intrepid tour guide told me that racism and colourism isn't as big a problem as it is in many other Caribbean countries. I noticed more blended families and couples in Cuba than I had in any other country I'd ever visited and realized that terms such as "negrita" (dark-skinned girl) or "mulatta" (mixed girl) were terms of endearment.
This means that if you're dark-skinned in Cuba and you forgo the Western dress-code, hide your fancy camera and master the notoriously thick Cuban accent, you could end up saving money and avoiding some of the street hustle. Cubans have two prices for almost everything; museums, club entry, street food and local transport is a fraction of the cost if you can pass, like I did, at times.
—
Cuba doesn't play by the normal travel rules. And the result for many visitors, once they arrive, is an ensuing culture shock followed by a series of truly unforgettable experiences. Although solo female travel can be challenging (and being black often adds a whole new dynamic to travel in Cuba),  remember that these elements will grant you access to a wealth of unique opportunities that your counterparts may not get.
So, talk to the locals, enjoy the offers of salsa lessons, blend in and brush up on your Spanish; Cuba is calling you.
You'll never regret a trip to Cuba; it's unlike anywhere else. Check out our range of small group adventures there.
Pssst…Got the urge for adventure, but no one to go with? Check out our new range of trips specifically for solo travellers too! 
—
(All images c/o Georgina Lawton – except beach and Trinidad photo c/o Intrepid Travel)
Feeling inspired?