Cuba's a big old island, and the thing about islands is, it means beaches left, right and centre. Well, maybe not in the centre; Santa Clara, Camaguey and Vinales are a different story entirely.
But we're not here to talk about the cigar-puffing, tobacco field-strolling, cave-exploring, Chevrolet-cruising side of Cuba, much as we love it. We're here to talk about Cuba's incredible beaches.
The best beaches in Cuba
1. Varadero
With heart-melting destinations like Cienfuegos and Trinidad on the south coast, you know it's going to be a good scene down there. But if you're like us, and your tastes are a little more rugged (we don't mind a bit of green bushy backdrop, or a little hike before the sand starts) then check out the north coast. See that wafer-thin strip of land sticking out from the top of the mainland on the map? That's the Hicacos Peninsula, 20 kilometres of white sandy gold. Just Googling pictures of it makes your eyes sting. And the beauty is, it's only a couple of hours away from Havana.
2. Playa Ancon & La Boca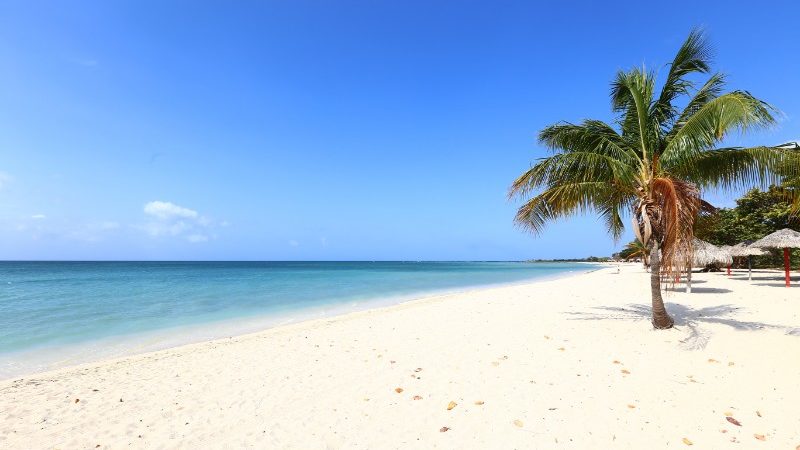 While the southern beaches may not have the wow factor of those in the north, there's one must-see spot that we'll always get behind. Playa Ancon is arguably the finest piece of shoreline on the south coast. It's close to Trinidad, and its fine white sands and calm, clear waters offer a nice way to break up your explorations in town. People are pretty hip to it though, so if you want to escape the buzz and channel your inner Ernest Hemingway, head to La Boca, a gorgeous little fishing village with shady trees and a quaint wooden villa or two.
RELATED: WHAT HAPPENS WHEN YOU GET BLISSFULLY LOST IN TRINIDAD, CUBA
3. Playa Paraiso
Those keen to get off the mainland and explore some of the small islands down south, we have two words for you: Playa Paraiso. You can probably guess what this translates to in English. If any beach deserves the paradise tag, it's this one. This gem is found down in Cayo Largo, the second largest island in the Canarreos Archipelago. By second largest, we mean it has an airstrip and a couple of other essentials. And even though it features in many a best-of list, its superstar internet status is thankfully not reflected on the ground. Locals might even serenade you with folk songs while you sip your mojito under your umbrella at the one and only bar.
4. Cayo Rico
Now that you're in the area, don't miss the beach on nearby Cayo Rico. This one comes with all the same spoils – the umbrellas, the cocktails, the pristine blue water and white sand – but with the added bonus of interesting wildlife. Resident iguanas vie for attention alongside hutias, those strange little creatures of the Caribbean. Wikipedia may call them rodents, but for rodents, they're awfully cute. We caught them playing with the iguanas, running around in circles and chasing their tails. For some of us this meant better photo ops than all the beaches in Cuba combined.
EXPLORE CUBA'S SOUTHERN ISLANDS IN DEPTH ON INTREPID'S CUBA SAILING ADVENTURE
5. Baracoa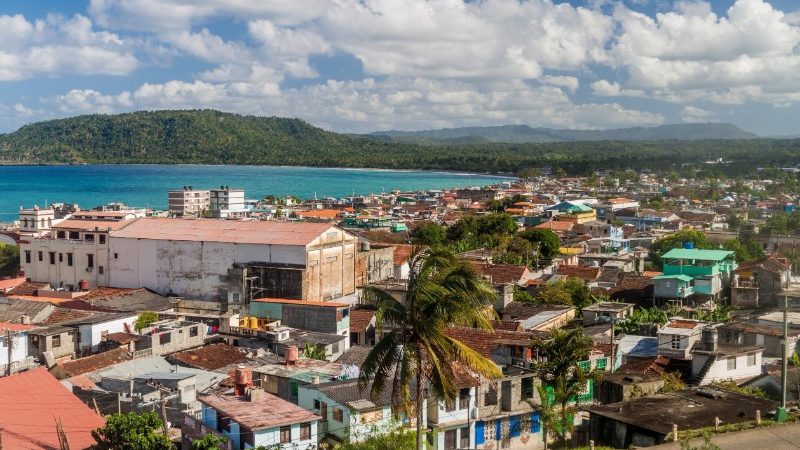 This one's a town, not a beach, but we're bending the rules because it's too good not to include. Located way out near the island's eastern tip, Baracoa boasts not only an impressive bunch of beaches but a colourful history, a unique and thoroughly Cuban atmosphere, and swathes of lush primary rainforest. Beach-wise, Playa Maguana is the go-to, but if you want something quieter, go for Playa Nibujon. Better yet, if you have time, drive south for an hour or so down the coast to heavenly Playa Manglito and park yourself on the shore at the little seafood restaurant right on sand, where you can tuck into the catch of the day.
6. Playa Los Pinos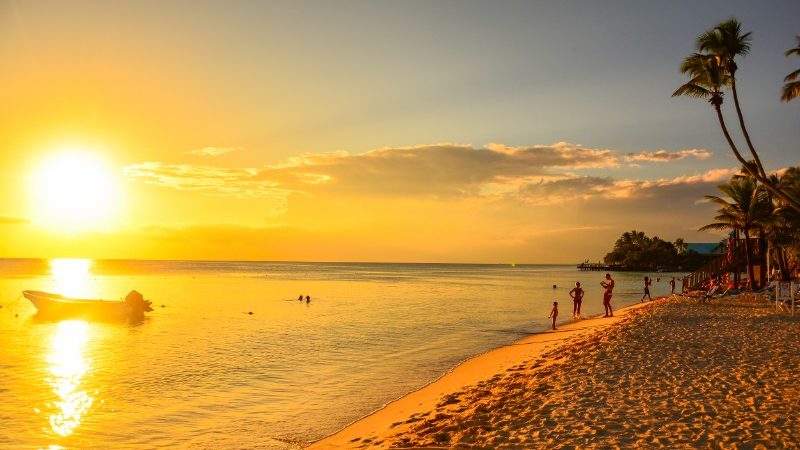 Last but not least is Playa Los Pinos. In fact, it might just be the best. You'll find it on Cayo Sabinal, a long island running parallel to the north coast. Its utter perfection has been preserved by its very remote location. Travelling several kilometres through the bush to get there is half the adventure, because these rough and ready woodlands are brimming with deer, boar, butterflies and wild horses. The beach, on the other hand, teems with very little, least of all people. Just miles of deserted, unspoiled coastline. It actually feels a bit like the edge of the world.
Our Cuba Beach Faq's
Does Cuba have beaches?
Yes! Cuba has some of the best beaches in the world. As Cuba is an island there are beaches in every direction.
Where are the best beaches in Cuba?
You can find stunning beaches all around Cuba, but we must say the northern beaches do have more of a wow factor!
Ready to explore Cuba in depth? Hit the road with Intrepid for sun, sand, cigars and Chevrolets. 
Feeling inspired?