Whether you do it for the 'gram, to show friends and fam, or just for yourself, it's almost irresistible to not whip out a camera and snap away while travelling. It's like you can't believe what you're seeing with your own eyes, so you must capture it to confirm the amazingly epic thing that you saw/tasted/touched for years to come.
Personally, I'm a colour lover: big, bold, bright colours stop me in my tracks wherever I go. It doesn't matter what it is: I want pictures of it, next to it, with it, straight on and from a side angle. Colour instantly fills me with joy. And coming from London, a city known as 'The Big Smoke', I find myself desperately searching for colour-filled cracks and corners amidst all that grey.

But not in Mexico. Meant in the absolute best way, Mexico assaults you with colour; it's as if grey and beige have been banned. So if you're also a colour lover, Mexico should definitely be on your must-see list. Don't just take my word for it though: here are the photos to prove it (all taken on Intrepid's epic 15-day Best of Mexico adventure).
Food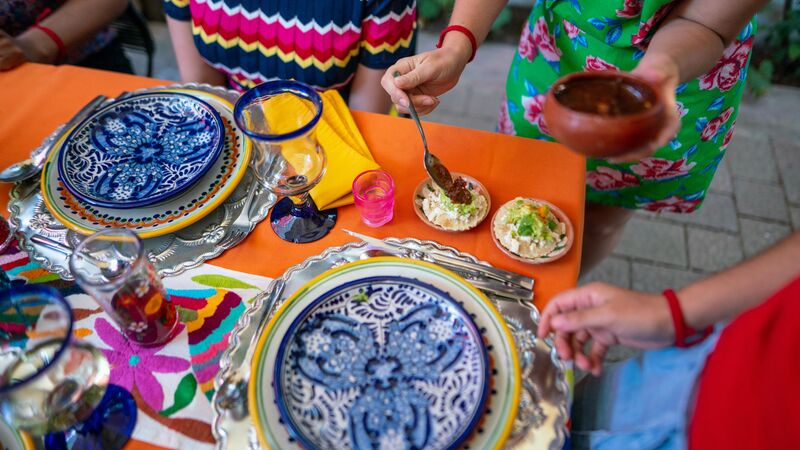 Easy first choice because 1) I love food and 2) Mexican food is considered to be one of the best cuisines in the world. Adaptable to most dietary requirements, everything is full of flavour and, crucially, REALLY COLOURFUL. I tried to maintain a pesceterian/veggie diet, and got to eat everything from shrimp tacos to zucchini flower-covered pizzas… even cactus! Thanks to the private cooking class our Intrepid guide Valentina arranged for us, we were also introduced to diced mango on top of guacamole. Try it, then let me know how your life has changed for the better.
LOVE TO EAT? JOIN US ON OUR 9-DAY REAL FOOD ADVENTURE THROUGH MEXICO NOW
Markets
The only times we went into shops during our trip were to get sim cards (how do we Instagram without data?), drinks and snacks. If you don't do the majority of your shopping in markets, you're doing Mexico wrong. The streets are lined with stalls, and you can find everything from vibrant trinkets to vivid edible treats.
EXPLORE OUR FULL RANGE OF SMALL GROUP ADVENTURES IN MEXICO NOW
Lucha Libre
When in Rome! Or rather, slap-bang in the centre of Mexico City. On your way to Arena México to enjoy a few rounds of sweaty dudes in Lycra grappling with each other, don't forget to grab yourself a multicoloured mask from one of the stalls outside. Then strike a pose in your newly purchased máscara, as demonstrated above.
RELATED: LIVIN' LUCHA LIBRE IN MEXICO CITY
Cacti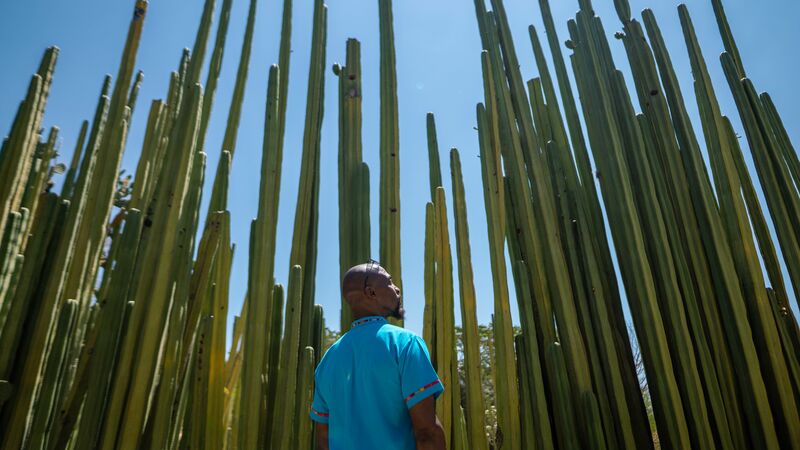 Put a group of millennials in a country that has the most cacti in the world (669 species at last count, according to Mexico's Ministry of Environment and Natural Resources) and what do you expect? We even ate the stuff.
One of the best parts of the trip was undoubtedly our visit to the Ethnobotanical Garden in Oaxaca (Jardín Etnobotánico de Oaxaca). Fresh from Mexico City's hustle and bustle, it was lovely to unwind with a leisurely stroll amid prickly friends.
Buildings
From teal to topaz, ruby reds, fluorescent fuchsias and everything in between, I'd never found myself particularly fascinated with buildings, but it's hard not to be in Mexico.
RELATED: WHY YOU SHOULD VISIT IZAMAL, MEXICO'S MOST PHOTOGENIC TOWN
A particularly photogenic must-visit is Izamal, a golden town on the Yucatan Peninsula. There's nary a building in sight that's not painted in a shade of yellow. Be prepared to have Walking On Sunshine stuck in your head while snapping away at the citrusy spectacle.
Cenotes
RELATED: EXPLORING MEXICO'S CENOTES AND SWIMMING HOLES
The crystal blues and gorgeous greens of cenotes certainly make for perfect Instagram snaps…but also tourist traps. A cenote is essentially a waterhole in the middle of a cave and, although there are literally thousands of them on Mexico's Yucatan peninsula, you can sometimes find yourself fighting for space. However, thanks to our wonderful local leader Val, we got to avoid all of that as she took us to some lesser-known but equally stunning ones. We had the otherworldly waterholes all to ourselves and got to relish in their eerie splendour.
Ready to experience Mexico in all its colourful glory? Explore our full range of small group adventures now. 
All photos C/O Intrepid Travel. 
Feeling inspired?