This blog was originally published on May 4 2016 and has been updated for accuracy.
The sounds of salsa beating through your body, the tantalising scent of chipotle and coriander wafting through the air and the smile of a local as they greet you with a friendly 'hola' in the streets. This is Mexico; in all its colourful, historic, delicious and joyful glory.
EXPLORE OUR FULL RANGE OF SMALL GROUP ADVENTURES IN MEXICO NOW
An adventure through Mexico is as diverse as it is exciting. From heading deep into the jungle to explore the ancient Maya pyramids of Calakmul to swimming in the secluded cenotes of the Yucatan Peninsula. Tasting local mezcal in Oaxaca or stuffing yourself to the brim with authentic tacos on the streets of Mexico City. It wouldn't be a trip to Mexico without a refreshing dip at one of the stunning beaches (Tulum is especially picturesque with its jagged coastline and white sand) and dressing up and witnessing the festivities of Lucha Libre wrestling performance is a must.
All of this (and more) is what Mexico looks like on a small group tour with Intrepid Travel.
1. An Intrepid group at Calakmul – a Maya archaeological site located in the jungles of Mexico's Yucatan Peninsula.
2. Intrepid leader, Valentina, shows the group the highlights of Mexico City.
SUBSCRIBE TO INTREPID'S NEWSLETTER FOR TRAVEL TIPS, COMPETITIONS, GIVEAWAYS & MORE
3. Learning to make mole at a cooking class in Oaxaca.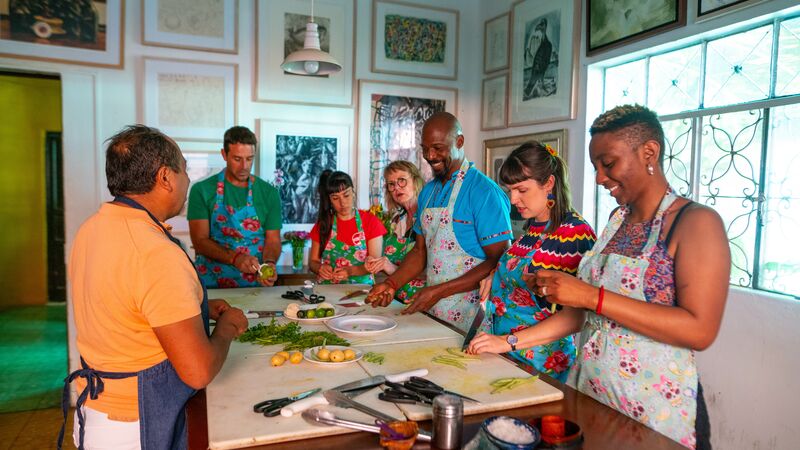 4. The finished product – YUM!
HUNGRY? SECURE YOUR PLACE ON OUR 9-DAY MEXICO REAL FOOD ADVENTURE NOW
5. Fun exploring the cactus garden in Oaxaca.
6. Sunsets always look better in an agave field in Valle de Tlacolula.
7. Mexico's answer to smashed avo – the Mexican Eggs Benedict in trendy Bacalar.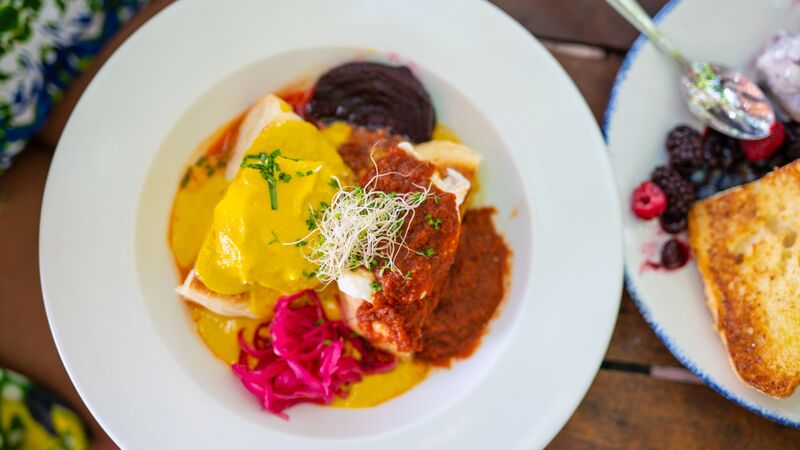 8. From breakfast, to pure paradise. Who wouldn't be thrilled by this view of Tulum's gorgeous waters?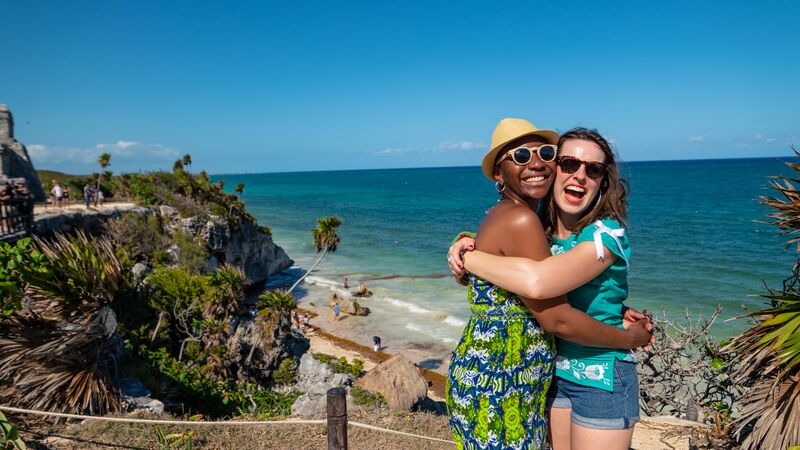 9. Or you could grab a mask and get involved with Lucha Libre, Mexico's theatrical professional wrestling.
READ MORE: LIVIN' LUCHA LIBRE IN MEXICO CITY
10. WOAH!
11. After that, a quick dip in the Nayha cenote is just what the doctor ordered.
READ MORE: EXPLORING MEXICO'S CENOTES AND SWIMMING HOLES
12. And an ice cream in the pretty city of Izamal is another excellent way to cool down…
13. …. before yet another dip in Bacalar Lagoon.
14. Is there anything more Mexican than eating mango off a stick, covered in rainbow-coloured chilli salt? We think not…
READ MORE: I THOUGHT I HATED MEXICAN FOOD. THEN I WENT ON A REAL FOOD ADVENTURE AROUND MEXICO
15. Unless it's this tasty street taco in Mexico City.
Want to see Mexico for yourself? Check out our full range of small group tours around this beautiful country.
Feeling inspired?