If you're planning a trip to Mexico's Yucatan Peninsula, chances are you've got Chichen Itza, Tulum and Playa del Carmen on your list of places to visit, and with good reason (they're darn gorgeous).
But there's another destination you should add to your radar – the sun-yellow town of Izamal (a free round of mezcal to anyone who's heard of it). This fascinating, often-overlooked destination is new to Intrepid itineraries and we're super excited about it.
Here are seven good reasons you should visit:
1. You'll escape the tourist crowds
During peak season Mexico's hot spots can be crazy busy, especially along the Yucatan Peninsula. Izamal, however, is far less known to tourists and offers a much calmer vibe for those looking for something a little off the beaten track. As you wander the cobbled streets you'll see local people going about their day; pop into a tiendra (shop) or café and you're likely to receive a curious and warm welcome.
WHAT DOES A TRIP TO IZAMAL LOOK LIKE? WATCH THIS TO FIND OUT. 
2. It's accessible
We say 'off the beaten track', but Izamal is actually really easy to get to. It's a few hours drive if you're coming from coastal hotspots Tulum or Cancun, or a half-way stopover point between buzzy Merida and the ruins of Chichen Itza. And if you need to cool down at any point, there are loads of beautiful cenotes up and down the Yucatan Peninsula.

3. It will be your most photographic stop in Mexico
If you're a keen Instagrammer or amateur photographer, Izamal is a dream. In 1993 Pope Frances visited the town to deliver an important speech, prompting the locals to paint the buildings a striking yellow in honour of Kinich Kak Moo, a manifestation of the Maya sun god. The result is colourful and charming – cobbled streets flanked by golden walls piped in white, with a regular pop of purple bougainvillea, all set against a blue sky.
CHECK OUT OUR FULL RANGE OF SMALL GROUP ADVENTURES IN MEXICO HERE
4. There's an important Franciscan Monastery…
In the centre of town is the eye-catching Convento de San Antonio de Padua. Built in 1561 on the site of a destroyed Maya temple, it's one of the oldest Catholic monasteries in the Americas and its outdoor atrium is the second largest in the world (after the Vatican). Make sure you check out the Monastery's sundial, beautiful 16th-century frescoes and the central church, the Santuario de la Virgen de Izamal. Even today Izamal is a destination for pilgrims seeking the blessing of saints.
EXPLORE IZAMAL ON OUR 15-DAY BEST OF MEXICO ADVENTURE – TRIP DETAILS HERE
5. …and an ancient Maya pyramid right in the middle of town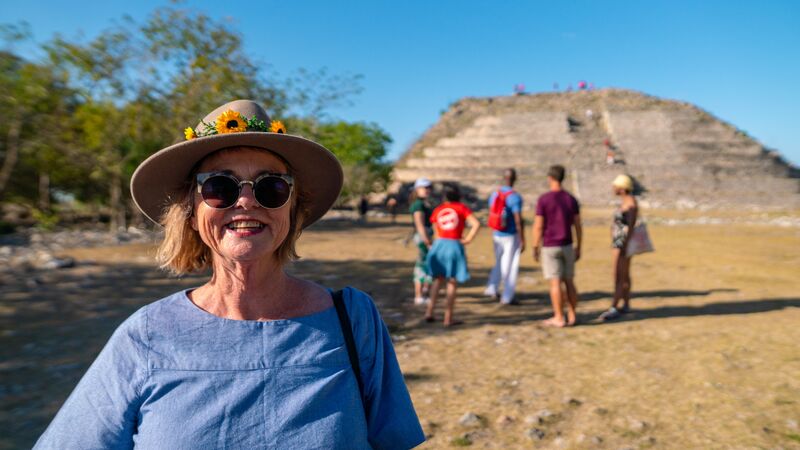 Many pre-Hispanic structures still exist in and around Izamal but the most striking the Kinich Kak Moo Pyramid (named after that same solar deity). Kinich Kak Moo, translated to 'fire parrot', had the head of a macaw and was said to descend to Earth to accept offerings of fruit, flowers, animals and spices when the sun was at its apex. The pyramid was – and still is – an important pilgrimage site. With a volume of 700,000 cubic metres it's one of the largest pyramids in Mexico, and climbing to the top (yep, it's allowed) affords expansive views over Izamal. Just make sure you take plenty of water and take it slow as it's a steep – and often slippery – incline. Entrance to the complex is free.
RELATED: 7 OF MEXICO'S BEST RUINS, AND HOW YOU CAN SEE THEM
6. There's fascinating mix of cultures and traditions
Izamal is often referred to as the 'City of Three Cultures' due to its fascinating blend of pre-Colombian, colonial and modern cultures. This is perhaps most obvious in the architecture (you can still see Maya stonework under the arcades of the Convento de San Antonio de Padua), but it's also present in the food, local dress, music and language. Around half the town's population speak Mayan (along with Spanish).
RELATED: I THOUGHT I HATED MEXICAN FOOD. THEN I WENT ON A REAL FOOD ADVENTURE AROUND MEXICO.
7. You can try some delicious and traditional Yucatecan cuisine
Yucatecan food is rather distinct from Mexican cuisine (even the tamales are prepared differently!) Drawing heavy influence from traditional Mayan dishes, as well as European and even Cuban cooking, it's packed with hot chilli, sour orange, lime and pork. Lots and lots of pork. Kinich Restaurant in town has a gorgeous rustic charm and caters well to the hungry traveller; make sure you try the regional specialty Chochinita Pibil or the lime soup.
Visit Izamal on a small group adventure with Intrepid now. Check out our range of small group adventures here. 
All imagery by Ben McNamara. 
Feeling inspired?