Because sometimes pulling countries out of a hat simply doesn't work…
Asia is often described as one of the most breathtaking regions of the world and with good reason. From Bali with its Hindu temples and beach clubs, and China with its ancient structures and silk production, to India with its impressive monuments and richly flavoured dishes. But there are two special countries sitting side by side that also attract travellers by the thousands – Cambodia and Vietnam.
While they're both similar in tradition, cuisine, and scenery, these countries each have their own distinct natural wonders, their own concrete jungles, and their own fascinating culture that'll be imprinted on your heart long after you've caught your flight home. But which one to travel to first?
So you don't have to flip a coin, we've put together a comprehensive, comparative list to help you make your decision.
Landscapes
There's a lot to love about Cambodia but this country's unique and varied landscapes will always find an extra special home in your heart (and take up space in your phone's camera roll). With large, forested areas, powerful rivers, enthralling mountain ranges, and impressive lakes, Cambodia's natural beauty stand above the rest.
Guaranteed to take your breath away, this country is full of national parks such as Ream National Park with its varied wildlife and important ecosystems and Bokor National Park, home to dense jungles boasting cascading waterfalls and gentle mountain streams, as well as paradise-like islands you're never going to want to leave – Koh Totang and Koh Thmei just to name a few.
JOIN OUR CAMBODIAN TRAVELLER ADVENTURE
Vietnam's landscapes are arguably more famous than Cambodia's with natural wonders such as Halong Bay with its rising islets and unspoiled nature and Mai Chau with its rice paddies and misty mountains, but both their geography and environment are actually quite similar. However, landscapes that are simply out of this world can't really be compared.
Featuring mountainous regions that touch the clouds and dense forests full of fascinating animal and plant life, as well as sharing one of the 12 great rivers of the world – the Mekong – with Cambodia (among other countries), the scenery in Vietnam is really quite extraordinary.
But that's not all. Vietnam's terrain is relatively untouched (the majority of Vietnam's population is condensed to its major cities) which allows you to feel as though you're the first person to discover its picturesque beauty.
VISIT HALONG BAY ON OUR VIETNAM EXPRESS SOUTHBOUND
Cuisine
You might think you already know exactly what to expect from a food-centric adventure through Cambodia (the cuisine centres around rice, noodles, and stir fry right?) but the culinary delights of this eccentric country will surprise you. Generally not as spicy as the cuisines of its southeast Asian neighbours, the food in Cambodia is strong in flavour and delicious in taste.
Whether you want to snack on some tropical fruit during your visit – think jackfruit, mango, and watermelon – or delight your tastebuds with a serving of fish amok, Cambodia's national dish, you'll never go hungry in this country.
Influenced by its neighbours, Vietnamese cuisine is characterized by its freshness and its use of herbs and vegetables. While some aspects of this country's cuisine still carry echoes of French colonialism, it's also come into its own over the last couple of decades with noodle soups, savoury pancakes, and baguettes filled with traditional meats and mixed vegetables all gracing restaurant menus wherever you go.
Whether you're into sweet or sour meals, steamed or fried foods, or ones that are crunchy instead of soft, you can find it all in Vietnam. And trust us when we say your tastebuds will be singing your praises long after you return home.
RELATED: YOUR ULTIMATE VIETNAMESE EATING GUIDE
Culture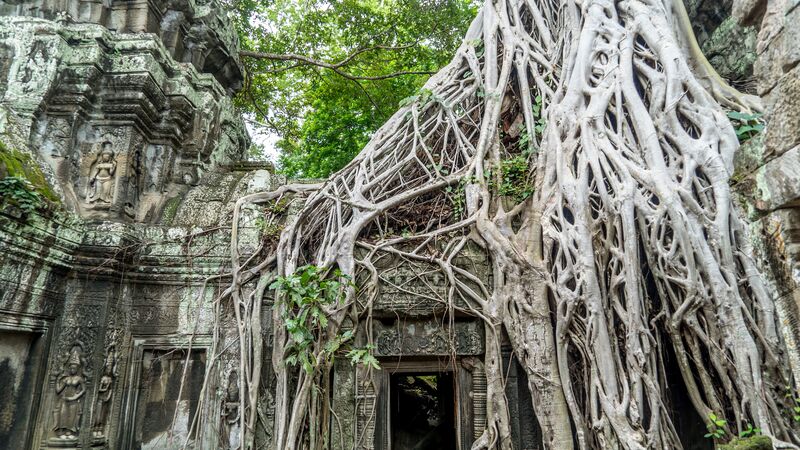 Cambodia's culture is an ancient one, encompassing centuries of tradition, respect, and honour with values such as kindness, honesty, and humility at the forefront of everyday life. This Khmer culture is so ingrained into Cambodians that it'd be hard for you to travel around the country without experiencing warm and humble hospitality from everyone you meet.
Since most of the population practice Buddhism, expect to see various religious festivals and everyday celebrations during your visit and be prepared to see orange-robed monks praying over small shrines left outside houses and walking around larger, detailed temples.
Some of the more famous and widely recognised temples are Angkor Wat with its stone sculptures and protective moats, Bayon with its elaborate design full of smiling faces, and Banteay Srei with its traditional Khmer art and intricate carving.
EXPERIENCE OUR PREMIUM CAMBODIA TOUR
Vietnam's culture is similar to that of Cambodia's with a central focus on connection and family, drawing inspiration from other neighbouring cultures such as Khmer, Chinese, French, and American to ensure celebrations such as paying respect to ancestors is an integral part of everyday life. This sees families come together for various festivals and national holidays, performing rituals, giving symbolic gifts, and feasting on traditional foods.
Unlike Cambodia, there isn't necessarily one main religion that the Vietnamese practice, rather the country is made up of several faiths including Buddhism, Confucianism, Taoism, and Catholicism. However, you'll rarely see disagreements between neighbours, friends or strangers in Vietnam as Vietnamese people prefer to be non-confrontational, especially in public. Instead, it's more likely to see them full of humility and optimism.
JOIN OUR PREMIUM VIETNAM IN-DEPTH ADVENTURE
Cities
Yes, Cambodia's cities may be chaotic but there's a beauty to that chaos with bustling markets, ornate temples, colonial-style buildings, and riverfront bars ensuring there's never a dull moment. When planning a trip to Cambodia there are a few must-stop-at cities including the country's capital, Phnom Penh, the peaceful and authentic region of Battambang, and Siem Reap with its trendy restaurants and epic street food scene.
If you're after a little more peace and quiet and you want to trade all the noise for silence, Cambodia also has plenty of small towns and charming villages to keep you occupied. From the blissful town of Kampot with its cascading waterfalls and mystic mountains to the sprawling ruins of Angkor, Cambodia's busy and quiet cities will steal your heart.
RELATED: A GUIDE TO BATTAMBANG, CAMBODIA'S UNDERRATED CITY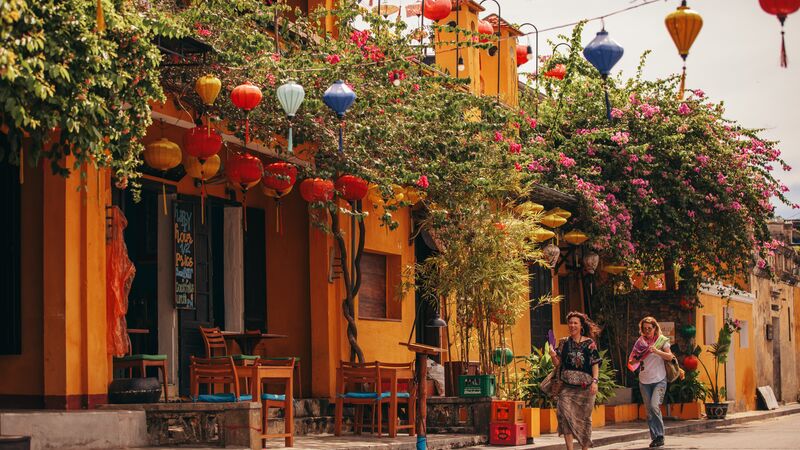 While Vietnam's natural beauty is unparalleled, there's also something to be said about its crazy, pulsating cities. From the rooftop cafes and motorbike-laden streets of Hanoi and the impressive imperial sites and the scented river of Hue to Hoi An with its incredible Old Town and shopping precincts and Ho Chi Minh City with its bustling markets and modern skyscrapers, Vietnam has a city for everyone.
But the cities in Vietnam aren't all fast-paced and packed to bursting. Looking for a more romantic place to spend your time? Stop in Dalat with its lakes, forests, and waterfalls. Or perhaps you're in need of a beach getaway? Make your way to Qui Nhon, a quaint and sleepy beach town that'll captivate your mind instantly. Maybe you want to head to the mountains? The colourful villages of Sapa are worth it every time.
The point is you won't run out of places to go to.
RELATED: TOP THINGS TO DO IN HUE
Weather
Cambodia's climate is tropical with hot and humid temperatures experienced throughout the year thanks to frequent monsoon winds. This weather pattern controls Cambodia's seasons, producing two distinct ones: the wet season (May to mid-November) and the dry season (mid-November to April).
Even if you're travelling during the wet season, expect temperatures to be sitting in the mid to high 30°Cs (they can even reach 40°C) so remember to keep properly hydrated during your travels and to bring some sunscreen and a hat with you to protect your skin against the sun's UV rays.
While the best time to visit this spectacular country is during its dry season when it's unlikely to experience any prolonged rainfall, travelling during the wet season is also a great time to see Cambodia's landscapes as the rice paddies and tropical foliage become super lush and green.
Vietnam's climate is influenced by its tropical monsoons and its varied landscape of mountainous regions with two distinct seasons similar to that of Cambodia – the wet season (May to October) and the dry season (November to April). However, the temperatures expected throughout the year differ depending on your location in Vietnam with the mountain region in the north dropping to a low of 4°C in winter and Ho Chi Minh City reaching a high of 36°C during the dry season.
While the best time of year to visit this magical country is during the dry season when rainfall is unlikely and clear skies reign supreme, you can still have a fantastic holiday at any time of the year as there's always great weather somewhere in Vietnam thanks to its diverse geography.
The verdict
Trying to figure out if you should go to Cambodia or Vietnam first is just like trying to figure out whether you want to eat dinner or dessert – that is to say, of course, you want both. So, we think that's the only acceptable solution to this problem. Why not travel to Cambodia and Vietnam on the same trip?
From our best of Vietnam and Cambodia tour to our premium Vietnam and Cambodia adventure, get ready to experience the best of southeast Asia on the holiday of a lifetime.
Feeling inspired?