UPDATED: This article was originally published in March 2016. 
A lot has changed over the past century in the US of A. Cities have boomed and declined. Movie stars have become president; ex-wrestlers have tried. Elvis made swivelling your hips scandalously cool.
But through it all, pockets of the US have stood hushed and remote, resolute protectors of wildlife, landscapes and communities that have been here far longer than anything else.
There's a lot to love about the USA's national parks. From deserts, canyons and mountains, to alpine forests, lakes, tropical reefs, even volcanoes – wilderness-wise, the US has it all. Here are ten of the very best American national parks and forests (in no particular order).
1. Zion – Utah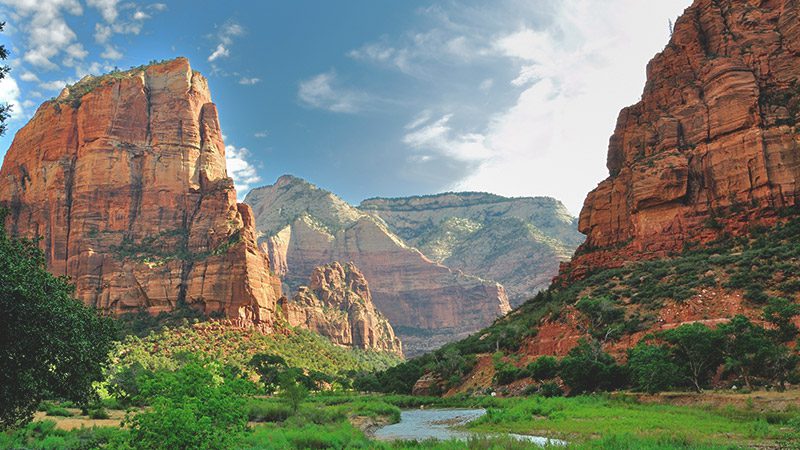 You know those famous pictures of waved canyon walls flooded with a light so fiery it looks unnatural? Well, chances are they were taken at Zion National Park. With its striped pink cliffs, emerald pools, clear streams and slot canyons, the park inspires the sort of reverence its name – meaning 'heavenly city' – demands. The two most famous hikes are Angels Landing and The Narrows, and are some of the best you'll find anywhere. A surprising amount of vegetation thrives among the rocky landscape. In spring, the park is dotted with colourful wildflowers; in autumn it turns a rusty yellow; and in winter, the snow dusts the cliffs like icing sugar.
CHECK OUT OUR RANGE OF SMALL GROUP ADVENTURES IN NORTH AMERICA NOW
2. Bryce Canyon – Utah

Bryce Canyon, a vast amphitheater of red rocky hoodoos, has often been described as a 'forest of stone' and a 'cave without a roof', and it's easy to see why. Hoodoos (say it out loud – it's fun) are pillars of rock that have been left standing due to erosion. You may have seen something similar in Turkey's Cappadocia region, or Australia's Pinnacles Desert, but nowhere have you seen them like this. This is rocky scenery at its best – especially at sunrise and sunset.
RELATED: 5 OF THE USA'S BEST ROAD TRIPS (AND WHY YOU SHOULD DO THEM)
3. White Mountain National Forest – New Hampshire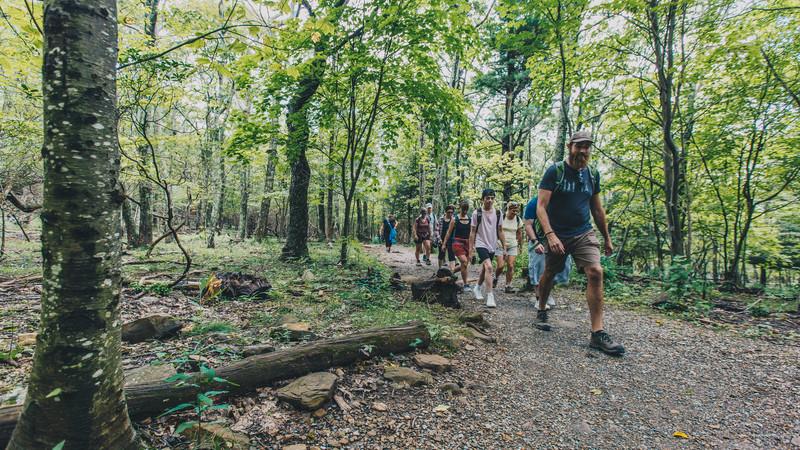 These lush mountains in New Hampshire are beautiful, rugged, and best explored while trekking the Appalachian Trail (or part of it; the full length of the trail is around 3,500 kilometres). It's got everything you'd want in a forest really; bubbling brooks, sheer granite cliffs, alpine peaks, and towering hardwood trees, along with whimsically named landmarks like Lonesome Lake, Lafayette Place, and Greenleaf Hut.
TREK A SECTION OF THE APPALACHIAN TRAIL ON OUR 9-DAY CAMPING ADVENTURE
4. Death Valley – California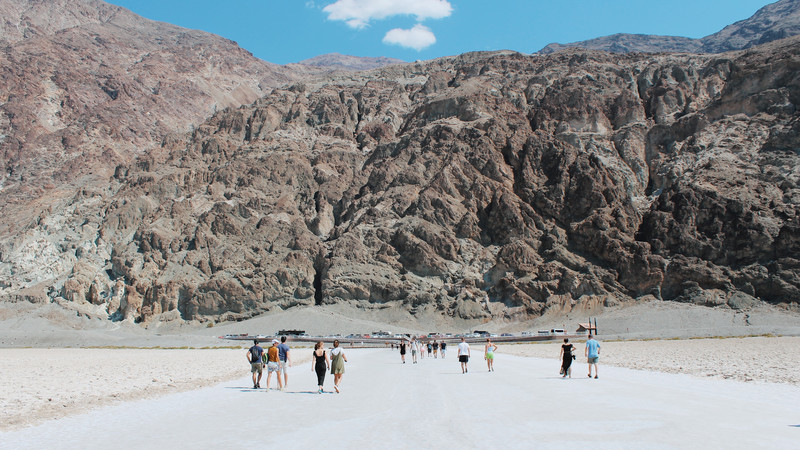 Death Valley is hot, hot, hot. The highest air temperature ever on record (57°C, or 134°F) was recorded at the aptly named Furnace Creek on July 10, 1913. But the park's name doesn't refer to the heat. In fact, it was named in winter, when a group of pioneers became lost and assumed that they would die in the valley. While the landscape is stark and dry in a Breaking Bad sort of way, you'd be surprised how much survives here. Bobcats, foxes and desert rodents live among the mudstone hills, shiny sand dunes and cracked saltpan. Even wildflowers have been known to grow after the spring rains, which is a spectacular time to see the park.
EXPLORE DEATH VALLEY ON ONE OF THESE SMALL GROUP ADVENTURES
5. Yellowstone – Wyoming, Montana & Idaho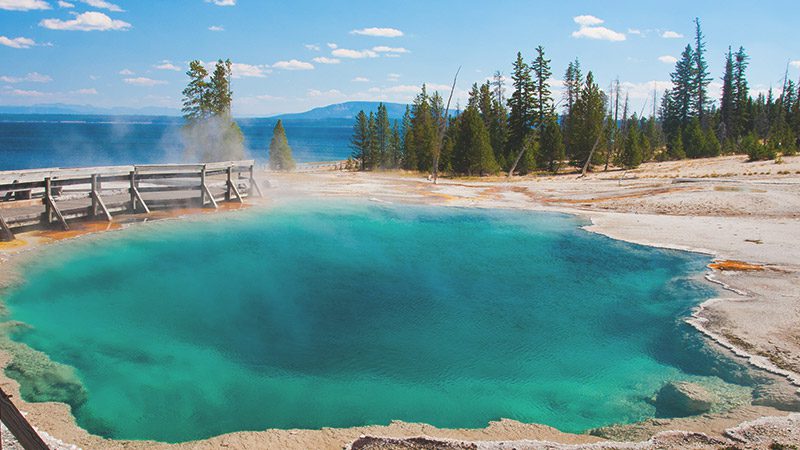 The first national park to be established anywhere in the world, Yellowstone is king of the American wilderness. Home to hot springs, waterfalls and its own grand canyon, the diversity of Yellowstone is mind-blowing. While the most famous landmark is undoubtedly Old Faithful, it's only one of 300 geysers within the park – the world's greatest concentration, along with 10,000 other thermal features. Just up the road from Old Faithful is Grand Prismatic Spring, a hot spring with spectacular orange, green and blue hues. At the other end of the park is the open Lamar Valley, which is a great place to spot wildlife such as bears, wolves and the ubiquitous bison.
SEE OLD FAITHFUL IN REAL LIFE ON THIS 11-DAY TOUR THROUGH
THE ROCKIES, YELLOWSTONE AND MT RUSHMORE
6. Grand Teton – Wyoming
Just a short drive down the road from Yellowstone is the vastly different Grand Teton National Park. Rather than the volcanic features of its more famous neighbour, Grand Teton is all about granite peaks and glacial lakes. Each turn in the road delivers another astounding view, as well as the possibility of spotting a bear or moose. Some of the best hikes can be found around turquoise Jenny Lake, including Inspiration Point and Hidden Falls.
7. Hawaii Volcanoes – Hawaii
Found on the island of Hawaii, or the Big Island, Kilauea volcano is considered to be the most active in the world. Its most recent eruption, which began in 1983, has produced so much lava that it's added more than 500 acres of new land to the island. Kilauea and nearby Mauna Loa make up Hawaii Volcanoes National Park. Hiking trails take you through old lava tubes, past petroglyphs, over volcanic craters and into rainforests. Conditions in the park are always changing, because Pele, the volcano goddess, is very unpredictable; if you're lucky enough to see hot lava flowing into the ocean, you'll know she's in a good mood.
RELATED: WHY NOW IS THE BEST TIME FOR A GROUP TOUR TO HAWAII
8. Joshua Tree – California
Joshua Tree National Park can be found at the convergence of two deserts: the Colorado and Mojave. While the landscape looks harsh and forbidding, sculpted by strong winds and occasional torrential rain, it is actually home to a surprising diversity of plant and animal species, as well as many photogenic geological features. The most famous residents of the park are the twisted, spiky Joshua trees, named by Mormons who thought their shape resembled Joshua from the Bible, as he reached his hands up to the sky in prayer.
SUBSCRIBE TO INTREPID'S NEWSLETTER FOR TRAVEL TIPS, COMPETITIONS, GIVEAWAYS & MORE
9. Sequoia & Kings Canyon – California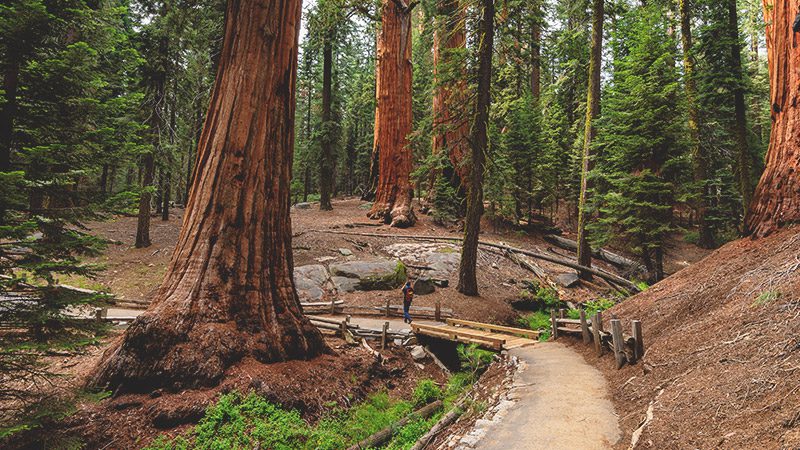 Trees, big ones. That's what this park is all about. In fact, it's home to the largest trees in the world – the giant sequoias. Head into Giant Forest to salute the boss of them all: General Sherman. The General is the largest tree in the world by volume, and it's still growing. You can't fully appreciate the scale of these trees until you're standing beneath then, craning your neck to see the top. And don't forget to breathe while you're here – the smell of the redwoods is divine, especially in the rain.
10. Yosemite – California
World Heritage-listed Yosemite National Park is an icon. With its granite cliffs, towering waterfalls (including the highest falls in North America) and famous landmarks, such as the Half Dome and El Capitan, Yosemite is on the bucket list of hikers everywhere. The range of elevation in the park (from 600 to 4000 metres) means a huge diversity of flora and fauna flourishes here. Conservationist John Muir said that it was "by far and grandest of all the special temples of nature that I was ever permitted to enter." Visit the park and you'll understand what he meant.
Explore the USA's exceptional national parks now, on an Intrepid small group adventure.