You know that rush you get when you find a discount on a bucket-list tour you saw on Facebook or snag a deal for a last-minute flight?
Imagine feeling that way every time you buy something in another country. Savvy American travelers are always looking for a good deal and there are plenty of places around the world to find them.
Whether it's cashing in those credit card points, finding the perfect beach bungalow for pennies, or indulging in cheap street food, these 7 dreamy destinations are ideal options to spend your two weeks vacation and get the most out of your hard-earned dollars.
7. South Africa
Despite a recent, very serious drought (tips for visiting mindfully here), South Africa is very much open to travelers. And with safaris that are some of the best value on the continent, in addition to some of the best value wines in the world, there's no better place to spend your tourist dollars.
There's many reasons to visit beyond safari – though you certainly should visit the world famous Kruger National Park for your chance to see the Big Five. (Camp there on this 8-day trip for under $1,500 USD!)
And although the Rand is getting stronger, the country's beaches, hikes, wineries, and other attractions are more than worth it, especially when much of this nature is free! But from Cape Town's burgeoning food scene to Johannesburg's must-visit museums, South Africa is so much more than nature, too.
Our favorite picks for what to do on a budget? Drive the Garden Route – a mountain, wildlife and coastline-filled gem. Explore Cape Town's intriguing neighborhoods – from colorful Bo Kaap to laid-back Sea Point. And explore in awe the Blyde River Canyon, the third largest canyon in the world!
Our recommendation: To see the best of South Africa and stay within budget, this 14-day Garden Route Adventure features iconic cities, game drives, rafting, wine tours and so much more.
READ MORE: 5 PERFECT PIT STOPS ON SOUTH AFRICA'S GARDEN ROUTE
6. Romania
Considered one of the cheapest countries in Europe, this southeastern European destination is a haven for backpackers and digital nomads. It's also the ideal location for adventurous Americans looking for a unique summer vacation spot.
A couple backpacking throughout dozens of quaint villages near Dracula's castle in Transylvania could spend around $40 to $50 USD a day, accommodation included. And speaking of accommodation, not only are homestays great value, they also offer a truly culturally immersive experience.
What else? Well, Romania has heaps of trails to hike in the Transylvania Alps, fairytale castles to explore and mountains to ski down in the wintertime. With all that physical activity it's important to stay hydrated and at just $.60 cents for a bottle of water and $2 USD for a beer at a bar, it won't be hard. Travelers can also get their fill of goulash, meat, potatoes and cabbage at most restaurants for around $10 USD.
Bran Castle is arguably the country's most popular tourist attraction, especially on Halloween when you can party all night long in Dracula's ballroom. But when it's not the busiest night of the year, even tourist spots are affordable for Americans, with adult admission to the castle costing $10 USD.
Our recommendation: Experience the world's spookiest Halloween on this 10-day Halloween in Transylvania tour! Alternatively venture through this captivating region anytime on Intrepid's 10-day Budapest to Bucharest tour.
READ MORE: 5 BUDGET DESTINATIONS IN EUROPE YOU WON'T WANT TO MISS
5. Mexico
The close proximity to the States, turquoise waters, and the freshest fish tacos you've ever bitten into are more than enough reason to take a trip south of the border. When you factor in the incredible value for money for American travelers, Mexico should likely sit at the top of your bucket list.
In the lively capital of Mexico City travelers can find a centrally-located private room in a hostel for $20 USD a night. Street food here is some of the cheapest in the world, with tacos going for less than $1 USD. Beers or cervezas are equally as cheap for around $2 USD per bottle.
As you head to the coast, the price of accommodation and food will increase with the number of tourists in the area (though budget spots can certainly be found, especially in Tulum). But its Mexico's highland towns that budget seekers will particularly enjoy. Offering tasty eats and colonial architecture, two of the loveliest picks are Morelia and Guanajuato.
Our recommendation: To sample the magic of Mexico, including the beaches of Playa del Carmen and Tulum, check out this 8-day Yucatan Peninsula Adventure. Alternatively, eat your way through the region on Intrepid's Mexico Real Food Adventure.
READ MORE: 5 REASONS WHY MEXICO IS THE ULTIMATE SOLO TRAVEL DESTINATION
4. Peru
A once-in-a-lifetime destination, Machu Picchu is on almost every American's bucket-list. With new restrictions limiting the number of entries around Machu Picchu and time allowed at the ruins, now is the perfect time to book your ticket. Luckily, the American dollar goes a long way in Peru and the flights are neither too long nor too expensive.
Land in the coastal capital of Lima and enjoy the country's best ceviche for around $10 USD. For most travelers Lima is a stopover city (– for foodies, it's a destination. If you plan on visiting one of the numerous Michelin-starred restaurants, budget more money. If you're not, check out this seafood guide.
Afterward, fly to the enchanting Spanish-style city of Cusco, high up in the Andes. Spend some time walking the main square (and acclimatizing to the altitude!) and be sure to visit the San Pedro market for authentic (read: cheap) eats. Cusco is known as the gateway to Machu Picchu and it's not far from here that trains depart and hikes begin. This experience will likely be your most costly excursion, but the cost is still low by American standards and pales in comparison to seeing one of the Wonders of the World for your own eyes.
Our recommendation: There's so many tours that'll let you visit Machu Picchu. Some of our favorites include this 9-day Classic Peru trip and this 15-day Sacred Land of the Incas adventure (featuring visits to the Amazon Jungle and Lake Titicaca!).
READ MORE: INTRODUCING NORTHERN PERU, HOME TO 'THE NEW MACHU PICCHU'
3. Thailand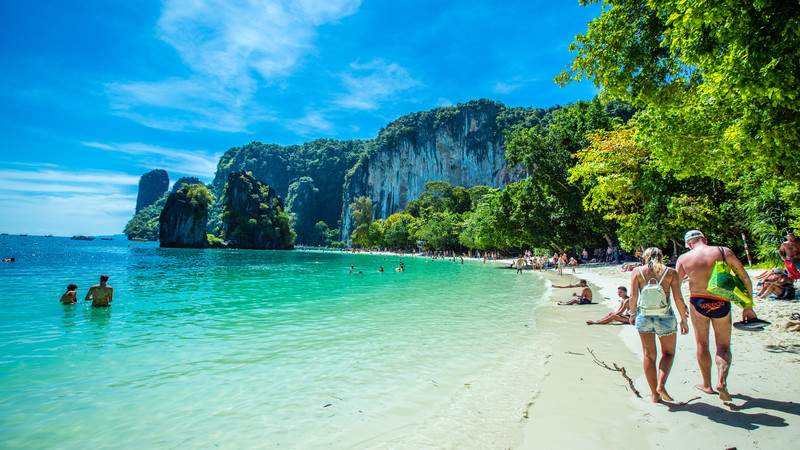 One of the year's most popular destinations for American travelers, Thailand's 30-day free visa policies and great year-round weather make it one of the best vacation destinations. Not to mention, all of Thailand has incredible gold temples, incredible street food and some of the world's most beautiful beaches – and it's all crazy affordable.
Most travelers will start off in the sprawling, whirlwind capital of Bangkok, exploring the floating markets and hustle of Khoa San Road. Here you can enjoy a modern hostel or hotel for around $35 USD a day, and the tastiest street eats on Maha Chai Road for approximately $15 USD a day all-in. After the city, head north to Chiang Mai and enjoy incredible temples, misty mountains and unparalleled spicy dishes for $40 USD a day.
As with most places, the beach is the most expensive place to visit. Whether you're headed to snorkel and hang out on the sands of Krabi, Phuket or Koh Samui, you can still do it for cheap is you stick to Thai food, basic accommodation and limited bevvies.
Our recommendation: You can't go wrong with this 11-day Highlights of Thailand tour. If it's dreamy beaches you're after try this 9-day Explore Southern Thailand trip or unique, 8-day Adventure Cruise to lesser-known islands.
READ MORE: 6 BEAUTIFUL BEACHES IN THAILAND YOU SHOULD VISIT
2. Indonesia
Indonesia is an infinite source of curiosity for Americans looking for some "Eat, Pray, Love" action of their own. However, there is more to this tropical country than Bali – around 18,000 islands more to be exact. For travelers coming from the US, the plane ride is always the most expensive part. But once you land on Indonesian soil, the current USD exchange rate means everything is cheap, cheap, cheap.
Guided tours, private car service and meals at delicious Western restaurants will run you around $20 each. If you want to go for an even cheaper, more local approach, rent motorbikes and eat street food, like the famous Ayam Goreng. You'll need a place to rest your head after all the temple hopping and sunbathing, luckily, there's plenty of spots to do so in Bali with air-conditioning for less than $50 USD a day. And if you pick places like Sidemen over Kuta, then your Bali accommodation costs will drop even more.
Heading to less-well-known, equally amazing places like Sumatra and the Lombok Islands, means the prices get even lower. Visit the orangutans of Sumatra or the crowd-free surf spots of the Lombok Islands and you won't be disappointed.
Our recommendation: For a trip that includes volcano hikes, village visits, waterfalls and more, check out our 9-day Beautiful Bali tour. Alternatively, visit Indonesia's less-visited gems on this 8-day island tour.
READ MORE: WHERE TO TRAVEL IN INDONESIA, ACCORDING TO AN INTREPID LEADER
1. India
A travel experience unlike any other, India is an intoxicating takeover of the senses. It's the perfect getaway for Americans looking for a spiritual destination and some of the world's best food on a dime.
India is a giant country, but luckily, it's affordable everywhere. In the culturally rich area of Northern India, near Delhi and Jaipur you can travel as a backpacker for around $40 USD, including the $15 entrance fee to the country's most famous palace, The Taj Mahal. If you're looking to live it up and travel more comfortably, just double your daily budget, you won't regret it.
For yoga enthusiasts, a retreat may sound expensive but in India, you can find an immersive and traditional week-long program for just a few hundred dollars. Alternatively, visit Rishikesh, the yoga capital of the world, on this 13-day adventure, or consider Intrepid's NEW India: Mind, Body, Spirit trip. Or get yourself feeling detoxed but also street food-filled on this 8-day Vegan Food Adventure.
Our recommendation: For a chance to see the best of Northern India, including the Taj Mahal and Varanasi, check out this 12-day North India Highlights trip. Or get to grips with Rajasthan (rural heritage stays and an evening safari included!) on this 15-day Classic Rajasthan tour.
—
Ready to take the plunge and find the adventure of a lifetime? Check out Intrepid's range of top destinations around the world.
—
(Romania's Bran Castle image c/o iStock/warmcolors. All other images c/o Intrepid Travel.)
Feeling inspired?