Medellin was a city that captivated us from the very beginning. Rising from the ashes like the proverbial phoenix, this is one of the main stops on anyone's Colombian itinerary.
And yet, this is not a city of big sights or must-dos. Instead, it's the story of Medellin, and the sense that you are in a city which is changing and developing a new version of itself right in front of your very eyes, that will get under your skin.
Medellin offers so much more than simply a legacy of destruction, and we implore you to try and discover it for yourself.
Head over to Laureles
Whilst traditionally El Poblado has been the reprieve of the wealthy and the backpackers, Laureles is providing a wonderful alternative to foreigners seeking cheaper prices and a better quality of life. This is a place where ma and pa restaurants live alongside hip coffee shops (don't miss Cafe Revolucion or Cafe Zeppelin), and you can find authentic Korean food and a fun night in a ping pong bar.
And the hostel scene is catching on! Want a more authentic view of Medellin? Ditch El Poblado and stay here instead.
RELATED: 24 HOURS IN MEDELLIN, COLOMBIA'S CITY OF COOL
Visit Casa de la Memoria
Understanding a little of a country's past is essential to appreciating its present, and nowhere is this truer than Colombia. For those that agree, a trip to Casa de la Memoria is an eye-opening and deeply moving experience that will leave even non-Spanish speakers more aware of country's past and its forgotten victims whilst offering a hopeful vision for the future.
Fantastically curated, this exhibition is free to enter and, we feel, an essential part of any trip to Medellin.

Get on your bike
Over the last few years, Medellin has become increasingly focussed on cycle safety, leading to the installation of several kilometers of designated paths, and plenty of bike friendly sidewalks. However, for those less keen to speed off into Colombian traffic, Medellin has come up with a new way to explore the city on two wheels – a Ciclovia.
Following Bogota's lead, every Sunday from 7 am to 1 pm, forty-two kilometers of roads are closed off to motor vehicles, and thousands of locals and visitors alike descend upon the streets to cycle, run, walk or skate freely. Whats more, a number of these small roads host a smaller version of the Ciclovia every Tuesday and Thursday night (between 8 pm and 10 pm).
And don't worry if you don't have your own bike. Much like the systems in place throughout Europe, there is a city wide public cycle rental program.
RELATED: I'VE VISITED COLOMBIA 8 TIMES; HERE'S WHY I'LL RETURN 
 Explore Comuna 13
Fifteen years ago, you would never have been able to set foot in Comuna 13, a neighbourhood controlled by the local gangs and not the police. Even for locals, this was simply a place best avoided.
Yet now, just 10 years after the city took back 13 (in the bloody 'Operation Orion'), this barrio is a symbol of the change happening in Medellin. The houses are painted brightly and the walls adorned with street art; the multi-levelled escalators connect the city to those that were once cut-off and tourists can be found enjoying one of Medellin's most iconic views.
We still wouldn't recommend wandering too far off the beaten path, but if you really want to understand just how far this remarkable city has come, a few hours in Comuna 13 are essential.
GET TO KNOW SOUTH AMERICA'S CAPITAL OF COOL ON OUR 19-DAY BEST OF COLOMBIA TRIP
Get lost in Minorista Market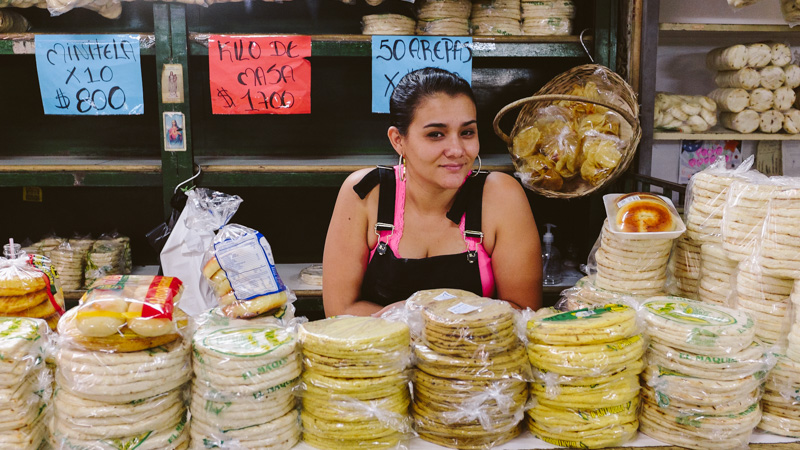 Located just a stone's throw from Cisneros metro station, Minorista market is a must for anyone looking for an authentic introduction to the city.
Everything can be bought, sold or recycled here. From old hands grinding corn for fresh arepas, colourful fruit and veg stands, grubby electronics repair shops, stacked cages full of animals for sale and even a row of stalls dedicated to second-hand toilets – it's a real experience for the senses.
And when you're done exploring, head to the juice bar section, and get yourself a guanabana batido – you can thank us later!
 GET TO KNOW COLOMBIA ON OUR COFFEE-SCENTED 'CAFE COLOMBIA' ADVENTURE
Try a Bandeja Paisa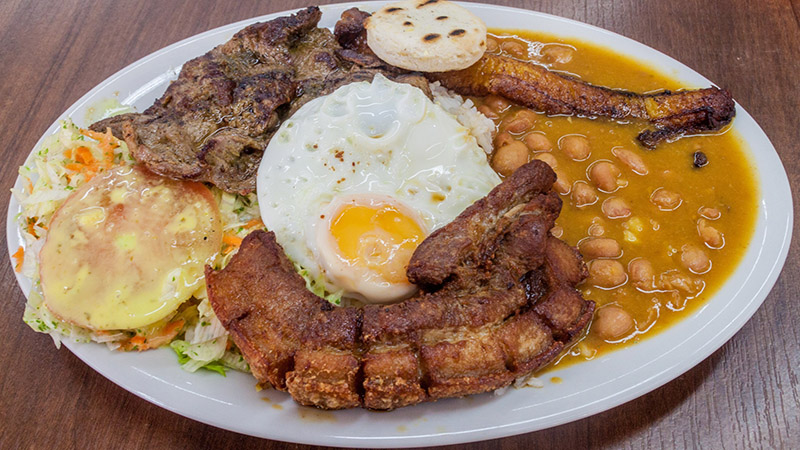 As two nearly vegetarians, suggesting a meal where the biggest component is meat may seem like quite an odd suggestion. However, there is no denying that sampling a bandeja paisa is an essential part of many a trip to Medellin. Traditionally a dish designed to keep peasant workers full all day, this gigantic plate of food includes red beans, rice, ground beef, chorizo with lime, plantain, arepa, avocado, fried egg on top and of course a big slice of chicharron or fried pork belly – all accompanied by a big glass of mazamorra (a milk based drink made with crushed corn). If you manage to finish it, we'll be impressed.
Ready to explore South America's best-kept secret? Check out our range of small group adventures in Colombia! 
Words by Along Dusty Roads – check out their instagram feed for some serious wanderlust inspo
Feeling inspired?